ASML Holding NV recently unveiled its financial figures for the second quarter of 2023, showcasing net sales of €6.9 billion. This marks an uptick from the €6.7 billion recorded for the preceding quarter. Furthermore, the company highlighted a gross margin of 51.3% for Q2 and a commendable net income reaching €1.9 billion.
Also, ASML Holding NV has announced plans to deepen its partnership with Imec, a premier hub for research and advancements in nanoelectronics and digital tech. This joint venture aims to usher in a cutting-edge high-numerical aperture (High-NA) extreme ultraviolet (EUV) lithography pilot line situated at Imec.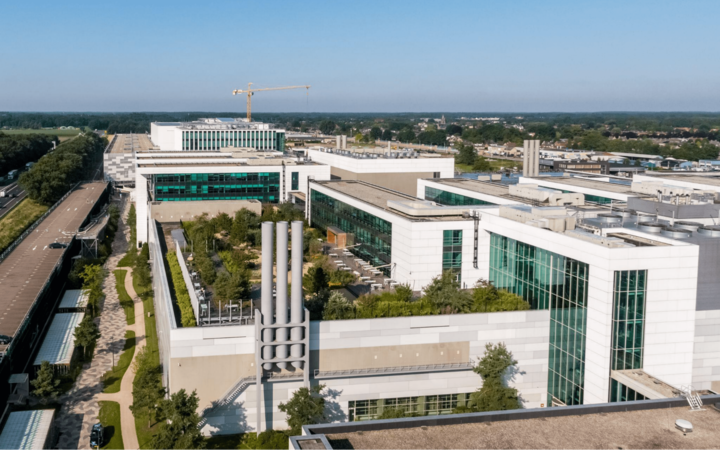 Credit: Company Website
From the ASML news above, it's not a surprise that more and more investors are beginning to pay closer attention to ASML stock, and you should do the same too. With strong financials and excellent partnerships, ASML stock is definitely poised for a bullish movement. Before we go into an in-depth analysis of ASML Holding stock, however, let's look at a brief overview of ASML Holding NV.
ASML Holding NV's Overview
ASML Holding NV was founded in 1984 by Philips and the Advanced Semiconductor Materials International consortium. The multinational company is currently headquartered in Veldhoven, the Netherlands. ASML Holding NV is primarily involved in researching, designing, manufacturing, and marketing advanced semiconductor equipment systems, specifically photolithography machines. The current CEO of ASML Holding NV is Peter Wennink, who was appointed in 1999 and has been with the company for 24 years.
ASML Holding NV has several prominent shareholders, some of which include The Vanguard Group, Inc (3.333 % of ASML shares), Norges Bank Investment Management (2.463 % of ASML shares), and BlackRock Investment Management (UK) Ltd. (1.015 % of ASML shares).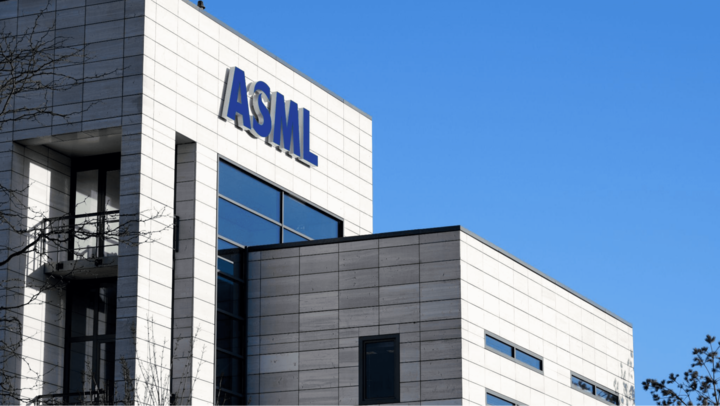 Credit: Company Website
Key Milestones
Since its establishment, ASML Holding NV has achieved several significant milestones. Some key ones include the following:
In 1995, ASML had its IPO, debuting on both the Amsterdam and New York trading floors.
In 2001, ASML Holding unveiled its groundbreaking Twinscan machines
In 2007, ASML Holding NV acquired BRION, a leading provider of semiconductor design and manufacturing optimization solutions.
In 2010, ASML Holding NV shipped the very first prototype of the Extreme Ultraviolet (EUV) lithography equipment.
ASML Holding NV's Business Model and Products/Services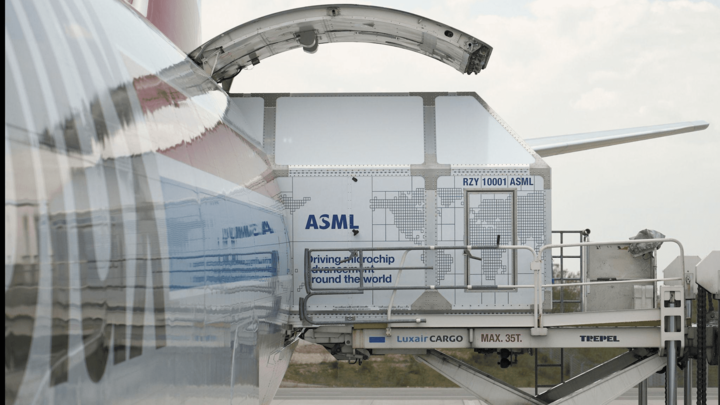 Credit: Company Website
ASML Holding NV, a giant in the semiconductor space, primarily generates revenue by designing, producing, and selling photolithography machines to semiconductor manufacturers. These machines are crucial in the chip-making process. Furthermore, ASML offers after-sales services, maintenance, and upgrades, creating a consistent revenue stream.
Main Products and Services
ASML Holding NV currently offers several different products and services. These include the following:
Photolithography Machines: These are essential tools in the semiconductor fabrication process, especially the leading-edge Extreme Ultraviolet (EUV) lithography machines and DUV lithography systems.
Holistic Lithography Solutions: These are integrated offerings that combine scanners, computational lithography, and metrology to enhance chip production.
Metrology & Inspection Systems: These optical and e-beam wafer evaluation tools swiftly and precisely assess pattern quality before and during large-scale chip production.
ASML also offers after-sales services like maintenance, refurbishment, and upgrades, ensuring the longevity and efficiency of the equipment sold.
ASML Holding NV's Financials, Growth, and Valuation Metrics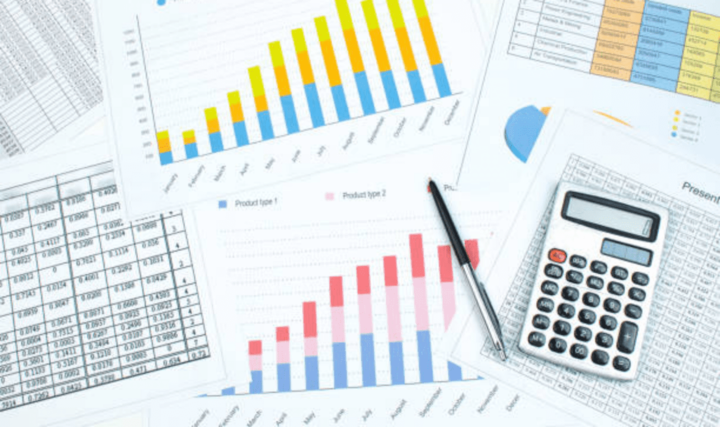 Credit: iStock
ASML market cap currently stands at EUR 250.48 billion (USD 271.69 billion).
ASML Earnings
For the second quarter of 2023, ASML Holding reported a net income of $2.109 billion, marking a remarkable growth of 40.26% compared to the previous year. For the twelve months ending June 30, 2023, the company's net income increased by 22.88% to reach $7.850 billion.
Meanwhile, the revenue for the quarter touching June 30, 2023, stands at $7.496B, reflecting a 29.54% surge year-over-year. Over the past five years, ASML Holding's stock revenue has increased from $12,925 million in 2018 to $223.08 million in 2022.
As of June 30, 2023, the company boasts a net profit margin of 28.67%. Furthermore, ASML Holding's EBITDA margin and Return on Equity stand at 35.72% and 79.86%, respectively.
In terms of financial dynamics, ASML Holding's liabilities have increased from EUR 25,361 million recorded at the end of the first quarter of 2023 to EUR 26,324 million as of June 2023. Similarly, the total assets have increased from EUR 35,148 million to EUR 36,929 million.
Key financial ratios and metrics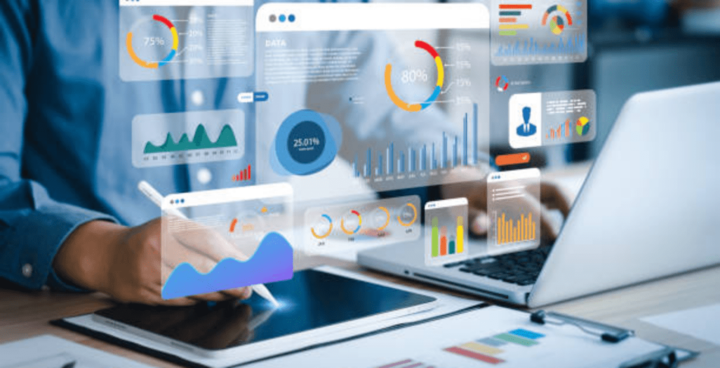 Credit: iStock
ASML Holding currently has a P/E ratio of 33.26. Major competitors like Applied Materials (AMAT) and Lam Research (LRCX) have P/E ratios of 17.92 and 19.15, respectively. Also, ASML Holding's P/S valuation for the quarter ending on June 2023 is 10.48. Competitors like AMAT and LRCX have P/S valuations of 3.64 and 5.19, respectively.
ASML's Price-To-Earnings Ratio, at 33.4x, is notably higher than its peer average, which stands at 29.6x. When benchmarked against the European Semiconductor industry's average of 26.9x, ASML's Price-To-Earnings Ratio also seems elevated. However, in contrast to the anticipated Fair Price-To-Earnings Ratio of 37.8x, ASML offers a decent value of 33.4x. Presently, ASML's trading price of €599.7 is marginally under the valuation of its fair worth, pegged at €605.36, indicating that it is currently slightly undervalued.
ASML Stock Performance Analysis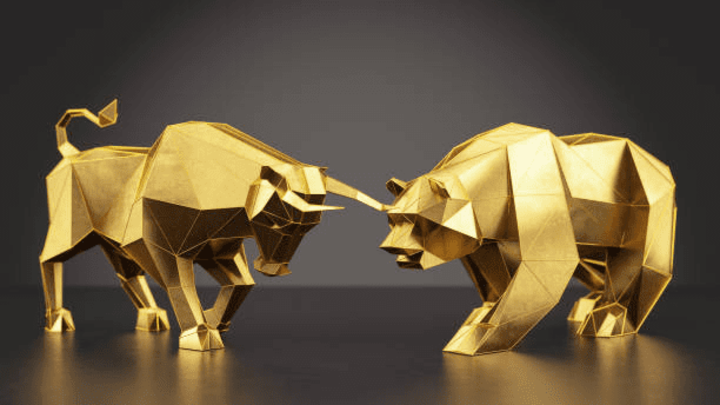 Credit: iStock
Now it's time to examine ASML stock performance; however, before we do this, let's briefly look at general ASML stock trading information you should know.
ASML Stock trading information
ASML went public in 1995. ASML stock primarily trades on NASDAQ under the ticker "ASML". ASML is a Dutch company; however, since it's primarily listed on NASDAQ, it's traded in USD. NASDAQ operates from 9:30 a.m. to 4:00 p.m. Eastern Time (ET) on regular business days. That said, there are pre-market and aftermarket sessions as well. Pre-market trading typically runs from 4:00 a.m. to 9:30 a.m. ET, while after-market trading typically runs from 4:00 p.m. to 8:00 p.m. ET.
ASML Stock splits: ASML stock has undergone a total of four stock splits, the most recent of which occurred on October 1, 2007.
ASML Stock Dividends: ASML stock currently yields a quarterly dividend of EUR 1.47 and an annual dividend of 0.95%.
ASML Stock Price Performance Since its IPO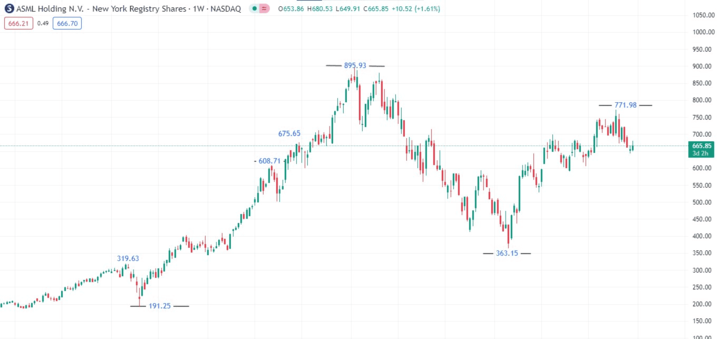 Credit: TradingView
After its IPO, ASML stock price rapidly rose to the 319.63 level before it dipped briefly to 191.25. After this, ASML stock went on a massive bullish run, making and breaking new highs at 608.71 and 675.65, and then making its all-time high at 895.93.
After this, however, ASML stock price fell massively all the way to the 363.15 level before rallying to the 771.98 level. Currently, ASML stock price is hovering around the 665.85 level, and it looks set to resume its bullish movement in a run that could take it to a new all-time high.
Key Drivers of ASML Stock Price
There are a myriad of factors that can influence ASML stock price. Some key drivers of ASML stock price include the following:
Demand for Photolithography Machines: ASML is a dominant player in the production of photolithography machines. Any fluctuation in the demand for these machines can substantially impact ASML stock price.
Technological Advancements: The semiconductor industry is highly innovation-driven. ASML's ability to pioneer and adapt to technological changes, especially in EUV lithography, influences investor confidence and, by extension, ASML stock price.
Industry Trends: Global trends in the semiconductor industry, such as shifts in chip demand, advancements in chip design, or changes in manufacturing techniques, can affect ASML stock price.
Global Supply Chain Disruptions: In today's interconnected world, disruptions like pandemics, geopolitical tensions, or natural disasters can affect ASML Holding's production capabilities. This will, in turn, impact ASML share price.
ASML Stock Forecast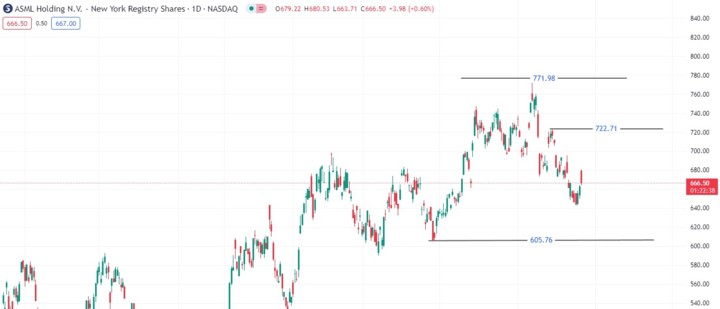 Credit: TradingView
Currently, ASML stock looks poised to continue its bullish movement. That said, there are some key resistance and support levels to watch. ASML stock price is currently around the 665.85 level, and it is aiming for the nearest high at 722.71. If it can break this high, then the 771.98 price level can be expected to be the next target. Conversely, a dip below the 605.76 support level could signal a bearish movement. However, this is a key support level that's expected to hold.
Analysts' Recommendations and Price Targets
The prevailing consensus among analysts on ASML stock leans towards a "BUY" recommendation. Based on forecasts from 36 analysts, the stock's price targets are set at a high of EUR 950, a low of EUR 440, and a median of EUR 738.48.
Challenges and Opportunities
Credit: iStock
ASML Competitors
ASML Holding is a major player in the semiconductor industry; however, it does face some significant challenges that can impact ASML's stock price. Chief of these challenges is competition from other major players like AMAT and LRCX.
As a leading player in materials engineering solutions used to produce virtually every new chip and advanced display, Applied Materials (AMAT) brings a broad array of equipment and integrated systems to the semiconductor manufacturing process. Also, Lam Research (LCRX) is a global provider of innovative wafer fabrication equipment and services with a robust portfolio focusing on deposition, etch, and clean solutions. This diversified approach and its global reach can pose competitive threats in areas where ASML's offerings overlap.
That said, ASML Holding does retain the competitive advantage over its competitors. ASML's specialization in photolithography, especially in EUV lithography, sets it apart. The company has invested heavily in pioneering EUV technology, which is critical for producing the latest, most advanced chips. ASML's niche focus gives it unparalleled expertise and technological leadership in this segment.
Other Risks
Some other risks that could affect ASML stock price include the following:
Technological Obsolescence: The rapid pace of technological evolution means that ASML needs to innovate to remain at the forefront continuously.
Geopolitical Tensions: Given the global nature of the semiconductor industry, geopolitical issues can impact supply chains, partnerships, and sales territories.
Regulatory Challenges: As technology becomes more central to the global economy and politics, regulatory scrutiny around tech and its applications might increase, posing operational challenges.
Growth Opportunities
Credit: iStock
5G Revolution: The global rollout of 5G technology necessitates chips with higher performance capabilities. The worldwide 5G infrastructure market is projected to grow exponentially, and each 5G base station requires advanced semiconductor components. Since ASML Holding is a semiconductor specialist, this presents a unique growth opportunity they can capitalize on.
Expansion in Emerging Markets: ASML can explore deeper into emerging markets like India, parts of Southeast Asia, and Africa, where demand for semiconductors is growing as digital transformation takes root. For example, the Indian government's push for "Digital India" has spurred tech growth, representing potential untapped opportunities for semiconductor players.
Future Outlook and Expansion
R&D Investment: Continuous investment in research and development can lead ASML to new breakthroughs, keeping them ahead of competitors and opening new avenues for revenue. This will also further boost ASML stock price. For example, ASML's past investments in EUV technology, which are now paying off immensely, can be mirrored in future cutting-edge technologies.
Strategic Collaborations: ASML can collaborate with universities, tech startups, and research institutes to foster innovation. For example, collaborating with institutes like MIT or TSMC can lead to co-developed next-gen technologies. This will, in turn, lead to an increase in ASML stock price.
Diversification: ASML's focus on lithography is a core strength; however, exploring adjacent areas in the semiconductor production process or diversifying into new tech areas can bolster growth. For example, exploring solutions in Quantum Computing or chip design software might be potential growth avenues.
Why Traders Should Consider ASML Stock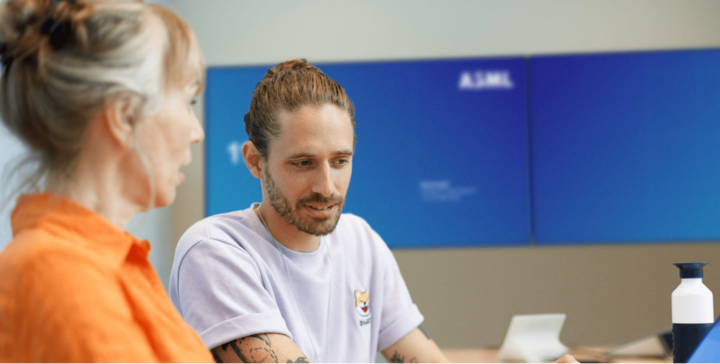 Credit: Company Website
There are lots of reasons why a trader should consider ASML stock. Some of these key reasons include the following:
Technological Leadership: ASML's stronghold in EUV lithography, a niche but crucial segment for advanced chip manufacturing, gives it an unparalleled competitive edge.
Growth Opportunities: The rise of AI, IoT, 5G, and expanding data center needs all point towards increasing demand for advanced chips, directly benefiting ASML's offerings. So as an investor, you can be sure of a revenue increase.
Stable Financials: The ear-over-year revenue and net income growth showcase ASML Holding's strong financial health and ability to capitalize on market opportunities.
Favorable Analyst Views: ASML stock has a predominant "BUY" recommendation and a price target above its current value. This analyst consensus reflects optimism, marking ASML stock as an excellent investment option.
Trading Strategies for ASML Stock
Credit: iStock
Do you want to maximize your profits and minimize your losses while trading ASML stock? If you do, then here are some trading strategies that are perfect for trading ASML stock:
CFD Trading
Contracts for Difference (CFD) allow traders to capitalize on price movements of assets, including stocks like ASML, without actually owning them.
Advantages for ASML stock with CFD Trading
Leverage: By trading ASML stock with CFDs, you can control positions much larger than your initial investment. This leverage can amplify gains but also carries the risk of amplified losses.
Market Direction: CFD trading is not limited to bullish markets. If you anticipate a decline in ASML's stock price, you can short sell the CFDs, aiming to buy them back at a lower price.
Diversification: CFD platforms often offer a wide range of assets. This allows you to diversify your positions beyond ASML stock, potentially spreading and managing risk.
Immediate Execution: CFD trading platforms also often provide near-instant trade execution. This means you can react swiftly to any significant news or technical signals related to ASML.
Some other trading strategies for ASML stock include:
Momentum Trading: Momentum trading strategy involves buying and selling ASML stock based on recent price trends and patterns, capitalizing on its continued upward or downward movement.
Swing Trading: The swing trading strategy aims to capture short- to medium-term gains in ASML stock over a few days to several weeks, based on technical or fundamental analysis.
Trade ASML Stock CFD with VSTAR
Are you interested in trading ASML stock CFD? If you are, you'll need an account with a CFD provider. This is where VSTAR comes in. VSTAR is an institutional-level trading platform that offers traders access to all the amazing benefits of CFD trading. You may be thinking, "Why should I trade ASML Stock CFDs with VSTAR?" Read on to find out!
Why VSTAR?
Super Low Trading Cost: VSTAR offers very low trading costs that help to ensure you can execute multiple trades without eroding your profits due to excessive fees or spreads. This makes it cost-effective for both novice and experienced traders to access the market and trade ASML Stock CFDs.
Fully Regulated: VSTAR is a fully regulated CFDs trading platform, so trading ASML stock CFD with VSTAR means that your capital is in safer hands when you're trading.
Risk-free Demo For Practice: VSTAR also offers a risk-free demo account that allows traders to familiarize themselves with the platform, test different trading strategies, and get a feel for trading ASML Stock CFDs without risking real money.
Conclusion
Financial markets always present traders and investors with avenues to make profits, and according to analysts' consensus, ASML stock is one such avenue. With its strong financials and recent partnerships, ASML stock price looks set to continue its upward trajectory. Download VSTAR today to ensure you are perfectly positioned to take advantage of this move.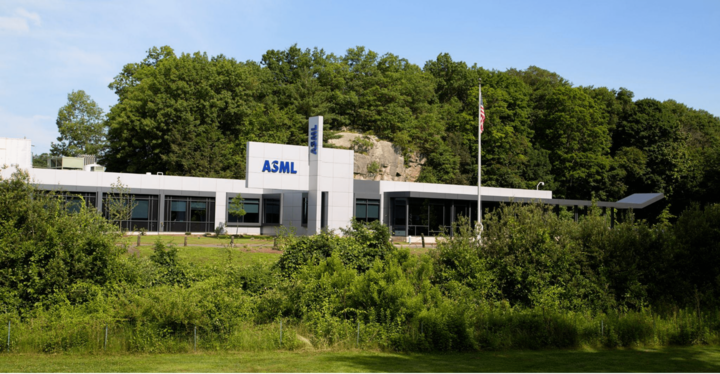 Credit: Company Website
*Disclaimer: The content of this article is for learning purposes only and does not represent the official position of VSTAR, nor can it be used as investment advice.