If you're looking for the best casino stock to buy now, you might want to consider Caesars Entertainment stock. At the current price of about $56, Caesars stock is up more than 30% since January, beating out Wynn Resorts and Las Vegas Sands to become one of the top hospitality stocks so far in 2023.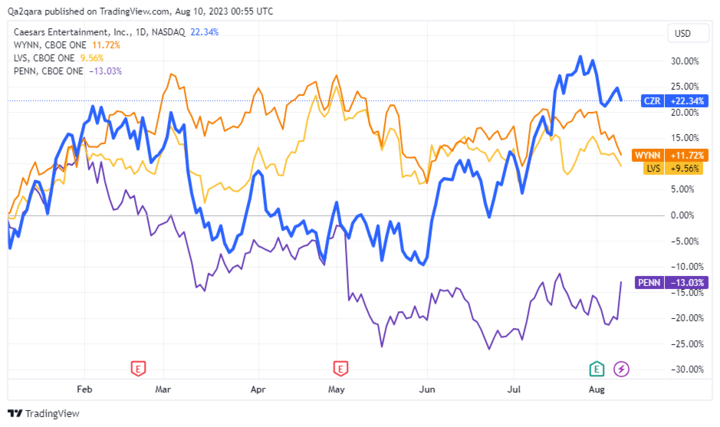 The rise in CZR stock price has come amid heavy insider and hedge fund buying. Read on to find out why many investors consider Caesars Entertainment the best casino stock to buy now.
Caesars Entertainment (NASDAQ: CZR) Stock News
1. David Tepper Shows Confidence in Caesars Entertainment Stock
Billionaire hedge fund manager David Tepper is a big fan of Caesars Entertainment stock. At the end of 2022, Tepper's hedge fund Appaloosa Management bought 425,000 shares of CZR stock. The latest regulatory filings show that Appaloosa continues to hold on to its Caesars stock, though it has reduced its exposure to some stocks.
With a fortune of more than $16 billion, Tepper is regarded as one of the greatest hedge fund managers of his generation. The billionaire's other favorite stocks are Google parent Alphabet, Facebook owner Meta Platforms, and Uber Technologies.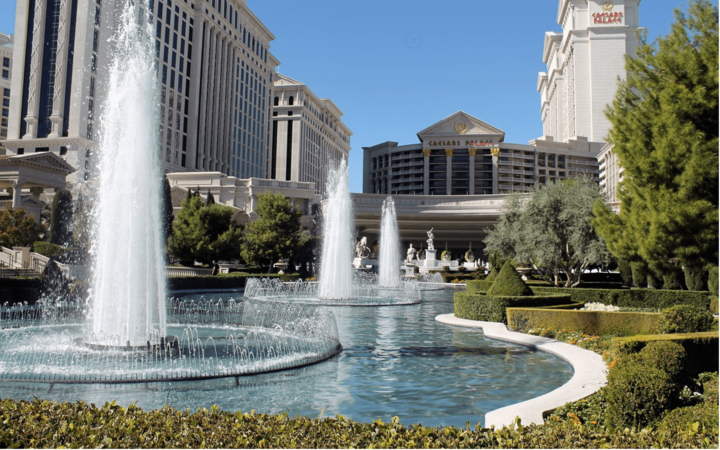 Source: Pixabay
2. Insiders Are Bullish on Caesars Entertainment Stock
Those who know the most about Caesars Entertainment's business and potential are bullish on the outlook for CZR stock. In recent months, Caesars insiders have purchased $1.5 million worth of the casino operator's shares.
The insiders buying Caesar shares recently include CEO Tom Reeg and board member Michael Pegram, who have bought thousands of shares.
Studying insider transactions can give you a clue about where a stock might be headed in the future. In the case of Caesars Entertainment stock, insider buying signals that those who best understand the company believe the stock still has room to soar.
Caesars Entertainment (NASDAQ: CZR) Overview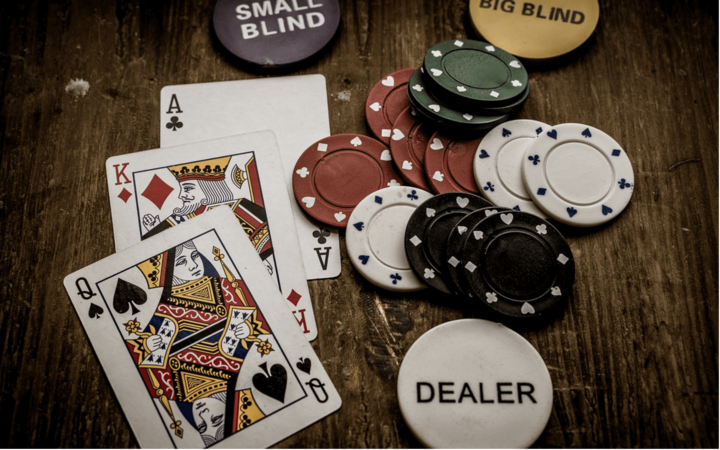 Source: Pixabay
Caesars Entertainment is an American resort and casino operator headquartered in Reno, Nevada. While it primarily operates in Las Vegas, Caesars also runs regional hotels and gaming locations across the country. The company was formerly known as Eldorado Resorts.
Caesars operates more than 50 properties under various brands, including Caesars Palace, Horseshoe, Eldorado, The Cromwell, and Silver Legacy.
Although founded in 1996, Caesars Entertainment was formed through a series of mergers so that some of its parts date back to 1973.
Caesars CEO Thomas Reeg is a hospitality industry veteran with substantial economic interest in the company.
Top 5 Caesars Entertainment Shareholders
Caesars is a favorite hospitality stock of many elite investors. These are some of the casino operator's top shareholders and their stakes:
| | |
| --- | --- |
| Shareholder | Stake |
| Capital Research | 14.8% |
| Vanguard Group | 10.6% |
| Fidelity Management | 6.2% |
| Janus Henderson Investors | 5.2% |
| Recreational Enterprises | 4% |
Caesars Entertainment's Milestones
| | |
| --- | --- |
| Year | Milestone |
| 2005 | Caesars Entertainment, then known as Eldorado, acquires Hollywood Casino Shreveport. |
| 2014 | Eldorado combines with MTR Gaming Group. |
| 2017 | Eldorado acquires Isle of Capri Casinos to add a dozen casinos to its portfolio. |
| 2020 | Eldorado and Caesars Entertainment combine, with the resulting entity taking the Caesars name. |
| 2022 | Caesars Entertainment becomes the official sportsbook partner of the NBA team Cleveland Cavaliers. |
Caesars Entertainment's Business Model
The company operates in the hospitality industry, offering hotel accommodations, casinos, and online gambling and sports betting. It primarily targets tourists and business travelers seeking luxurious entertainment, gaming, and shopping experiences.
The company's casino business offers a variety of gambling options, ranging from slot machines to poker rooms and sports betting.
Caesars serves its customers through physical resorts and casino locations and digital platforms such as mobile apps.
How Does Caesars Make Money?
The company has several revenue streams that contribute to the top line in different ways. The company derives the majority of its revenues, approximately 60% of total revenues, from its casino operations. The casino business consists of tens of thousands of slot machines and about 3,000 gaming tables. Moreover, the company offers online gambling and sports betting services.
Caesars' second-largest revenue source is the hotel business. With nearly 50,000 hotel rooms, the company generates about 16% of its revenue from providing guests accommodation.
Restaurants, bars, and lounge operations contribute about 12% of Caesars Entertainment's revenue. Other operations such as nightclubs, conference rooms, and entertainment venues contribute about 11% of the company's revenue.
Caesars Entertainment's Products and Services
The company's main services are casino, hotel accommodations, entertainment, and dining and shopping experiences. It has tens of thousands of casino offerings and tens of thousands of hotel rooms.
Caesars Entertainment's Financials
Financial results usually have a huge influence on stock price movements. Therefore, studying financial performance can help you identify the best hospitality stock to buy now. For that reason, let's explore Caesars Entertainment's financial profile.
1. Caesars Entertainment's Revenue
The company has had a strong start to 2023 in terms of revenue growth. In the second quarter, its revenue rose 2% year-over-year to $2.9 billion. Revenue jumped 23% year-over-year to $2.8 billion in the first quarter. Analysts forecast Caesars' revenue to grow 7.4% to $11.6 billion in 2023. The chart below shows the company's 5-year annual revenue trend.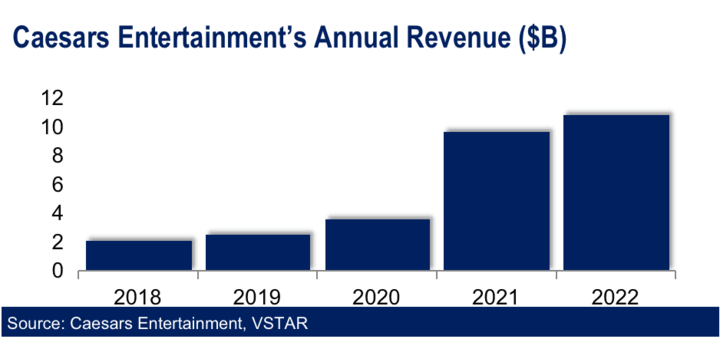 In full-year 2022, Caesars Entertainment's revenue increased 13% to $10.8 billion. Revenue jumped a whopping 164% to $9.6 billion in 2021. The company has maintained consistent double-digit revenue growth for at least the past 9 years.
2. Caesars Entertainment's Net Income
The company made a profit of $920 million in Q2 2023, reversing a loss of $136 million in Q1 2023 and a loss of $123 million in Q2 2022.
While the company hasn't reported an annual profit in three years, its losses have been shrinking. It reported a loss of $899 million in full-year 2022, which narrowed from a loss of $1 billion in 2021 and a loss of $1.8 billion in 2020.
Caesars stock currently offers a return on equity of 17.5%.
3. Caesars Entertainment's Profit Margins
The company achieved a gross profit margin of 57.7% in Q2 2023. The operating profit margin came to 21.15%, and the net profit margin jumped to 32% from -4.8% in the previous quarter.
Caesars has maintained a gross margin of above 52% over the past three years. Its operating margin improved to 16% in 2022, from 15% in 2021.
4. Caesars Entertainment's Cash Position and Balance Sheet Condition
The company produced about $780 million in cash from operating activities in Q2 2023. It ended the quarter with a cash balance of $1.1 billion. Its balance sheet showed assets worth $33.5 billion and $12.7 billion in debt. The casino operator's balance sheet is fairly stable, showing a current ratio of 0.78 and a quick ratio of 0.65.
Caesars Entertainment Stock Analysis
1. Caesars Stock Valuation
CZR stock currently trades at a forward PE ratio of 38.74, a forward PS ratio of 1, and a PS ratio of 2.63. Moreover, the stock trades at a P/FCF ratio of 15.40 and an EV/EBITDA ratio of 8.99. See how Caesars stock valuation metrics compare to those of other hospitality stocks:
| | | | | |
| --- | --- | --- | --- | --- |
| | Caesars (CZR) stock | Wynn Resorts (WYNN) stock | MGM Resorts (MGM) stock | PENN (PENN) stock |
| Forward PE | 38.74 | 34.56 | 17.72 | 16.25 |
| Forward PS | 1.00 | 1.77 | 1.06 | 0.61 |
| PB ratio | 2.63 | - | 3.78 | 0.99 |
| P/FCF ratio | 15.40 | - | 5.95 | 7.79 |
| EV/EBITDA | 8.99 | 18.83 | 8.93 | 6.67 |
As you can see from the table above, Caesars stock offers a better forward PS valuation than both Wynn Resorts and MGM Resorts. It also offers a more favorable PB ratio than MGM Resorts and a better EV/EBITDA valuation than Wynn Resorts.
2. Caesars Stock Trading Information
Caesars Entertainment shares are listed on the Nasdaq exchange under the ticker symbol "CZR".
The regular trading session for CZR stock begins at 9:30 a.m. ET and ends at 4 p.m. ET.
The premarket trading session for Caesars stock starts as early as 4 a.m. and runs until the opening bell for the regular session. The post-market trading session for the casino stock starts immediately after the closing bell for the regular session and continues until 8 p.m.
An average of 2.5 million Caesars shares are traded in a day, making it one of the most active hospitality stocks.
3. Caesars Stock Split History
The casino operator hasn't split its stock since the IPO. The company's management hasn't discussed the future CZR stock split plans. Companies usually split their stocks to make them more accessible to retail investors by lowering the price per share. As a result, a stock can soar after the split due to increased demand from retail investors.
4. Caesars Stock Dividend Yield
The company doesn't pay dividends currently. Instead of distributing cash back to shareholders, Caesars' management has deemed it fit to use cash that the business generates to reinvest in future growth and pay down the debt. Perhaps dividends will be paid in the future if Caesars returns to stable profitability.
5. Caesars Stock Performance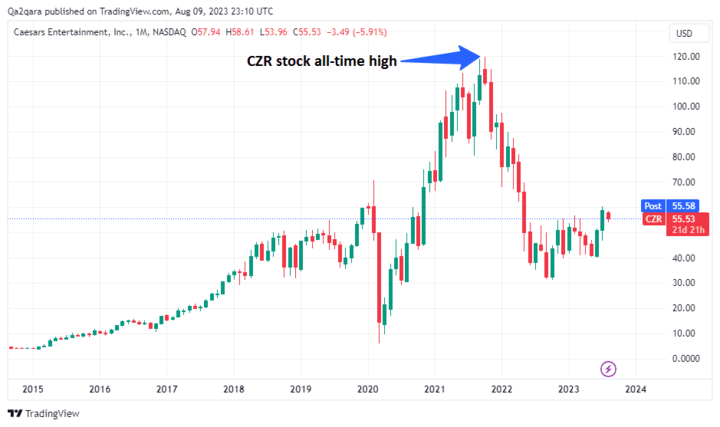 Caesars shares have gained about 670% since the IPO. As you can see in the chart above, CZR stock price hit an all-time high of $120 in October 2021. At this point, the stock has pulled back about 53% from that peak.
Over the past year, CZR stock price has ranged from $31 - $60. At the current price of about $56, the stock has climbed 80% over its 52-week low and is within a striking distance of its 52-week high.
Why Is CZR Stock Price Going Up?
The recent surge in Caesars stock can be attributed to a number of factors. These are some of the major factors driving the casino stock:
Strong earnings: Caesars Entertainment has recently reported impressive earnings results. For example, the back to back quarterly profits have excited many investors. Hopes are high that Caesar could end its streak of annual losses soon.
Insider transactions: It is usually a good sign to see insiders use their own money to purchase shares in their money. As a result, the recent wave of insider buying has bolstered investor confidence in the outlook for CZR stock.
Hedge fund transactions: Apart from insiders, many investors also follow hedge fund transactions. It turns out that Caesars stock is a favorite of hedge funds, which have purchased 2 million shares of the company in recent months and boosted confidence in the stock.
6. CZR Stock Forecast
If you're still wondering whether Caesars stock is the best casino stock to buy, assessing CZR stock price predictions might help you.
More than a dozen Wall Street analysts have weighed in on the Caesars stock outlook with a range of price forecasts and recommendations.
The average CZR stock forecast of $70 implies nearly 30% upside potential. The peak CZR stock price target of $111 suggests over 100% upside. The base CZR stock price prediction of $49 indicates a 10% downside.
The majority of the analysts have a Buy rating on Caesars stock.
7. Caesars Stock Short Interest
The GameStop and AMC stocks short squeeze taught investors the importance of paying attention to short interest in the target stocks, like Caesars stock in this case.
Just over 8 million Caesars shares have been sold short, representing a short interest of about 4%. While that is a low short interest, you'll notice that the number of Caesars shares sold short is more than three times the stock's daily average volume.
This tells you that if the stock continues to rise and the bears lose their nerve, there could be a short squeeze that could push CZR stock price to new highs.
8. Caesars Stock Technical Analysis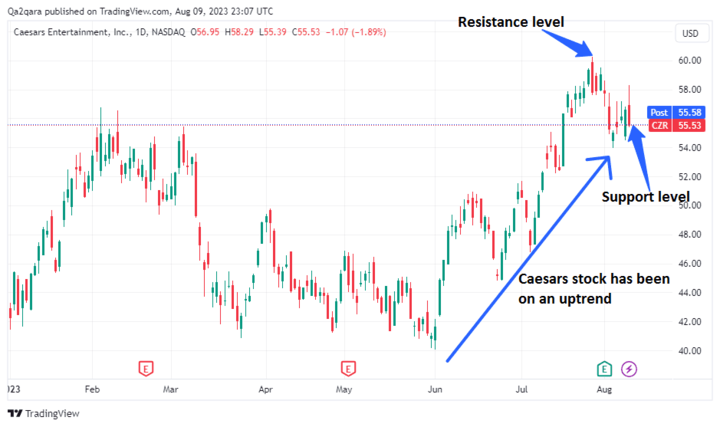 The chart above shows CZR stock price action since January 2023.
As you can see, the stock has generally been on an uptrend since June. The stock has been making higher highs and higher lows. At this point, Caesars stock has found firm support at $55 but faces strong resistance at $60, which coincides with its 52-week peak.
Caesars Entertainment's Opportunities and Challenges
Caesars Entertainment's Opportunities
1. International Expansion
Caesars Entertainment's business is currently concentrated in the U.S. But there is huge demand for hospitality services in international markets. The company can tap into the booming hospitality industry in Europe, Asia, Latin America, Middle East, and Africa.
The global hospitality industry revenue is forecast to grow to $6.7 trillion by 2028, from $4 trillion in 2021, according to Facts and Factors.
2. Sports Betting and Online Gambling
While sports betting and online gambling currently represent only a tiny fraction of Caesars Entertainment's gaming business, there is a huge growth opportunity in these markets. For example, the global sports betting market size was valued at $81 billion in 2022 and is forecast to grow to $168 billion by 2030.
Considering its strong brand reputation and expertise in gambling business, Caesars has potential to capture a large share of this market. It bodes well for Caesars that the online sports betting market in the U.S. is continuing to expand with changes in state laws.
3. Wellness Tourism Market
There is a growing market for health and wellness travel. Wellness tourism refers to travel experiences designed to improve the physical, mental and spiritual well-being of travelers. The global wellness tourism market size was valued at just over $800 billion in 2020 and is projected to grow to $1.6 trillion by 2030, according to Allied Market Research.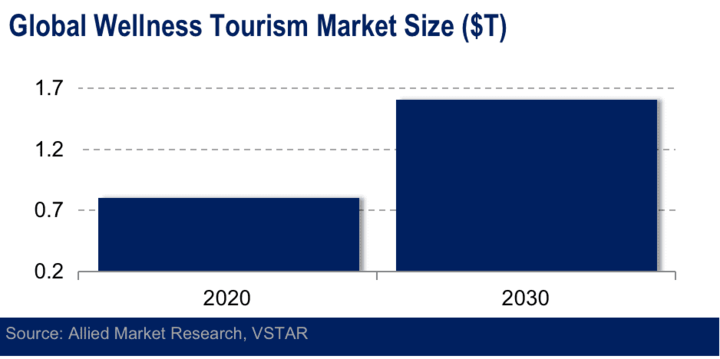 With its vast property portfolio and strong brand reputation, Caesars Entertainment is well-positioned to make the most of the lucrative wellness tourism opportunity. It can do this by offering exceptional health and wellness facilities and programs at its properties.
4. AI Technology
The resort and casino business is a labor-intensive operation. Caesars Entertainment can leverage artificial intelligence technology to automate some of its operations to lower its payroll expenses.
Moreover, the company can apply AI technology to unlock additional revenue sources. The AI technology could particularly unlock more revenue opportunities in the company's casino business.
Caesars Entertainment's Challenges
1. Economic Fluctuations
The hospitality business is highly sensitive to changes in economic conditions. This is because the industry relies on discretionary budgets, which people tend to cut quickly in times of financial difficulty.
As a result, an economic slowdown can diminish discretionary spending, which can in turn reduce demand for Caesars' services and affect its revenue growth.
2. Business Concentration
Although Caesars Entertainment operates a diverse range of resort and casino brands, its business is highly concentrated in ways that could pose risks. For example, the company derives more than 60% of its revenues from its casino operations alone.
In addition, the company is highly dependent on the U.S. economy. This makes it vulnerable to economic downturns in the US.
3. Strict Regulations
Regulatory changes in areas such as taxes, labor, and environmental management can increase the company's operating costs and impact its profitability.
Amid climate change concerns, environmental regulations are rapidly changing, which can cause compliance challenges for Caesars Entertainment. Difficulties keeping up with compliance requirements can result in lawsuits, fines, or reputational damage to the company.
4. Intense Competition
While lucrative, the hospitality industry is highly competitive. Caesars Entertainment faces competition from a long list of other hotel chains and casino operators.
Intense competition can make it difficult for the company to grow its revenues or maintain its market share. These are some of Caesars' major competitors:
| | |
| --- | --- |
| Competitor | Threat |
| MGM Resorts | Caesars and MGM Resorts operate competing resort and casino businesses. |
| Wynn Resorts | Wynn Resorts and Caesars Entertainment are fierce rivals in offering hotel, casino, and resort services. |
| Las Vegas Sands | Caesars Entertainment and Las Vegas Sands are major competitors in offering luxury resort, casino, dining, and shopping experiences. |
| Boyd Gaming | Caesars Entertainment and Boyd Gaming compete in offering hotel accommodation, restaurant dining, and gambling services. |
| DraftKings | DraftKings and Caesars Entertainment compete in the online gambling and sports betting markets. |
Caesars Entertainment's Competitive Advantages
1. Solid Brand Reputation
Formed from the mergers of iconic resort operators, Caesars Entertainment is a well-known brand in the hospitality industry. The Caesars brand is associated with high-quality services. The strong brand reputation helps the company to attract and build long-term engagement with guests and partners.
2. Strong Partnerships
The company has built strong partnerships with airlines, restaurants, and retail operators. In the airline space, for instance, Caesars signed a 5-year deal with Sun Country Airlines in 2021 to provide charter flights for its guests to various destinations. These agreements help the casino and resort operator provide guests with exceptional experiences that encourage them to remain loyal to the brand.
3. Extensive Property Portfolio
The company operates more than 50 properties, consisting of hotels, casinos, and resorts. It operates under brands such as Caesars Palace, Eldorado, The Cromwell, and Tropicana. The company's other major brands include Horseshoe, Silver Legacy, and Grand Victoria Casino.
Therefore, Caesars not only has a deep presence in the hospitality industry, but also enjoys many economies of scale.
4. Rewards Loyalty Program
To thrive in the highly competitive hospitality industry, Caesars has developed various creative ways to build long-term engagement with its customers. The company runs a loyalty program that rewards customers with points for spending. The reward program helps the company to build a highly loyal customer base that can continue to power its growth for many years to come.
5. Skilled Workforce
From CEO Thomas Reeg to COO Anthony Carano to board chairman Gary Carano, Caesars Entertainment's executive team consists of hospitality industry veterans. In the highly competitive hospitality industry, a highly skilled management is a great asset. The company can count on its highly experienced executive team to make the right decisions to ensure that the business can continue to thrive even in difficult times.
Why Traders Should Consider CZR Stock
Caesars Entertainment's sales are growing and the company looks to be on track to return to annual profits. The company has strong competitive advantages and impressive growth opportunities. Additionally, CZR stock price prediction points to a large upside potential.
Caesars (CZR) Stock Trading Strategies
Before you start investing in Caesars Entertainment stock, it helps to choose the strategy that works best for you. Your investment goal, timeline, and amount of capital have a huge influence on the investment method to pursue. These are the common investing strategies for CZR stock:
1. Long-Term Investing Strategy
The traditional method of investing in Caesars stock is the long-term strategy. It involves buying Caesars stock and holding it in your brokerage account for a year or more. This investment strategy is favored by those with long investment horizons and large amounts of initial capital.
2. Short-Term Investing Strategy
This type of investing is most appealing to those looking for flexibility in the duration of their trades. While short-term investing can take various forms, at its core is the ability for traders to capture profits over short timelines. The most exciting form of short-term investing in Caesars stock is trading Caesars stock CFD.
CFD trading allows you to start with little initial capital and use leverage to boost your position. Moreover, CFD trading allows you the flexibility to capture profits over short timelines, from as short as a few minutes to as long as several weeks.
Trade CZR Stock CFD With VSTAR
If you're looking for the best CFD broker for trading Caesars stock CFD, try VSTAR. With its tight spreads and no-commission accounts, VSTAR is an excellent CFD broker for those seeking a low-cost CFD trading platform.
Since VSTAR is a fully licensed and regulated CFD broker, you can relax that your money is safe on this platform.
You can start trading Caesars stock CFD on VSTAR with as little as $50 in initial investment. The broker offers generous leverage for traders with little initial capital to boost their positions. VSTAR also offers highly effective risk control tools and prompt customer support, which is why it has received excellent Trustpilot reviews.
Consider opening your free VSTAR account today and start trading Caesars stock CFD. The broker provides a demo account with as much as $100,000, giving traders ample resources to practice their strategies before they start investing real money.
Final Thoughts
Which is the best casino stock to buy now? Caesars Entertainment stock continues to draw strong interest from insiders and hedge fund investors. The company has strong fundamentals and exciting prospects. Looking at the CZR stock price forecast, the stock shows huge upside potential.
*Disclaimer: The content of this article is for learning purposes only and does not represent the official position of VSTAR, nor can it be used as investment advice.