It is understandable if you're wondering whether Hershey stock (NYSE: HSY) is a good investment in 2023. With HSY stock price down 6% year-to-date and down more than 20% from its recent peak, many investors want to know whether Hershey stock is a buy or a sell now.
If you like to check what elite investors are doing, there is something interesting about Hershey stock. Hedge funds are accumulating this chocolate stock on the dip. According to TipRanks data, hedge funds purchased nearly 10 million shares of HSY stock in Q2 2023.
Read on to find out why HSY stock is the elite investors' favorite chocolate stock to buy now.
Hershey News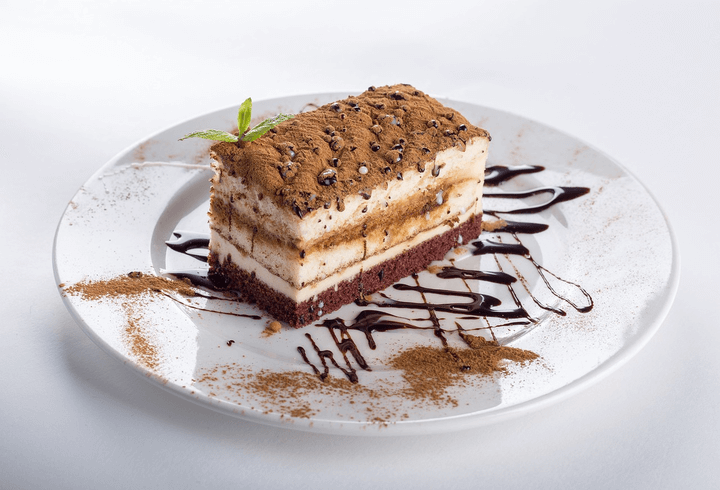 Source: Pixabay
Hershey to Close Manufacturing Facility
The chocolate powerhouse Hershey Company has decided to shut down its small manufacturing plant located in Velva, North Dakota. The Velva facility produces seasoning for Hershey's salty snacks, particularly the Dot's Pretzels.
The company said that the facility is physically limited, so it doesn't allow for the operational efficiency it wants. Hershey plans to move production at the Velva plant to its other salty manufacturing facilities. The Velva plant is set to close in October. About two dozen people who work at the facility will be offered jobs at Hershey's other plants.
Hershey and EPA Team up on Pollution Control Efforts
The U.S. Environmental Protection Agency (EPA) and Hershey have come together to help reduce pollution from dairy farms. The company and the environmental agency have agreed to contribute $2 million to help a group of Pennsylvania dairy farmers adopt environmentally friendly practices.
For example, the funding will help members adopt practices that reduce nutrient runoffs that can pollute water sources. Moreover, the funding will help farmers reduce greenhouse gas emissions. The environmental protection funding program will benefit dairy farmers that supply milk for Hershey's chocolate manufacturing.
Hershey Company (NYSE: HSY) Overview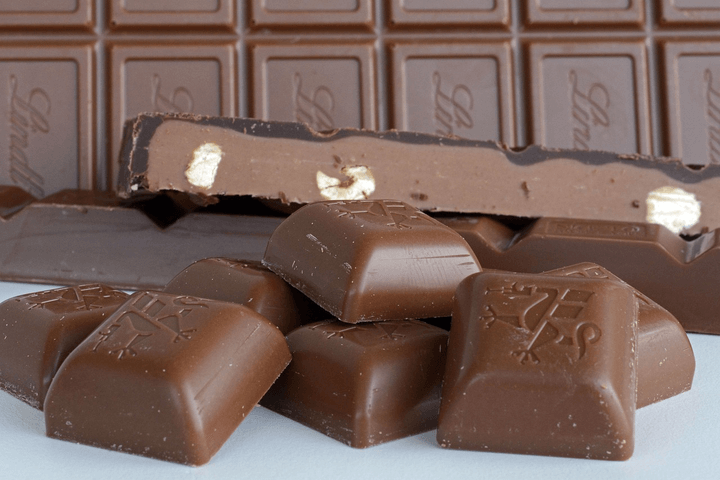 Source: Pixabay
Hershey Company is an American multinational confectionery and snack products company. It is the largest chocolate manufacturer in the world. In addition to chocolate, Hershey also makes a range of salty snacks. Moreover, the company sells milkshakes and other beverages.
Hershey has more than 100 brands of candy and snacks. It sells its products in more than 80 countries.
Founded by Milton Hershey in 1894, the Hershey Company is headquartered in Pennsylvania. The company started as a subsidiary of Lancaster Caramel Company. Hershey Company went public in 1978.
Top 5 Hershey Shareholders
Many elite investors have identified Hershey stock as the best chocolate stock to invest in in 2023. These are Hershey's top institutional shareholders.
| | |
| --- | --- |
| Shareholder | Stake |
| Vanguard Group | 9.4% |
| BlackRock | 6.5% |
| SSgA Funds Management | 4.8% |
| Geode Capital Management | 2.1% |
| Renaissance Technologies | 1.5% |
Key Milestones in Hershey Company's History
| | |
| --- | --- |
| Year | Milestones |
| 1900 | Hershey begins manufacturing milk chocolate bars. |
| 1907 | Hershey expands its product variety with additional chocolate candy size and shape options. |
| 1969 | Hershey acquires license to make and sell products under Kit Kat and Rolo brands in the U.S. |
| 2016 | Hershey turns down a $23 billion buyout offer from Mondelez. |
| 2019 | Hershey partners with Yuengling on a beer product. |
| 2023 | Hershey enters plant-based chocolate alternatives. |
Hershey Company's Business Model
Hershey is generally a snacks company. But it is best-known for its chocolate products. Its other products are mints, sweets, and various salty snacks. The company distributes its products through its own stores, retailers, and other channels.
Hershey's brands include the Hershey, Kit-Kat, and Almond Joy, Reese's, and Twizzlers.
The company's operations are divided into three segments as follows:
North America confectionery
North America salty snacks
International
The North America confectionery business contributes the bulk of Hershey's revenue.
The Hershey Company (NYSE: HSY) Financials
Assessing Hershey's financials can help you determine whether it really is the best chocolate stock to buy now. For that reason, let's examine the company's recent financial performance and the statement of its balance sheet.
1. Hershey's Revenue
In Q2 2023, Hershey's most recent reported quarter, revenue increased 5% year-over-year to $2.5 billion. That followed a 12% year-over-year revenue jump in Q1.
In full-year 2022, the company's revenue rose 16% to $10.4 billion. That built on a 10% revenue rise in 2021 to $9 billion.
Wall Street expects Hershey's revenue to keep growing, with the consensus calling for an 8% revenue increase to $11.3 billion in 2023.
2. Hershey's Net Income
The company made a profit of more than $406 million in Q2 2023, representing an increase of about 30% over the same period the previous year. The company's profit jumped 10% year-over-year to $587 million in Q1.
In 2022, Hershey's profit rose 11% to $1.6 billion. The company has been consistently profitable for decades.
Hershey stock boasts a strong return on equity of 52%.
3. Hershey's Profit Margins
The company achieved an operating profit margin of 22.5% and net profit margin of 16.3% in Q2 2023. In 2022, its operating margin was about 22%, while the net margin was about 16%. Notably, Hershey has maintained its operating margin above 20% and net margin above 15% over the past several years.
4. Hershey's Cash Position and Balance Sheet Condition
The company produced nearly $300 million in cash from operating activities in Q2 2023. It has a cash balance of $446 million. Its balance sheet shows assets worth $12 billion and long-term debt of $4 billion.
Hershey's balance sheet is generally in great shape, considering its quick ratio of 0.44 and current ratio of 1.06.
Hershey Stock Analysis
HSY Stock Valuation
Hershey stock is trading at a forward P/E ratio of 21.18. This compares to 20.19 for Mondelez and 21.98 for Nestle. As you can see, Hershey's forward P/E valuation is largely in line with that of its major industry peers. Moreover, Hershey has a much better P/FCF ratio than Mondelez at 26, compared to 35 for the competitor.
HSY Stock Trading Information
Hershey stock is listed on the NYSE under the ticker symbol "HSY". More than 1.2 million Hershey shares exchange hands in a day on an average.
Trading HSY stock can begin as early as 4 a.m. ET and extend to as late as 8 p.m., if you take into account premarket and post-market sessions. However, the regular trading session for Hershey stock starts at 9.30 a.m. and ends at 4 p.m.
Hershey Stock Split History
The chocolate company has split its stock several times since the IPO. The first HSY stock split was a 3-for-1 in 1986. The second HSY stock split was a 2-for-1 in 1996. The stock's third split was also a 2-for-1 in 2004.
The Hershey stock split history shows that an original position of 1,000 shares in the company has increased to 12,000 shares.
Companies usually split their stocks to make them more affordable to small investors after the share price has soared too high. Hershey's management hasn't discussed plans for a future HSY stock split, though the stock price has stayed above $200 for a long time.
Hershey Stock Dividend Yield
If you're looking for the best chocolate stocks for dividends, you might want to look no further than HSY stock. Hershey Company has a long history of paying dividends consistently. Moreover, the company has maintained a practice of increasing its dividends annually for many years.
Hershey pays dividends on a quarterly basis, resulting in four payment cycles in a year. It paid an annual dividend of $3.87 per share in 2022, which was substantially higher than the $3.41 per share it paid in 2021. HSY stock now offers a sector-leading dividend yield of 2.25%.
Hershey Stock Performance
HSY stock price has surged nearly 10,000% since the IPO, outperforming other major chocolate stocks such as Mondelez and Nestle.
Over the past year, HSY stock price has swung between a low of $211 and a high of $276. At about $212 now, Hershey stock trades at a more than 20% discount to its 52-week high.
HSY Stock Forecast
More than a dozen Wall Street analysts have weighed in on Hershey stock outlook with various price targets. The average Hershey stock forecast of $260 implies over 20% upside potential. The peak HSY stock price target of $300 suggests over 40% upside. Even the base HSY stock price target of $233 represents nearly 10% upside.
The majority of the analysts have a Buy rating on Hershey stock.
Hershey Stock Technical Analysis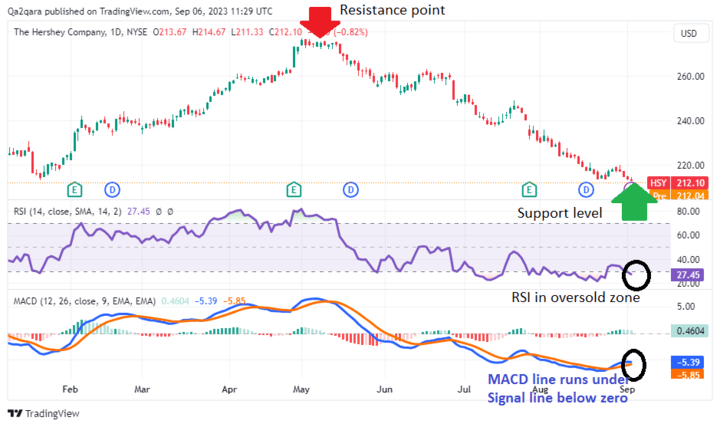 The chart above shows Hershey stock price action since January 2023, together with RSI and MACD indicators.
You can see that Hershey stock was rising steadily until April. The uptrend paused in May and after that the stock began going down. At this point, the stock has dropped to its lowest levels not seen in many months.
If you look at the stock's RSI reading, it has dipped below 30 into the oversold territory. If you check the MACD chart, you can see that the MACD line has been running under the Signal line below the zero line.
Looking at where HSY stock price stands right now and what the RSI and MACD indicators show, a strong upward breakout could be in the offing.
Hershey stock has found solid support at $212, but it continues to face strong resistance at $276.
Hershey Company's Challenges and Opportunities
The snacks industry presents various growth opportunities for Hershey Company. But the company also faces a number of challenges as it strives for success. Let's explore Hershey's opportunities, challenges, and competitive advantages:
Hershey Company's Opportunities
1. International Expansion
Although Hershey already sells its products in multiple countries, it still has plenty of room to expand its international business. At the moment, international sales contribute less than 10% of Hershey's total revenue. In 2022, for instance, international sales accounted for just over 8% of the company's revenue.
There are more countries that Hershey could enter in to expand its international footprint. Moreover, there is room for the company to sell more products in its existing international markets.
Asian, Latin American, and African countries are particularly less penetrated but promising markets for Hershey. The rapidly expanding middle-class populations in these countries means that more people have disposable incomes to spend on confectionery and snack products.
The global chocolate confectionery market, Hershey's mainstay, is expanding at the rate of 4% annually. As a result, the market is on track to surpass $118 billion by 2031, growing from $77.6 billion in 2021, according to Allied Market Research. Much of that market opportunity is outside the U.S., Hershey's domestic market.
2. Functional Confectionery Market
Amid the expanding health awareness among populations, consumers are increasingly demanding healthier food options. For example, many people are seeking sugar-free or plant-based alternatives of their popular food items and snacks.
While the steady shift from sugar-based products may seem like a threat to Hershey's flagship candy business, it could be a blessing in disguise for the company.
For example, the pursuit of healthier foods is fueling demand for functional confectionery. These are candy and snack products with health benefits. They may be meant to boost energy, enhance the immune system, or improve oral health.
Given Hershey's strong brand position and extensive experience in the confectionery industry, the functional confectionery market presents an exciting opportunity. Although it is currently small, the functional confectionery market is expanding rapidly.
Valued at just over $2 billion in 2022, the global functional confectionery market size is on track to hit $3 billion by 2029, according to Data Bridge. The functional candy market presents an additional market opportunity for the company.
3. Digital Market Presence
An increasing number of consumers are shopping online. Consequently, the online sale of confectionery and snack products is growing the fastest, according to Grand View Research. Therefore, Hershey could make more sales by expanding its online presence.
There are many digital sales and marketing techniques that Hershey could apply to grow its online business. For example, many consumer brands from Coca-Cola to Chipotle have leveraged the popularity of NFTs to grow their digital awareness and increase sales. Accepting cryptocurrency payments is another technique that could help boost online sales for Hershey.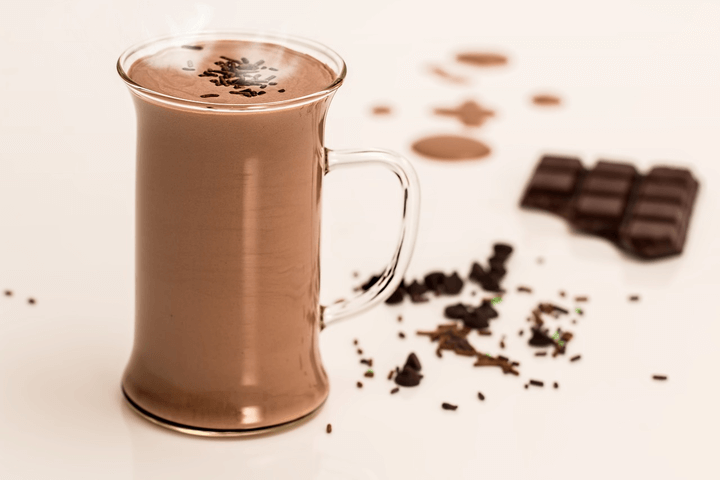 Source: Pixabay
Hershey Company's Challenges
1. Fluctuating Raw Material Prices
Hershey's manufacturing depends on a range of raw materials that it sources from a diverse range of suppliers domestically and abroad. The company uses raw materials such as sugar, milk, and cocoa. The availability and prices of these materials can be affected by weather conditions, political issues, and other factors.
A surprise shortage or increase in prices of these raw materials can disrupt Hershey's production and reduce its profit margins.
2. Overreliance on the Domestic Market
Although Hershey is a multinational company, it depends on the U.S. market for a significant portion of its revenue. This is good as long as the U.S. economy is booming. But it can be a serious problem for Hershey's business if the domestic economy slips into stagnation or worse, enters a downturn.
3. Tight Regulations
The food industry that Hershey operates in is subject to a range of strict regulations. The regulatory measures in this industry cover things like food safety practices, product labeling, and product advertising.
The food industry's regulatory requirements can change in response to various events. Failure to comply with the industry's complex regulatory requirements can result in hefty fines and reputation damage, which can hurt business prospects.
4. Intense Competition
Intense competition can drive up marketing costs, reduce market share, or force price cuts to defend market share. These are some of Hershey's major competitors and the threats they pose:
| | |
| --- | --- |
| Competitor | Threat |
| Mars | Hershey and Mars are the top rivals in the chocolate products market. They both have multiple brands of chocolate-based products. But Hershey boasts more than 33% share of the chocolate market share compared to Mars' 26%. |
| Nestle | Hershey competes with Nestle in the chocolate and snack products market. Both companies boast multiple production options and loyal customers. |
| Mondelez | Mondelez is another big name in the confectionery, chocolate, and snacks business. It presents serious competition to Hershey, though Hershey has continued to stay ahead of it in terms of market share in chocolate and confectionary segments. |
Hershey Company's Competitive Advantages
1. Strong Brand Recognition
Hershey is the best-known brand in the chocolate market. The brand is associated with high-quality products. The strong brand position has helped the company establish strong customer loyalty that continues to power its business. Consumers are so attached to the brand that Hershey can hike its product prices without turning them away.
2. Leading Market Share
Hershey is the leading chocolate manufacturer in the world in terms of market share. In the U.S., it controls more than a third of the chocolate market. It also has the biggest share of the confectionery market.
Hershey's leading market share contributes to strengthening its brand position, and puts it in a great position to make the most of the market growth. For example, the dominant market share can make it easier for Hershey to introduce additional products on the market more successfully than many of its competitors.
3. Solid Financial Position
Hershey is in a financially stable position. It has substantial cash, a large asset base, and manageable debt. As a result, the company is better-placed than many of its rivals to survive an economic downturn.
Considering its solid financial position Hershey may even use an economic downturn to make opportunistic acquisitions to expand its business and bolster its market position.
4. Strong commitment to sustainability
Hershey has made sustainability a central focus of its operation. The company has committed to ending deforestation across its supply chain by 2030. Hershey has also set a range of other sustainability goals in various areas.
The sustainability efforts that Hershey has taken burnish its image as a responsible business. In a world where there are growing concerns over the impact of climate change, demonstrating efforts toward sustainability can help Hershey bolster its reputation among customers, lenders, and investors.
Hershey stock (NYSE: HSY) Trading Strategies
If you've come to the conclusion that Hershey stock is the best chocolate stock to invest in 2023, there are multiple ways you could make money with this stock. Your investment goal and amount of money you have to start investing with may determine the best option for you to pursue.
Let's explore the two common investment strategies for Hershey stock:
1. Buying and holding Hershey Stock Shares
If you've a long investment timeline and a large amount of capital to start with, purchasing and holding Hershey shares might be the best strategy for you. When you open a long-term position in Hershey stock, your hope is that HSY stock price would appreciate during your holding period.
With this method, the holding period is usually one year or longer. Therefore, purchasing and holding Hershey shares can appeal most to those investing for retirement or children's college fund.
As you would expect, buying and holding Hershey shares for an extended period has its benefits and drawbacks. Let's explore the pros and cons of this investment strategy:
Pros:
You get shareholder voting rights in Hershey, so you can influence the company's future.
You become eligible for Hershey's dividend distributions.
The number of shares you own in Hershey may increase in case of a HSY stock split event.
Cons:
You can only make a profit when HSY stock price is going up. As a result, a sudden market downturn can wipe out gains that you've accumulated for years.
You require a large amount of upfront capital to get started.
You may need to wait longer than you expected to see the returns you want.
2. Trading Hershey Stock CFD
A more flexible and potentially more rewarding alternative to holding Hershey shares for the long-term is trading Hershey stock CFD. With CFD trading, you bet on short-term HSY stock price movements. Therefore, CFD trading may be most appealing to those investing for income to pay their everyday expenses.
If you expect Hershey stock price to go up over say a day or week, you would purchase CFD contracts that pay you the price increase. Let's say you purchase 100 contracts and HSY stock price jumps by $5 in a day. In that case, you would make a profit of $500.
On the other hand, if you expect HSY stock price to decline, you would purchase CFD contracts that pay you the price decrease. Let's say you purchase 100 contracts and the stock price dives by $3. For that trade, your profit would be $300.
Hershey CFD contracts are typically priced at a steep discount to Hershey stock's market price. Therefore, trading Hershey stock CFD requires less upfront capital than holding Hershey shares.
Similar to holding Hershey shares, trading Hershey stock CFD also has its benefits and drawbacks that you should weigh when considering this investment strategy. Let's explore the pros and cons of trading Hershey stock CFD.
Pros:
You could make money from CFD trading whether Hershey stock is in a bull or bear market.
Trading Hershey stock CFD requires less upfront capital than purchasing and holding Hershey shares.
You can capture profits over short times, such as over an hour, day, or week.
Cons:
Trading Hershey stock CFD doesn't make you a shareholder in the company. Consequently, you aren't eligible for Hershey dividends. But you can make up for the missed dividends by trading frequently to capture short-term profits.
As a CFD trader, you don't have shareholder voting rights in Hershey Company. But that's not a big deal if you don't want to influence the company's management decisions.
Trading Hershey Stock CFD with VSTAR
If you've decided to trade Hershey stock CFD, the next thing you want to do is select the best CFD broker. To begin with, only choose a regulated CFD broker to ensure the safety and security of your funds.
For most traders, the best CFD broker offers a low-cost trading environment and effective risk management tools.
A fully licensed and registered CFD broker, VSTAR provides a low-cost trading platform enabled by tight spreads and zero-commission on standard accounts. Moreover, the platform offers insightful learning materials and powerful risk control tools to help traders improve their skills and protect their profit.
It is also easy to get started with VSTAR. For example, you can start trading Hershey stock CFD with as little as $50. Traders with little money to start with can take advantage of the generous leverage offered by VSTAR to boost their trades and maximize their profits.
Consider opening your VSTAR account today and start making money trading HSY stock CFD. The platform offers new traders as much as $100,000 in a demo account to practice trading.
Final Thoughts
If you're looking for the best chocolate stock to invest in in 2023, Hershey stock (NYSE: HSY) is a strong candidate to consider. The company has been consistently profitable for many years. Consequently, it has built a strong financial base that has enabled it to weather economic downturns through the years. Moreover, Hershey still has plenty of room to grow its revenues and improve its profitability in the coming years.
*Disclaimer: The content of this article is for learning purposes only and does not represent the official position of VSTAR, nor can it be used as investment advice.