The biotech industry considered to be the future of the health sector, is revolutionizing healthcare with its biological process of developing vaccines, new drugs and treatments positioning the rapidly growing sector as a lucrative investment and increasingly attracting savvy investors in recent years. Novavax (Nasdaq: NVAX) a renowned biotech company, has been making waves in the headlines with the NVAX stock set for a rise as it awaits the FDA approval for its newly developed COVID-19 vaccine known to be effective against emerging variants of the virus.
This new innovation by the biotech firm promises an increase in the revenue stream and an overall surge in the stock price of the vaccine manufacturer. This is coming just after Novavax shocked shareholders with its unbelievable 2023 Q2 earnings which shattered investors expectations by enormous margins. There are other interesting developments you won't want to miss out on concerning NVAX stock, read on as we critically analyze the NVAX stock.
Novavax News
Novavax stock surges after signs of fighting off emerging variants of Covid-19: On August 22, 2023, Novavax stock price surged by more than 13% after the company announced that its COVID-19 vaccine was effective against the EG.5.1 (also known as "Eris") and XBB.1.16.6, one of the most recent subvariants of Omicron. The company is poised to rival dominant firms in the biotech industry like Pfizer and Moderna as it awaits FDA approval for its new vaccine, estimated to be announced soon.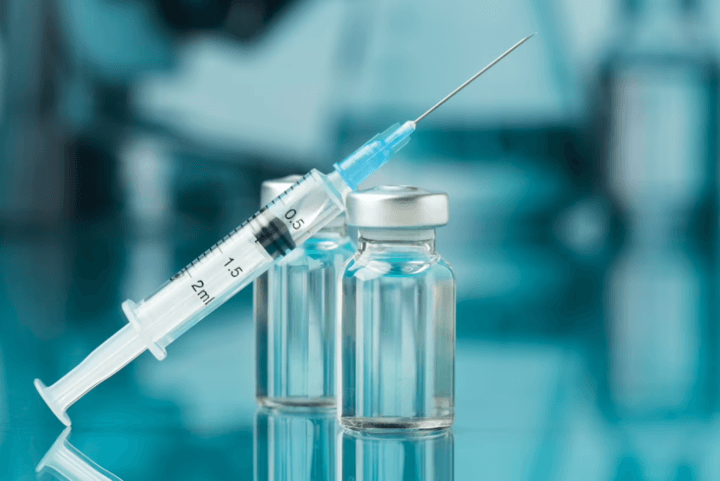 Credit: Freepik
Novavax delivers astounding Q2 earnings report: Novavax's Q2 earnings report delivered a surprising turnaround, with the company reporting a profit of $58 million, or 58 cents per share, in stark contrast to the previous year's Q2 loss of $510.5 million, or $6.53 per share.
Revenue also saw a significant boost, rising from $185.9 million in the same quarter last year to $424.4 million. This performance defied analysts' expectations of a $1.39 per share loss on revenue of $240 million. These positive results are noteworthy given Novavax's recent financial struggles and workforce layoffs.
Novavax Receives Fund Boost from Investors and Canadian Government: Earlier this year, SK Bioscience a South Korean Biotech manufacturer invested $85 million for a 7% stake in Novavax, with a premium price of $13 per share. This deal grants SK exclusive commercial rights to Novavax's updated COVID vaccine in South Korea until February 2029, and nonexclusive rights in Thailand and Vietnam until June 2028.
Novavax also received a $100 million cash payment from the Canadian government in April 2023 as a partial payment for unused doses of its COVID-19 vaccine. These cash injections will further propel the US based Biotech company towards more profitability.
Novavax Inc's Overview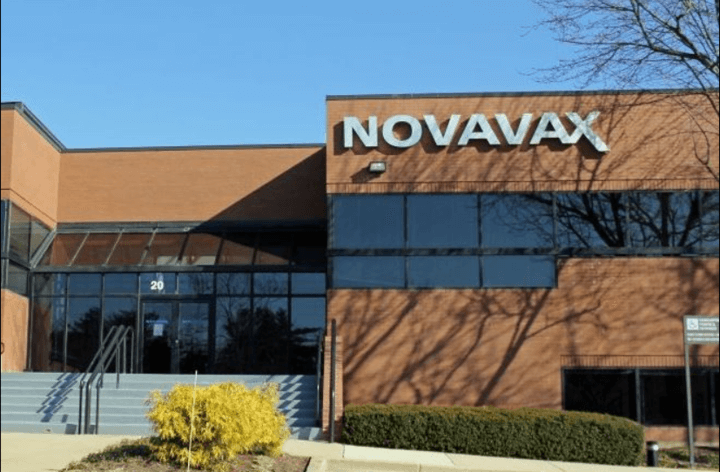 Credit: Pharma Journalist
What is Novavax
Novavax, Inc. (Nasdaq: NVAX) is a leading biotechnology company specializing in the development and distribution of innovative vaccines to combat serious infectious diseases worldwide. Established in 1987 by John Lambert and focused initially on developing a virus-like particle (VLP) vaccine technology, the leading vaccine developer is headquartered in Gaithersburg, Maryland, USA.
Novavax's corporate structure comprises three principal segments: Vaccines, where they specialize in developing and manufacturing vaccines targeting a wide spectrum of diseases, notably COVID-19, influenza, and RSV; Adjuvants, where they play a significant role in producing substances that amplify immune responses to vaccines; and Research and Development, marked by substantial investments in pioneering vaccines and adjuvants for emerging infectious diseases, all aimed at enhancing vaccine effectiveness.
The current CEO of Novavax is John C. Jacobs. He took over the role in January 2023. He is a seasoned industry leader who has more than 25 years of commercial, operations, business and leadership experience across multiple therapeutic areas.
Prior to joining Novavax, Jacobs was the president and CEO of Sarepta Therapeutics, a biopharmaceutical company focused on developing RNA-based therapeutics for rare diseases. He also held senior leadership positions at Merck & Co., Inc.
Top Shareholders of Novavax Inc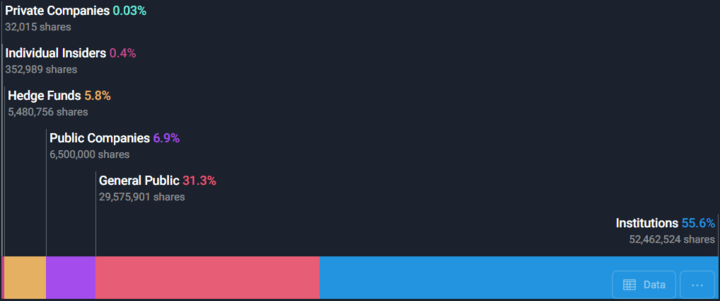 Credit: Simplywallst
As can be seen from the above image, the company is majorly owned by Institutional investors with a collective 55.6% stake, Novavax Inc (NASDAQ: NVAX) is also owned by the general public (31.3%) and public companies (6.9%). The top 5 shareholders are listed below with their stake.
| | |
| --- | --- |
| Shareholders | Stake (%) |
| State Street Global Advisors, Inc. | 12.37% |
| The Vanguard Group, Inc. | 11.2% |
| Blackrock, Inc. | 7.41% |
| SK bioscience Co., Ltd | 6.89% |
| Shah Capital Management, Inc. | 5.81% |
Key Milestones in the Company's History
The following are the notable achievements that has marked Novavax's journey in the industry.
1987: Novavax is founded by Dr. Stanley C. Erck.
1996: Novavax's first vaccine, a hepatitis B vaccine, is approved by the FDA.
2020: Novavax's COVID-19 vaccine is granted emergency use authorization in India.
2021: Novavax's COVID-19 vaccine is granted emergency use authorization in the Philippines and the United Kingdom.
2022: Novavax's COVID-19 vaccine is granted approval in Indonesia.
2023: Novavax's COVID-19 vaccine is granted priority review by the FDA.
Novavax Inc's Business Model and Product/Servies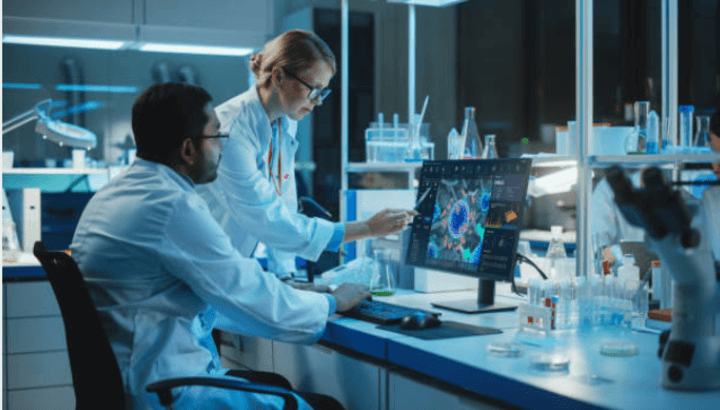 Credit: Istock Photos
How Novavax makes money
Novavax generates revenue primarily through two key avenues.
Firstly, the company develops, manufactures, and sells vaccines designed to combat a range of infectious diseases. These vaccines are sold to various entities, including governments, healthcare organizations, and other customers.
Secondly, Novavax engages in strategic collaborations and partnerships with governments, organizations, and fellow biotechnology firms. These partnerships often encompass funding arrangements, research agreements, and licensing arrangements, all of which contribute significantly to the company's overall revenue stream.
Main Products and Services
Novavax's main products are vaccines. The company has a pipeline of vaccines in development, including vaccines against COVID-19, influenza, RSV, and Zika. Novavax also develops and manufactures adjuvants, which are substances that enhance the immune response to vaccines.
Here is a short summary of Novavax's main products and services:
COVID-19 vaccine: Novavax's COVID-19 vaccine is a protein-based vaccine that uses a technology called recombinant nanoparticle technology. This technology uses a virus-like particle (VLP) that is made in insect cells. The VLP contains the spike protein of the SARS-CoV-2 virus, which is the protein that the virus uses to attach to human cells.
Influenza vaccine: Novavax is developing an influenza vaccine that uses its recombinant nanoparticle technology. The vaccine is designed to protect against multiple strains of the influenza virus.
RSV vaccine: Novavax is developing an RSV vaccine that uses its recombinant nanoparticle technology. RSV is a respiratory virus that can be deadly for infants and young children.
Zika vaccine: Novavax is developing a Zika vaccine that uses its recombinant nanoparticle technology. Zika is a virus that can cause birth defects.
Adjuvants: Novavax develops and manufactures adjuvants, which are substances that enhance the immune response to vaccines. Adjuvants are often used in combination with vaccines to improve their effectiveness.
Novavax Inc's Financials, Growth, and Valuation Metrics
Credit: Istock Photos
Review of Novavax Inc's financial statements
Novavax Market Cap, Net Income and Revenue Growth
With a market capitalization of over $828 million, Novavax is still very much a developing company with lots of potential for growth. In the second quarter, Novavax reported a remarkable turnaround, posting a net income of $58 million, or 58 cents per share, in stark contrast to the net loss of $510.5 million, or $6.53 per share, for the same period the previous year.
The biotech company's second-quarter sales also surged, reaching $424.4 million, compared to $185.9 million in the corresponding period last year. These outcomes exceeded Wall Street expectations, with earnings per share surpassing estimates at 58 cents per share, as opposed to the anticipated loss of $1.39 per share, and revenue reaching $424.43 million, surpassing the expected $239.2 million.
Novavax's profit margin in Q2 2023 was 13.6%. This compares to a profit margin of -101.7% in Q2 2022. Its return on equity in Q2 2023 was 14.7%. This compares to a return on equity of -148.5% in Q2 2022.
Balance sheet strength and implications: Novavax's balance sheet is strong. The company has $505.91 in cash and cash equivalents and $237.33 million in debt. This gives the company a strong financial position to invest in its growth.
Cash flows: Novavax's cash flows from operations were positive in Q2 2023, at $219.5 million. This compares to negative cash flows from operations of $358.1 million in Q2 2022.
Key Financial Ratios and Metrics
Here is a comparison of Novavax's (NVAX) valuation multiples to its peers and the industry:
| | | | |
| --- | --- | --- | --- |
| Metric | Novavax | Peers | Industry |
| P/E (TTM) | 29.7 | 17.2 | 21.6 |
| P/S (TTM) | 7.8 | 4.8 | 4.4 |
| P/B (TTM) | 3.7 | 2.9 | 3.3 |
| EV/EBITDA (TTM) | 23.1 | 12.8 | 15.4 |
As you can see, Novavax's valuation multiples are higher than its peers and the industry. This suggests that the stock is overvalued. However, it is important to note that Novavax is a growth stock, and its valuation multiples are typically higher than those of mature companies.
NVAX Stock Performance Analysis
NVAX Stock Trading Information
Novavax Inc. (NVAX) is a publicly-traded company listed on the Nasdaq Stock Market with the ticker symbol "NVAX". The company had its initial public offering (IPO) on October 23, 1995, and it is based in the United States, where its stock is traded in U.S. Dollars (USD).
Nvax stock primarily trades during regular market hours on the Nasdaq, which run from 9:30 AM to 4:00 PM Eastern Time (ET) on standard trading days. However, investors also have the opportunity to engage in pre-market and after-market trading. NVAX premarket sessions commencing at 4:00 AM ET and extending until the market opens at 9:30 AM ET, while after-market trading operates from 4:00 PM ET to 8:00 PM ET.
NVAX Stock Splits
NVAX stock has only being split once. The split for NVAX took place on May 10, 2019. This was a 1 for 20 reverse split, meaning for each 20 shares of NVAX owned pre-split, the shareholder now owned 1 share. For example, a 1000 share position pre-split, became a 50 share position following the split.
NVAX Dividend Yield and History
Novavax is not known for paying dividends. Biotech companies, especially those focused on research and development, often reinvest their earnings into their core operations and pipeline development rather than distributing dividends to shareholders and NVAX stock is no different.
NVAX Stock Price Performance since its IPO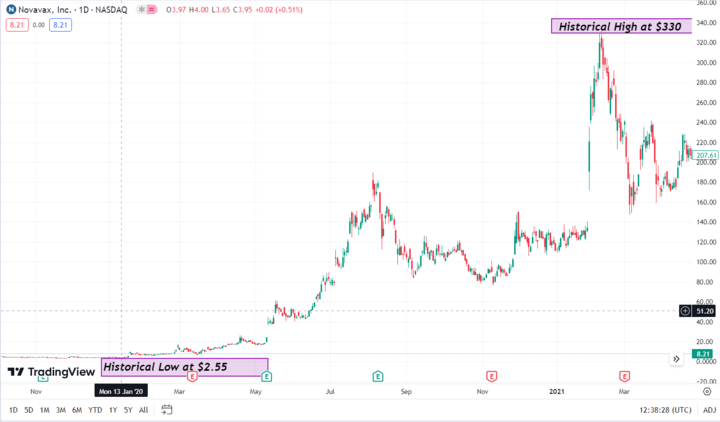 Credit: Tradingview
Since its IPO, Novavax Inc. (NVAX) has experienced significant price fluctuations. The historical high for NVAX stock was $330 on February 9, 2021, while the historical low for Novavax share price was $2.55 on March 8, 2020. As of September 6, 2023, the stock is trading at $8.20 as can be seen below.
NVAX Stock Forecast
NVAX stock price has been marked by volatility, with an average daily range of around 10%. It has been on a downward trend since its peak in February 2021. Currently, key resistance levels for NVAX stock are at $9.00 and $10.00, while key support levels are at $7.00 and $6.00.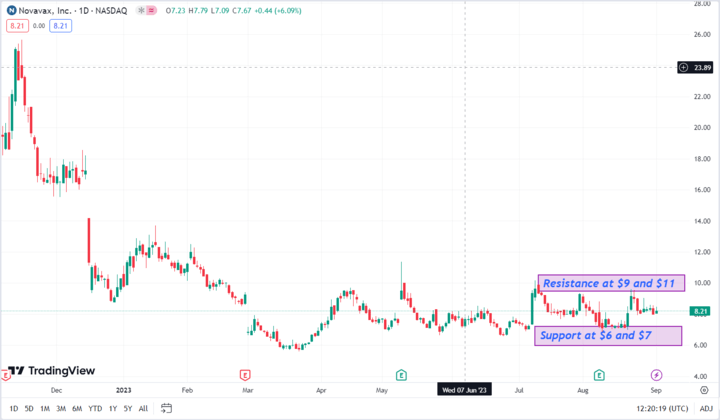 Credit: Tradingview
Novavax Stock Forecast
Novavax stock is currently trading around $8.00, and its performance may be influenced by whether it can break through the $9.00 resistance level. If successful, it could potentially move higher to $10.00 and $11.00. Conversely, if it fails to breach the $9.00 level, it might retreat to $7.00, with further support at $6.00 and $5.00. The stock's movement may also be impacted by broader market conditions and key drivers, such as developments in the biotech sector and news related to its vaccine products. Additionally, NVAX's beta of 1.68 indicates that it is more volatile than the broader market, potentially amplifying price swings in response to market events.
Key Drivers of NVAX Stock Price
Novavax stock price is influenced by several key drivers, including:
Development and approval of COVID-19 vaccine: Novavax's COVID-19 vaccine has been granted emergency use authorization in over 40 countries. The company is also seeking approval from the FDA in the United States.
Partnerships and collaborations: Novavax has partnered with a number of companies, including the Bill & Melinda Gates Foundation and the Serum Institute of India. These partnerships could help Novavax to bring its vaccines to market more quickly and efficiently.
Financial performance: Novavax is still in the development stage, so it is not yet generating significant revenue. However, the company has recently turned a profit. This could help to improve investor confidence in the stock.
Competition: Novavax faces competition from other vaccine manufacturers, such as Pfizer and Moderna. These companies have already received approval for their COVID-19 vaccines in the United States.
Is NVAX Stock a Buy, Sell or Hold?
Based on consensus analyst ratings, Novavax Inc.(NVAX) receives a favorable outlook, with a majority of analysts rating it as either "Buy" or "Moderate Buy". There are no "Hold" ratings, and one analyst suggests "Sell".
The average 12-month price target for NVAX stock stands at $25.00, reflecting a substantial potential upside of approximately 204.51% from its current price of $8.21. The highest price target is $41.00, while the lowest is $9.00. It's important to consider that these price targets and ratings are subject to change, and investors should conduct their due diligence and factor in market conditions when making investment decisions regarding NVAX stock.
Challenges and Opportunities for NVAX
Competitive Risks
Novavax (NVAX) faces significant competitive risks in the biotech and vaccine industry. Key competitors, such as Pfizer and Moderna, have already achieved regulatory approval for their COVID-19 vaccines, giving them a substantial market advantage. The established presence and resources of Pfizer and Moderna pose a competitive threat.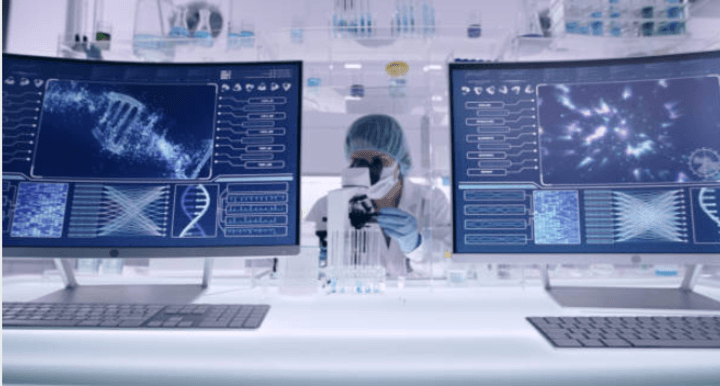 Credit: Istock Photos
Pfizer
Pfizer's COVID-19 vaccine is widely used and highly effective in preventing symptomatic COVID-19. Pfizer's extensive resources and global reach allow for robust marketing and distribution.
Moderna
Moderna's COVID-19 vaccine is another successful option, noted for its high efficacy and the distinction of being approved for children under 6. It has also demonstrated effectiveness against new variants.
Competitive Advantages of NVAX
Diverse Vaccine Technology: Novavax employs a different vaccine technology, protein-based instead of mRNA, which has a long track record of safety and effectiveness. This differentiation may appeal to certain markets or individuals with specific preferences.
Heat-Stable Vaccine: Novavax's COVID-19 vaccine can be stored and transported at room temperature, enhancing its suitability for distribution in regions with limited access to cold storage facilities.
Other Risks
Apart from competition, NVAX faces various other risks:
Regulatory Challenges: NVAX is awaiting FDA approval for its COVID-19 vaccine, and regulatory decisions can be uncertain.
Manufacturing Challenges: Scaling up production while ensuring quality is a potential hurdle.
Financial Constraints: NVAX is a smaller company and may face difficulties in securing necessary funds for research, development, and manufacturing.
Growth Opportunities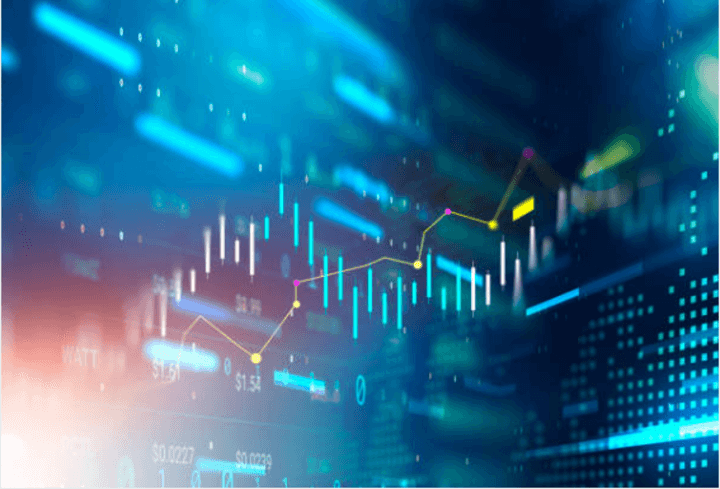 Credit: Istock Photos
NVAX has several growth avenues:
Diverse Vaccine Portfolio: NVAX is developing vaccines for multiple diseases, including influenza, RSV, and Zika, providing opportunities for market expansion.
Manufacturing Capacity Expansion: Increasing production capacity enables the company to meet growing demand, especially if multiple vaccines gain approval.
Future Outlook and Expansion for NVAX
NVAX's outlook remains promising:
COVID-19 Variants: Adapting the COVID-19 vaccine to new variants is crucial for future success.
Global Distribution: Expanding distribution partnerships with governments and organizations can broaden vaccine access, particularly in low- and middle-income countries.
Research Collaborations: Collaborations with research institutions and biotech firms can expedite vaccine development and innovation.
Strategic Alliances: Partnering with pharmaceutical companies or acquiring vaccine manufacturers can enhance NVAX's market presence and product offerings.
Trading Strategies for NVAX Stock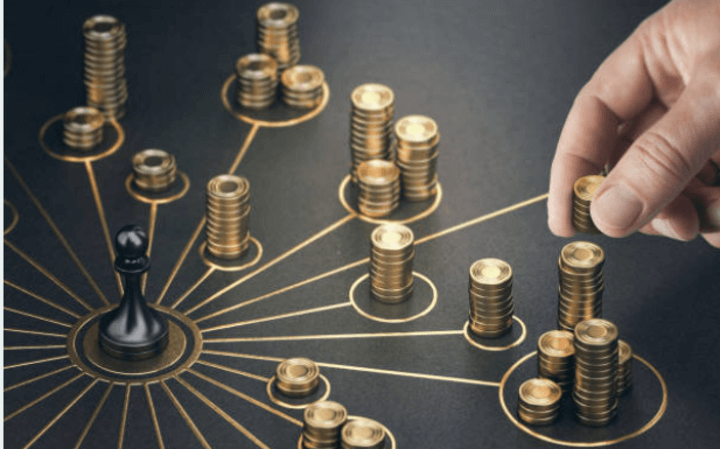 Credit: Istock Photos
CFD trading
Short for Contracts for Difference trading, represents a derivative trading method enabling traders to speculate on the price fluctuations of a security, like NVAX stock, without actual ownership. This approach permits traders to profit from both upward movements (going long) and downward trends (going short) in the asset's price. CFD trading offers leverage, enabling traders to engage with a relatively small capital investment, potentially amplifying both profits and losses. Secondly, CFDs provide flexibility by accommodating trading across various time frames, from intraday to long-term positions.
Options Trading
Options trading, a derivative trading approach, grants traders the ability to purchase or sell the right to buy or sell a security at a predetermined price on or before a specific date. While options trading may entail greater complexity compared to CFD trading, it comes with several distinct advantages. Firstly, it offers limited risk, allowing traders to confine their potential losses to the premium paid for the option. Also, options present substantial profit potential, contingent on factors like the strike price and market direction.
Swing Trading
Swing trading is a trading strategy that involves holding a position for a few days to a few weeks. Swing traders typically look for stocks that are in a trend and then trade in the direction of that trend. Swing trading can be a good strategy for trading NVAX stock because it allows you to take advantage of short-term price movements.
Trade NVAX Stock CFD with VSTAR
Discover the freedom of trading without hindrances as we extend a warm invitation to you, complete with exceptionally low minimum capital requirements. Embark on an exhilarating journey into the realm of NVAX stock CFDs with as little as $50, granting you access to a realm of opportunities enriched by generous leverage for the potential amplification of your gains.
Experience the excellence of VSTAR's trader-centric approach, fortified by our proactive risk management tools and prompt customer support. Don't let the chance slip away to engage in the dynamic world of NVAX stock CFDs, complemented by the option to harness a demo account valued at up to $100,000. Take action today and initiate the opening of your account!
In the meantime, you simply can't afford to overlook VSTAR's latest feature, the "Trade & Triumph". Immerse yourself in the enthralling universe of trading through this remarkable podcast. Brace yourself for inspiration, enlightenment, and entertainment as you embark on this captivating voyage through the world of trading.
Conclusion
In summary, Novavax Inc. (NVAX) operates in a competitive yet promising biotech landscape. Despite challenges and competition from industry giants, NVAX's innovative vaccine technology and diversified portfolio offer growth potential. Traders have opportunities in NVAX stock, with strategies like CFD and options trading. Analyst ratings lean towards a positive outlook, emphasizing its potential. NVAX's future relies on overcoming obstacles, seizing opportunities, and contributing to the healthcare sector, making it a company of interest in both healthcare and investment circles.
*Disclaimer: The content of this article is for learning purposes only and does not represent the official position of VSTAR, nor can it be used as investment advice.