Introduction
Nvidia's stock price has experienced significant fluctuations in 2023, surging more than 230% since the beginning of the year. It has been influenced by various factors, including global economic conditions, technological advancements, and company-specific developments. The future price also depends on some key indicators, such as
AI stock:The implementation of Artifical Intelligence (AI) is the key price driver of this stock. Recently, AI has become a matter of consideration, pushing large-cap companies to increase their dominance in this field.
GPU Market dominance: In the modern computing system, the Graphics Processing Unit (GPU) plays a crucial role, where Nvidia controls 95% of the market. Also, popular AI platforms like ChatGPT and Google Bard use powerful GPU machines, which is a strong bullish factor for the Nvidia stock.
Data center revenue: Also, Nvidia has a strong market presence in gaming PCs; 76% of its revenue comes from data centers. The strong position in this segment could increase the profitability in the coming quarters.
The stock price of Nvidia has been on a rollercoaster ride, with periods of rapid growth followed by corrections. Factors like the demand for graphics processing units (GPUs) in sectors like gaming, artificial intelligence, and data centers play a pivotal role. Additionally, macroeconomic factors and supply chain disruptions can impact Nvidia's stock performance.
Leading financial experts and analysts have been closely monitoring NVDA's performance. Their insights are invaluable for investors looking to understand the future prospects of Nvidia. Analysts often consider revenue projections, competitive positioning, and industry trends to provide forecasts and recommendations.
Let's take a look at its recent stock price performance and the factors that are driving these fluctuations. Furthermore, we'll explore expert insights to provide you with a comprehensive view of what lies ahead for NVDA.
Nvidia Stock Price Analysis for 2023
As we look ahead to the rest of 2023, it's crucial to assess Nvidia's future prospects by considering recent developments, financial performance, and analyst opinions.
As you consider your investment decisions for Nvidia in 2023, it's crucial to consider both the insights and factors that shape its stock forecast. Combining fundamental and technical analysis can help you navigate the dynamic stock market landscape effectively.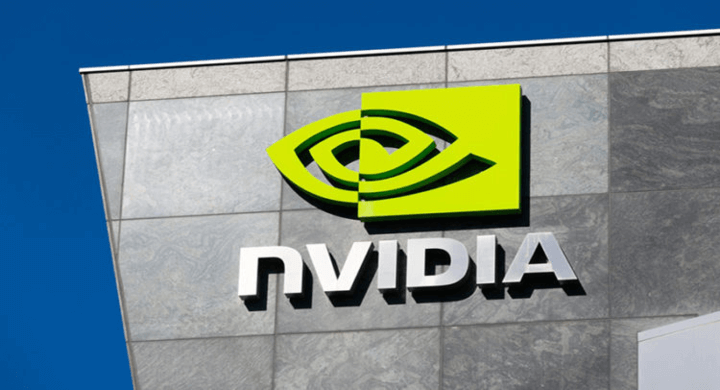 Source: Shutterstock
A. Recent Developments and News
Nvidia experienced a 196.36% gain till July 2023, especially after reaching the $1 trillion market club. The chipmaker impressed investors with a quarterly profit of $2 billion and a monthly profit of $7 billion in May 2023.
Earlier this year, it was disclosed that AI companies like ChatGTP were using Nvidia's A100 GPU. With time, the platform continued using tens of thousands of A100 GPUs, which created hope for Nvidia bulls. The company already has a stock reputation in the AI market, holding a 95% share of the machine-learning GPUs.
Besides, Nvidia is a major supplier of graphics processing units (GPU) and ASICs, a core part of modern computing systems. The implementation of AI in these areas has been the most significant development for Nvidia stock, driving the stock up 210% since the beginning of the year.
B. Analyst Price Targets and Ratings
According to analysts from CITI, Nvidia could maintain a ~90% share in the AI GPU market over the next three years, which would be a clear sign of stock growth.
Analyst projections and ratings offer valuable insights into NVDA's future performance. Analysts assess various factors, including revenue projections, market competition, and macroeconomic conditions, to provide NVDA stock price targets and stock ratings.
As per the Nvidia stock forecast, the highest target level could be $1,100, with the median at $630.00. Besides, other analysts have a strong buy signal, with an upbeat forecast for nvda earnings and revenue.
C. Nvidia Stock Price Analysis for 2023
The Nvidia stock forecast for 2023 presents a captivating blend of opportunities and challenges. As you consider your investment strategy, let's explore key insights, factors, and technical analysis that can help you make informed decisions.
1. Nvidia Stock Price Analysis 2023
According to sources like Coin Price Forecast and CoinCodex, Nvidia stock shows bullish tendencies in 2023 and may close at $474 per share by the end of the year.
Goldman Sachs forecasted the 1-year price target for the Nvidia stock at 623.95, which is 46% higher than the current price. Within the timeframe, the low of the tradable range could start from a low of 362.22 to a high of 1,155.00.
According to Bank of America, the Nvidia stock forecast for 2023 is set to 550.00 per share with a 59% increase in gross margin in fiscal 2024.
CFRA also has a "buy" rating on Nvidia stock with a price target of $500.00 per share. Other 44 analysts have set the median price target of Nvidia stock at $622.50 over the next 12 months.
2. Key Factors
Demand for GPUs and Supply Chain Issues: Nvidia's stock is directly impacted by the demand for its graphics processing units (GPUs) in gaming, AI, and data centers. According to Nvidia's Vice-president of the HPC-geared DGX system, there is a bottleneck issue in manufacturing GPUs due to higher volume issues. The company expects to deliver 550,000 of its latest H100 GPUsworldwide in 2023 to meet the AI demand. Although there is competing pressure from the other rivals, Nvidia is still on the front line regarding GPU production.
Valuations: Nvidia's price-to-earnings ratio and other valuation metrics provide insights into its stock's relative value. The current P/E ratio as of October 2023 (TTM) is 110, backed by an upward curve since 2005. The average 3-year annual growth for Nvidia's revenue is 34.5%, which is higher than the 874 companies in the semiconductor industry. However, the 3-year EBITDA growth rate for the company is 20.1%, which is lower than the 52.58% of the 776 companies. Overall, the stock is overvalued, but its profitability is still strong, which needs to be monitored closely.
New Product Launches: Introducing innovative products can drive growth and investor interest. The 40 series GPU is the latest technology with AI-powered graphics, Implementing DLSS 3.0 would provide better image quality and FPS in gaming at 8K image output. However, there is no official statement for the new 5000 series, which could be a bearish factor for the stock as a correction.
Competition: Rivalry within the tech and semiconductor industries can shape Nvidia's market position and stock performance. Among the competitors, AMD's GPU, Intel's Gaudi, Microsoft Athena, and Meta's MTIA are projects to be considered a threat.
3. Technical Analysis
Nvidia stock is currently on a bullish momentum in daily and weekly price charts. After hitting the 161.8% Fibonacci Extension level from the 346.78 to 108.99 zone, the price went sideways above the 400.00 psychological level. As the recent nvda stock price shows no significant downside momentum after reaching the 500.00 level, we may consider the upcoming direction as bullish towards the 600.00 level.
Also, the RSI indicates a bullish continuation as it seems to be stable above the 50.00 line on the daily chart. Therefore, the nvda stock forecast shows a decent long opportunity, which may take the price beyond the 1000.00 level.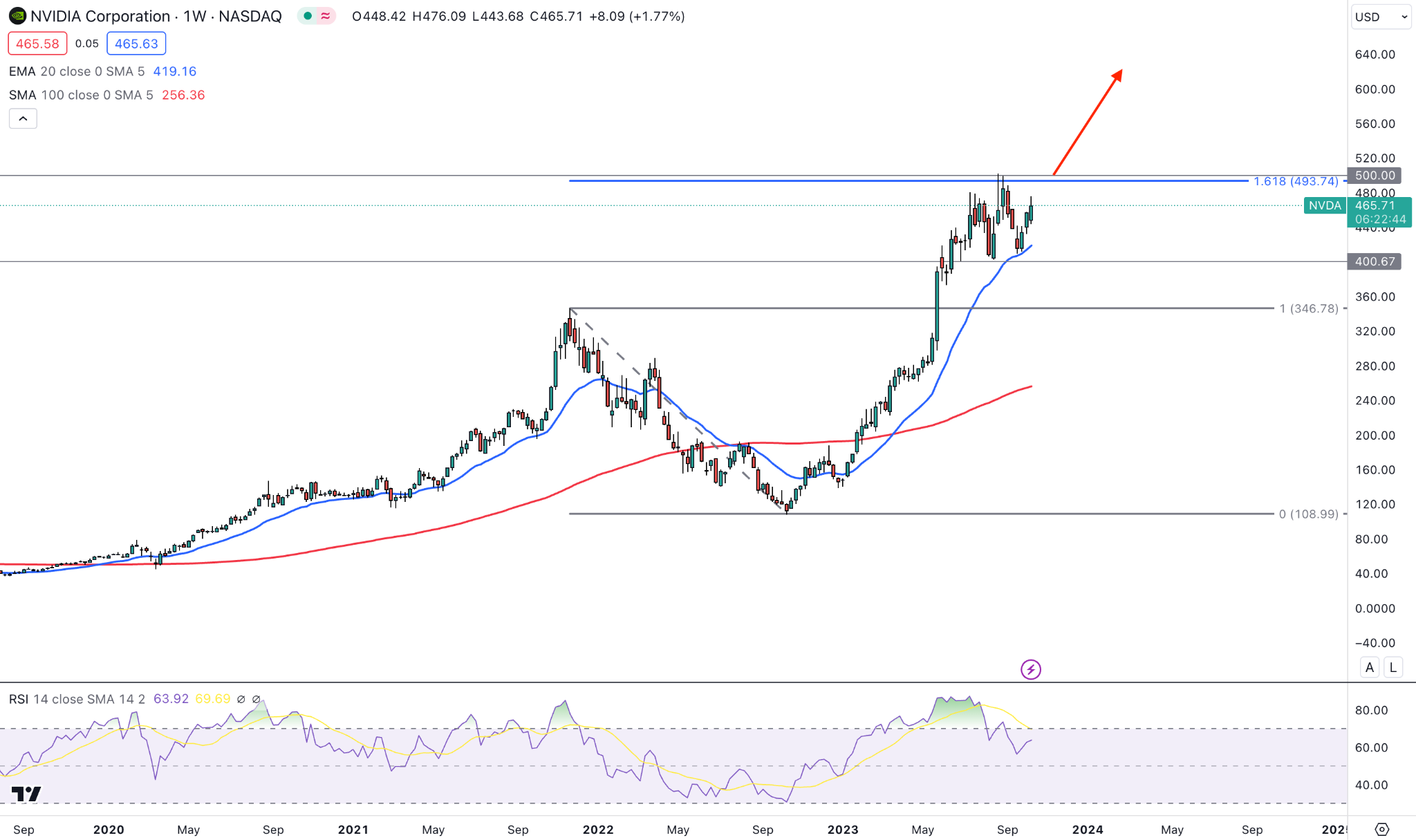 Source: TradingView
Nvidia Stock Price Analysis for 2025
Incorporating financial forecasts, company strategies, and analyst opinions into your decision-making process can help you navigate the dynamic stock market landscape.
Remember that long-term investments require patience and a thorough understanding of the company's fundamentals and industry trends.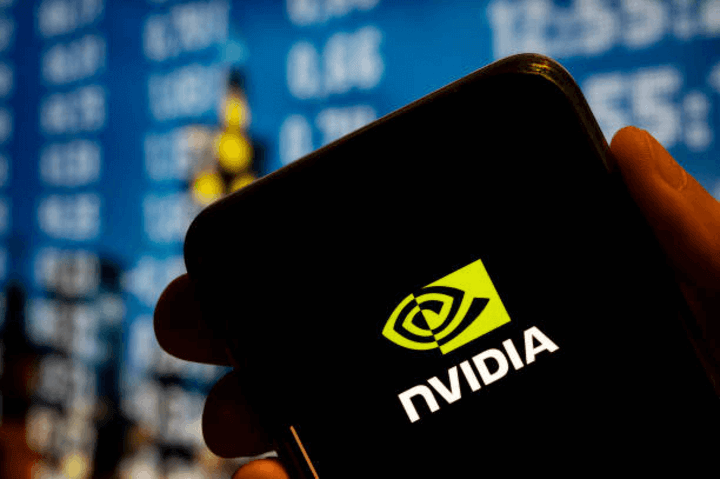 Source: Gettyimages
A. Nvidia's Development prospects for the next three years
Financial Forecast: According to a research farm, Gartner, the AI semiconductor section will see massive growth in the next few years. The market value could grow to $119 billion in 2027, up from this year's $53 billion. As Nvidia holds more than 80% of the GPU market share, the company's valuation could increase to $1.88 trillion in the next three years. Moreover, the average nvda earnings growth for 2025 is forecasted at 16.39, higher than 3.35 in the current year.
Company Strategy: According to an estimate from Taiwan Semiconductor Manufacturing, the date center GPU supplies could face a shortage in supply in the next year and a half. However, Nvidia is taking action by discussing its suppliers to keep the supply stable. According to the August 2023 call, Nvidia's CFO Colette Kress said that the company expects an increase in production in next years. Another report from The Financial Times states that the company could triple the H100 GPU production in the next year, boosting the revenue in 2024 and 2025.
B. Analyst Price Targets and Rating
Analysts are pivotal in providing Nvidia price targets and ratings based on their in-depth analysis of Nvidia's performance. As of 2025, Nvidia's analyst price target is $1,207.12, which could be a 162% change from the current nvda stock price.
While individual targets vary, many analysts project nvda stock forecast to reach new highs, driven by its leadership in AI, expanding markets, and technological advancements.
C. Nvidia Stock Price Analysis for 2025
As per the nvda stock forecast from coinpriceforecast, Nvidia stock (NVDA) could reach the $866.00 level by the middle of 2025 before reaching the $1022.00 level by the end of the year.
According to Goldman Sachs, Nvidia's data centre revenue could reach $70 billion by 2025. Based on this outlook, the prominent bank projected a price of $605 for the stock in 2025, an increase of nearly 38% from the current price.
Traders Union also forecasted a positive price development for Nvidia stock due to the upcoming surge in GPU and AI solutions. Considering this, Nvidia stock price could reach the $903.00 price level by the end of 2025.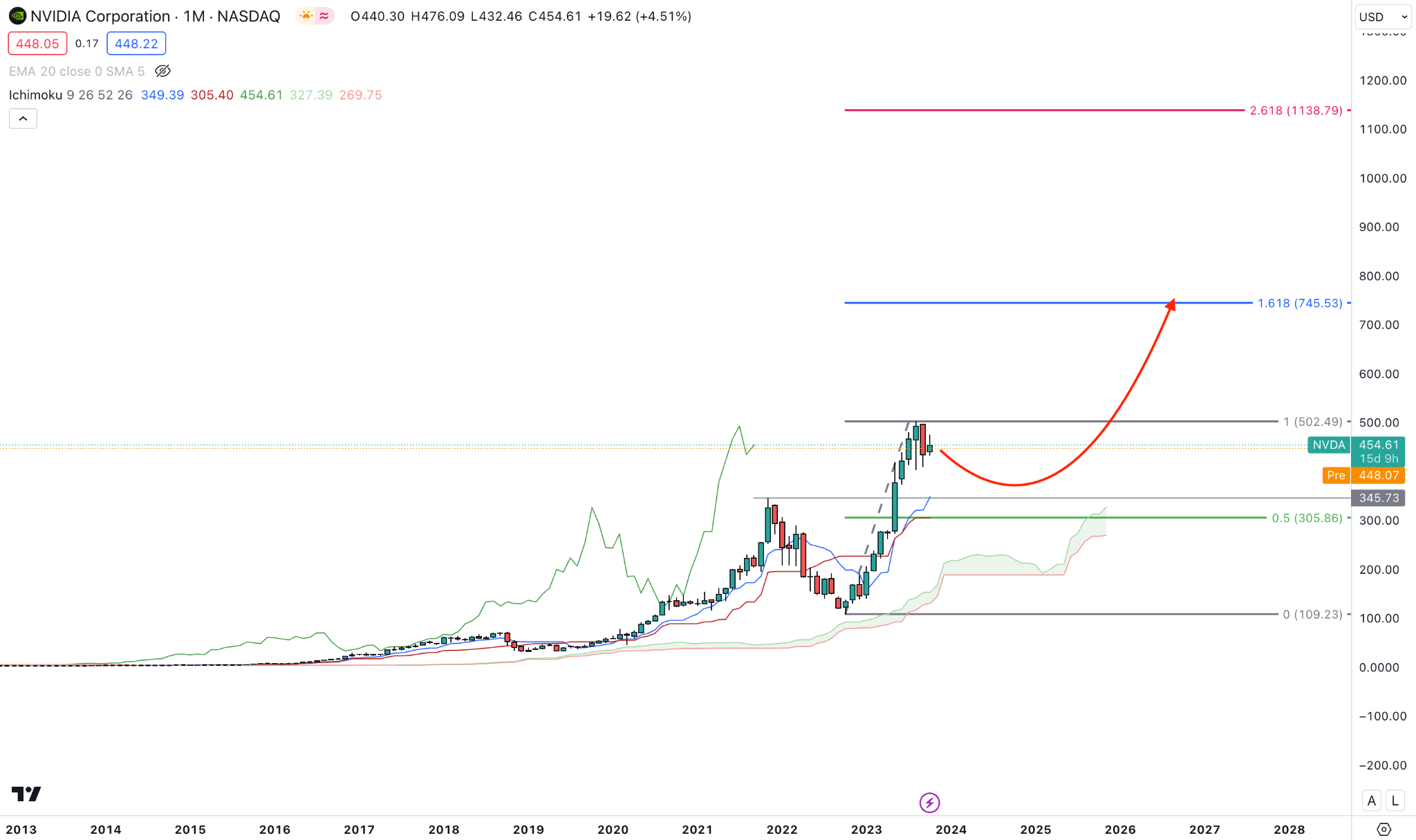 As per the monthly chart, the dynamic levels from the Ichimoku Kinko Hyo system show an active bullish trend, where a minor downside correction is pending.
In this context, the 2022 high could be a crucial level, as this critical resistance is now likely to work as a support. Considering the bearish correction, 305.86 would be the 50% Fibonacci Retracement point for the second AI-driven wave. Therefore, a deeper correction with a sell-side liquidity sweep from the 305.86 level could be a valid buy point for this stock. On the upside, the 161.8% and 261.8% Fibonacci Extension levels could be the target area, which is in-line with the coinpriceforecast's analysis.
Looking ahead to 2025, the Nvidia stock forecast continues to be influenced by a range of critical factors, shaping the company's growth potential and stock performance.
Leadership in AI: Nvidia's stronghold in the AI sector, providing solutions for data centers and autonomous vehicles, positions it for growth as AI adoption expands. Nathan Benaich, general partner and proprietor of Air Street Capital, remarked that Nvidia's integration of new functionalities into its system has been prompt. Conversely, certain AI chip firms have made inadequate investments in software tooling. Although these competitors may possess quicker or more affordable cloud computing platforms compared to Nvidia, they fail to provide an equivalent enhancement to the current programming experience.
Adoption of Autonomous Vehicles: Nvidia has revealed Drive Thor, its latest processor, hoping to spark the autonomous driving revolution. Based on Nvidia's latest Hopper graphics processing unit. Thor processors will be available in 2024 for 2025 cars, starting with Zeekr's electric vehicle. This architecture improves the handling of AI software in self-driving cars. Thor should process AI software at 2 quadrillion operations per second, twice as fast as Atlan and eight times faster than its Orin processor. A successful implementation of this product could be a milestone for the Nvidia stock (NVDA).
Acquisitions: Strategic acquisitions may open new growth avenues or impact financials. So far, there are 7 acquisitions by the company; the most recent one is onmiML. The surge in revenue could influence the company to acquire more startups in the coming year.
Competition: The competitive landscape, including AI and semiconductor manufacturing rivals, may affect Nvidia's market share and stock performance. The top two NVIDIA rivals to look at are AMD and Intel.
Macroeconomic Conditions: In the nvda stock forecast, broader economic trends like inflation and interest rates can impact investor sentiment and stock performance. In particular, many analysts predict an ongoing recession in 2023, where pressure on the energy sector could be prominent.
Nvidia Stock Price Analysis for 2030 and Beyond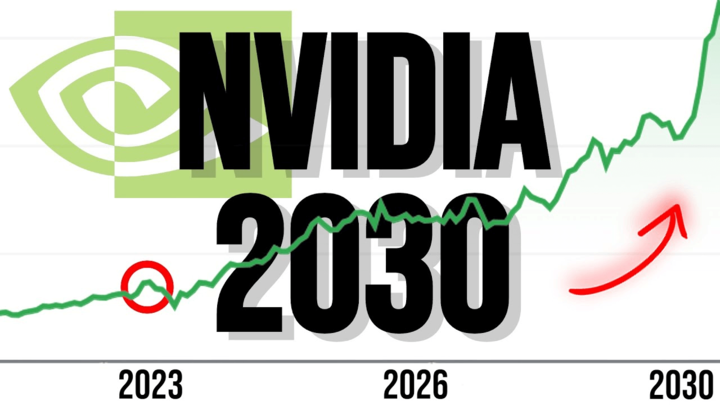 Source: Unsplash
A. Nvidia Development prospects for the next five years and beyond
Financial Forecast: Nvidia continues to hold a strong presence in the semiconductor industry, which could be a bullish factor for the stock beyond 2030. According to the report from Allied Market Research, there could be a 38% Compound Annual Growth Rate (CAGR) for the global AI market from 2021 to 2030.
Company Strategy: Nvidia's long-term vision will be crucial in its trajectory, but the primary concern lies in Nvidia's valuation. The current stock price and trailing 12 months of nvda earnings result in a Price-to-Earnings (P/E) ratio of approximately 222, significantly surpassing the company's five-year average P/E of 73. These valuation metrics imply expectations of soaring demand and unassailable dominance in AI chips, assumptions that are yet to be substantiated. The burgeoning AI market is likely to attract more competitors, and Nvidia's inability to meet escalating demand could enable these rivals to gain traction. This raises a compelling argument for long-term investors to await a more favorable entry point for Nvidia.
B. Analyst Price Targets and Ratings
Analysts will continue to provide valuable insights into Nvidia's stock performance. Their long-term projections and ratings will be guided by the company's execution of its strategies, industry developments, and the competitive landscape.

As you consider nvda stock forecast in 2030 and beyond, remember that long-term investments demand patience, a keen understanding of the company's direction, and adaptability to evolving market conditions. Combining fundamental analysis with expert opinions can help you make informed decisions. As per our findings, analysts have predicted the stock price to be $13,366 within 2030, a 2800% surge from the current nvda stock price. However, the specific stock price could be changed if there is any stock split.
C. Nvidia Stock Price Analysis for 2030 and Beyond
Looking into the nvda stock forecast, specifically for 2030 and beyond, is a challenging yet intriguing endeavor. As per the report from coinpriceforecast, Nvidia stock could reach towards the $1,716.00 level at the end of 2025. Before that, the price could reach the $1,681.00 level in the middle of 2030.
Traders Union's forecast for Nvidia stock in 2030 has a positive estimate of 1990.35 level, which can extend towards the 2182.00 level at the end of 2030.
According to TopGraphs, the Nvidia stock forecast for 2030 is set to 1,180.37 level before the year-end. Before that, the stock could reach the 1,061.73 level in the middle of the year, which is a 243% increase from the current price.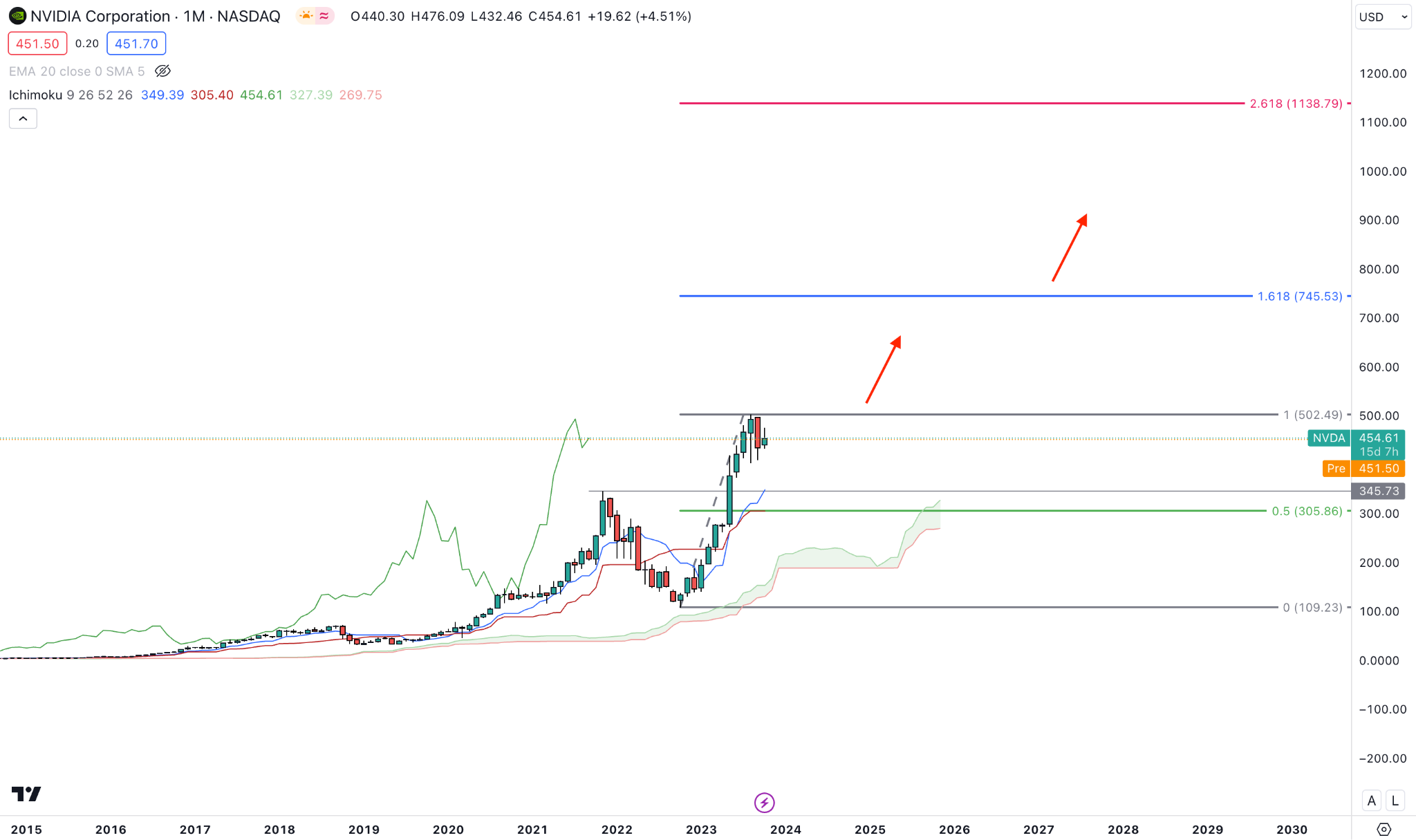 In the nvda stock forecast for 2030 and beyond, the psychological $1,000.00 level could be a crucial point. An upside pressure above this level will come with a stable price action above the current 161.8% Fibonacci Extension level for the 2022-2023 swing.
According to the Elliott wave theory, the third impulsive wave is in play. Between 2024-2025, investors might expect a downside correction, which could end up with a fifth wave before forming the "abcd" correction in 2030 or beyond.
However, investing with an eye toward the future, keeping abreast of technological trends, and maintaining a diversified portfolio are crucial strategies for long-term success.
Adoption of AI and Machine Learning: Nvidia has positioned itself as a leader in adopting artificial intelligence (AI) and machine learning (ML) technologies. The introduction of the CUDA (Compute Unified Device Architecture) platform has allowed developers to harness Nvidia GPUs for general-purpose computing, while its CUDA-based TensorRT collaborates with popular frameworks like TensorFlow and PyTorch. In the upcoming development, Scaling Artificial Intelligence and Machine Learning Workloads could be a key nvidia stock price driver for the Nvidia stock.
Leadership in Metaverse and VR/AR: With Omniverse, Nvidia identified early on the necessity for metaverse development collaboration. Nvidia worked with several companies to create specialized workstations and servers and establish critical services for tool deployment. Nvidia constantly credits several partners for Omniverse's performance. Given the tool's complex integration with reality, these collaborations are crucial to success. Also, Nvidia uses a uniform design language to streamline virtual object production and connect them with its metaverse vision to provide a unified experience. This collaboration has created a robust environment that supports Nvidia's metaverse goals.
Competition and Innovation: In the coming years, AMD will be the biggest competitor for Nvidia. AMD has unveiled a comprehensive lineup of advancements spanning PCs, gaming, AI, healthcare, and aerospace. In the AI domain, AMD's Alveo™ V70 AI Accelerator, Instinct™ MI300, integrates AMD CDNA™ 3 GPU architecture, "Zen 4" CPU cores, and HBM memory chipsets for superior HPC and AI performance. For aerospace applications, AMD's adaptive computing solutions, including FPGAs and adaptive SoCs could be significant nvidia stock price drivers for AMD stock. Investors should closely monitor how AMD gets developments in these sectors to gauge the threat to Nvidia.
Government Regulations and Geopolitics: Regulatory changes and geopolitical tensions can impact international business operations and market dynamics. For the coming days, any worse situation in the geopolitical war and sanctions could be a strong price driver for the Nvidia stock.
Nvidia Stock Price History Performance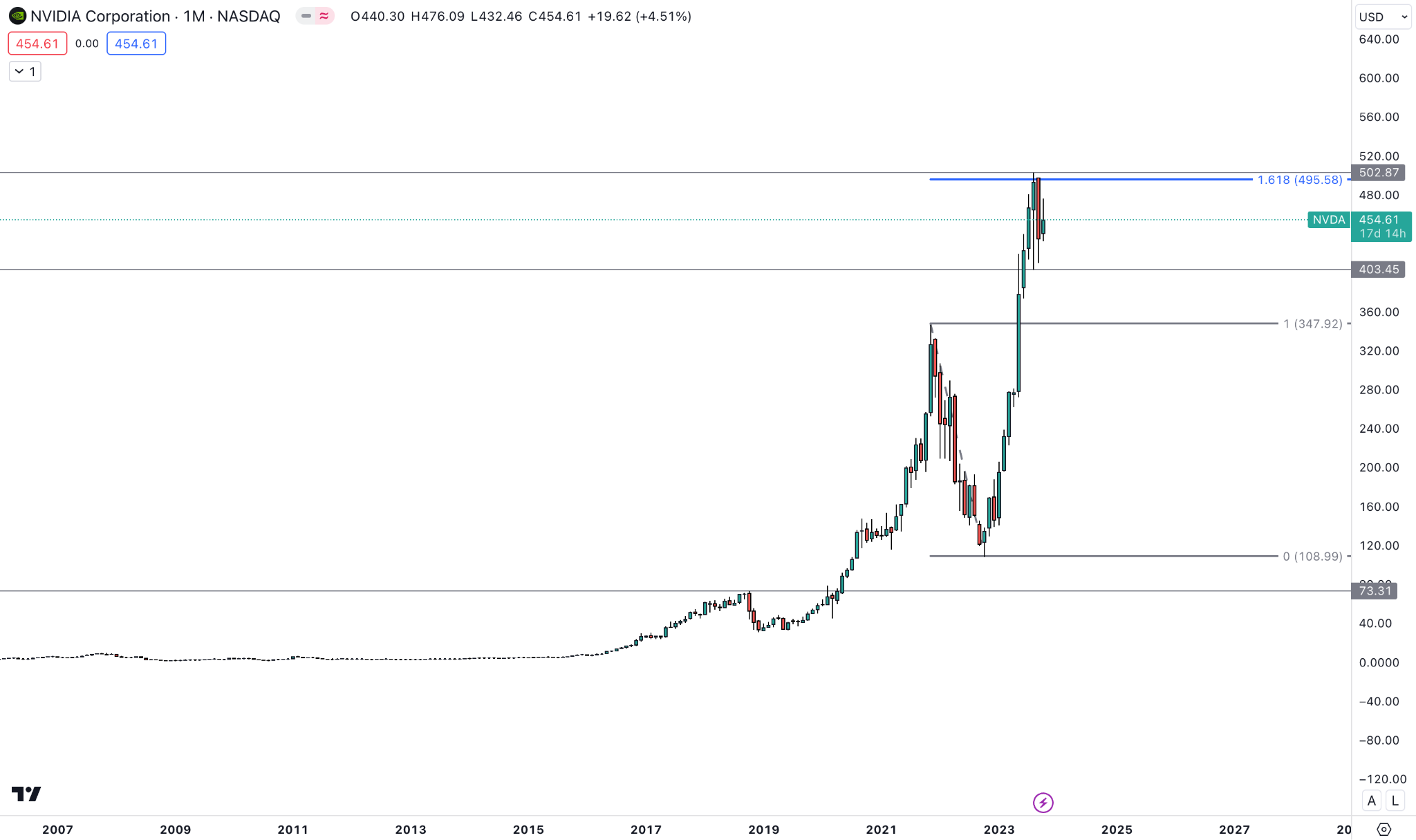 Source: TradingView
As of 2023, Nvidia stock has experienced significant fluctuations and growth in recent years. However, the upside pressure started in 2017 with a 109% price change. In 2018, bears tried to grab the wheel after making a strong resistance at the 73.31 level. However, the momentum was shifted in 2020, with a new all-time high formation at the 347.92 level.
It was a remarkable gain for the NVDA stock, which also indicates an additional gain for the coming years. Also, it was the primary phase of the AI movement, which is still at the beginning phase. Although a counter-impulsive bearish pressure came in 2021, the price managed to hold the momentum at the 108.99 level before making another high at the 500.00 psychological area.
Moreover, the nvidia stock price reached the 161.8% Fibonacci Extension level from the 2021-2022 swing, where the current 261.8% level is at the 734.51 level.
Nvidia Stock Trading Tips
If you're considering investing in Nvidia stock, it's essential to have a clear strategy and stay informed about the latest trends and trading tips. Here are some valuable insights and tips for nvda stock forecast and trading Nvidia stock in 2023 and beyond.
A. Nvidia Stock Trading Tips
Stay Informed: Keep an eye on the latest news and developments related to Nvidia, including product launches, financial reports, and industry trends. Also, keep abreast of the latest developments in the tech industry, AI, autonomous vehicles, and gaming. Nvidia's performance often aligns with these sectors.
Diversify Your Portfolio: While Nvidia may offer growth opportunities, it's essential to maintain a diversified portfolio to spread risk.
Long-Term Perspective: Consider a long-term investment strategy, especially if you believe in Nvidia's prospects over the next decade.
Fundamental Analysis: Consider factors like Nvidia's financial health, competitive positioning, and growth prospects. Analyze key financial metrics and ratios to gauge the company's performance.
Technical Analysis: Make informed trading decisions by incorporating technical analysis tools like Moving Averages (MA), Relative Strength Index (RSI), and Bollinger Bands.
B. Ways to trade or invest in Nvidia Stock
There are several ways to participate in Nvidia's growth potential:
Stock Ownership: Buy and hold Nvidia shares in your portfolio, aiming for long-term capital appreciation.
Options Trading: Use options contracts to speculate on Nvidia stock price movements. Options provide flexibility in trading strategies.
ETFs: Invest in Exchange-Traded Funds (ETFs) that include Nvidia as a component. This allows you to gain exposure to Nvidia while diversifying across various assets.
CFDs: Trade Nvidia Stock Contracts for Difference (CFDs) with VSTAR. CFDs enable you to speculate on nvidia stock price movements without owning the underlying asset.
Mutual Funds: Invest in mutual funds that hold Nvidia shares. This provides diversification and professional management.
Trading Nvidia Stock CFDs with VSTAR offers flexibility and potential for profit, making it a popular choice among traders. CFDs allow you to profit from rising and falling prices, and they offer leverage, amplifying your exposure to Nvidia stock price movements.
However, managing risk carefully when trading CFDs is essential, as losses can exceed your initial investment.
Conclusion
Nvidia's stock forecast is brimming with potential, driven by technological innovation and market trends. Whether you choose to invest or trade, staying informed, diversifying your portfolio, and adopting a suitable strategy are key to capitalizing on Nvidia's journey into the future.
Considering the business dominance in the GPU market and implementation in AI, NVDA has a solid opportunity to provide further gains in the next 5-10 years. As of now, the nvidia stock price already tested the 500.00 psychological level and showed no significant selling pressure in this area. It is a sign that bulls are still interested in this instrument, which could take the price beyond the 1000.00 level in the future.
However, trading in the stock market involves risks, and it's essential to have a well-thought-out trading plan, risk management strategy, and the latest information to make informed decisions. Always consider your financial goals and risk tolerance, and seek advice from financial professionals if needed. Nvidia's stock forecast for 2023 and beyond holds potential, but successful trading requires diligence and expertise.
*Disclaimer: The content of this article is for learning purposes only and does not represent the official position of VSTAR, nor can it be used as investment advice.