Oracle may attain significant growth, with several bullish catalysts on the horizon. The company's recent developments, financial performance, and strategic partnerships indicate a positive trajectory.
Oracle Cloud
Firstly, Oracle CloudWorld, scheduled for the next week, promises to showcase groundbreaking innovations. This event will highlight advancements in AI on Oracle Cloud Infrastructure (OCI), the continued progress of the Oracle Autonomous Database, the multi-cloud strategy, and the utilization of Oracle Analytics across the portfolio. Oracle's commitment to incorporating generative AI into its offerings, such as Fusion, NetSuite, and industry-specific applications, demonstrates the company's dedication to staying at the forefront of technological innovation.
Oracle Strategic Partnerships
Oracle's strong customer and partner ecosystem serves as a leading indicator of its financial health. With an expanding list of strategic partners like Amdocs, VMware, and Microsoft, Oracle may drive its ecosystem and capture new business opportunities.
Oracle Financials
Financially, Oracle's revenue acceleration is evident, with remaining performance obligations (RPO) reaching nearly $65 billion, a notable 11% increase excluding Cerner. The company has secured multiple deals exceeding $1 billion in total value for OCI, indicating strong customer demand and confidence in Oracle's cloud services. Furthermore, an additional $1.5 billion in business was booked in the first week of Q2, underscoring the company's growth momentum.
Oracle's cloud business is thriving, with a 29% increase in total cloud revenue, reaching $4.6 billion. Key drivers include Infrastructure as a Service (IaaS) revenue growth of 64%, Software as a Service (SaaS) revenue of $3.1 billion (up 17%), and strong performance in strategic cloud applications, Autonomous Database, and Gen2 OCI. Database subscription services, which include license support, grew by 6%, with cloud database services experiencing an impressive growth of 44%. These results indicate a healthy shift towards cloud-based offerings.
Oracle's financial performance also reflects robust margins and profitability. The gross margin for cloud services and license support stands at 78%, with improving IaaS gross margins. Non-GAAP operating income increased by 12% from the previous year, with an operating margin of 41%, up from 39%.
The company's strong cash position, with nearly $12.1 billion in cash and marketable securities, allows it to make strategic investments, such as share repurchases and dividends. Over the last four quarters, operating cash flow increased by 68%, reaching $17.7 billion.
Oracle's expansive cloud infrastructure, with 64 live cloud regions worldwide and plans for further expansion, positions the company as a compelling choice for customers. The flexibility, cost advantages, and deployment options offered by Oracle's cloud regions drive customer demand.
Oracle's bottom line signifies considerable growth potential
Looking ahead, Oracle remains confident about its revenue acceleration for the year and is committed to achieving its fiscal '26 financial goals. Q2 guidance indicates continued growth, with expected revenue increases ranging from 3% to 8% in constant currency and 5% to 11% in USD.
Overall it can be observed that even though the top line growth is slowing down during Q1 2024, the bottom line is experiencing rapid growth over the last 12 months.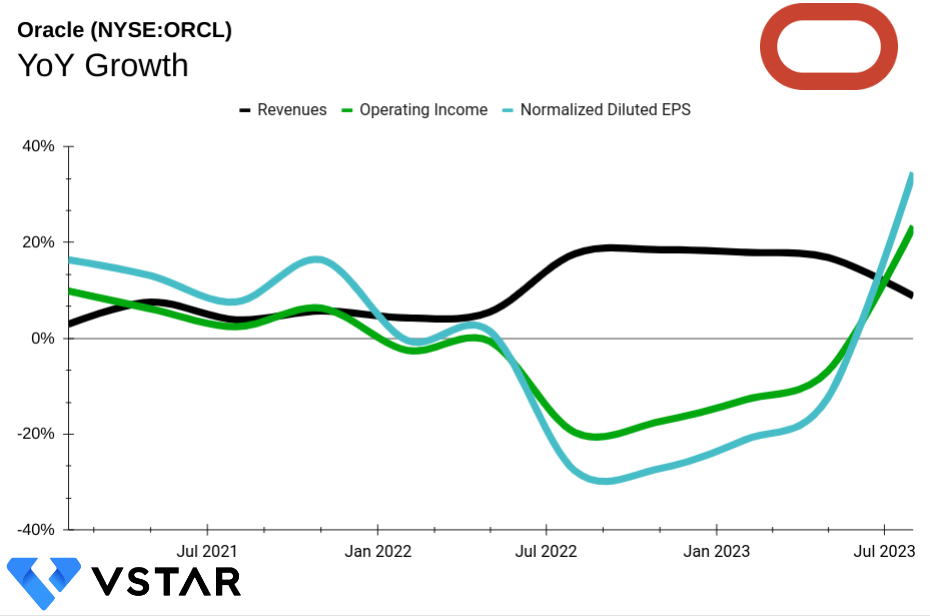 Data Source: SEC Filings
*Disclaimer: The content of this article is for learning purposes only and does not represent the official position of VSTAR, nor can it be used as investment advice.