With recent legislation actions amid climate change concerns, investors could make a lot of money in the hydrogen energy industry. Investors looking for the best hydrogen stocks to buy now may want to consider Plug Power stock (NASDAQ: PLUG).
PLUG stock price is currently trading below $10 right now. If you look at the Plug Power stock price chart, you'll notice that the stock has dropped about 30% since January.
What may not be obvious to many is that hedge funds are accumulating Plug Power stock on the dip right now. According to TipRanks data, hedge funds have purchased 4.5 million Plug Power shares in the past quarter.
The elite funds that have bought Plug Power shares recently include Philippe Laffont's Coatue Management, Joel Greenblatt's Gotham Asset Management, and Donald Jowdy's Suncoast Equity Management.
Read on to find out why elite investors are excited about Plug Power stock and how you can get in on the action.
Source: Pixabay
Plug Power News
1. Plug Power to Invest $6 Billion in Finnish Projects
The company plans to invest $6 billion to build three plants in Finland to produce hydrogen and ammonia. Those plants would serve Plug Power's customers in Europe.
Plug Power chose Finland to host those projects since the country obtains nearly 90% of its electricity from renewable sources. This would make it easier for the company to produce green-hydrogen in the country.
2. Plug Power Partners With Johnson Matthey on Fuel Cell Components Supply
Plug Power and Johnson Matthey have partnered on hydrogen production. As part of the agreement, Johnson Matthey will supply some of the components that go into the systems that Plug uses to generate green-hydrogen.
Plug Power (NASDAQ: PLUG) Overview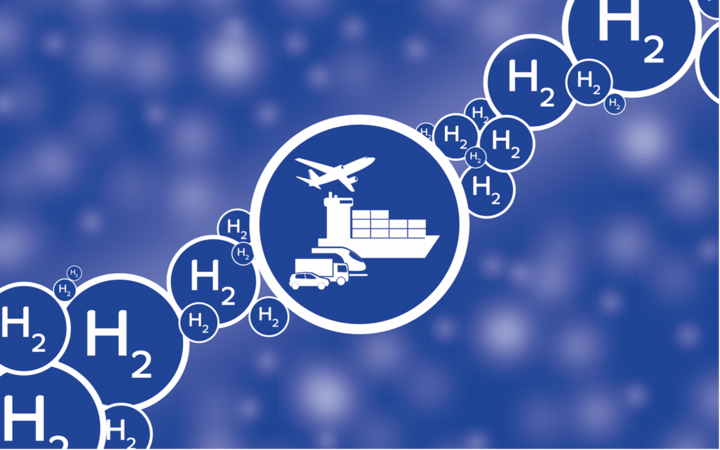 Source: Pixabay
Plug Power provides hydrogen energy solutions. It primarily offers hydrogen fuel and fuel cell systems used to generate power from hydrogen. Its energy solutions are primarily used in the material handling equipment and power plant markets.
In the material handling market, for instance, Plug Power's solutions are used to power forklifts. The company's fuel cell system is designed to replace regular batteries in forklifts and trucks.
Founded in 1997, the company is based in New York. Plug Power founders are George C. McNamee and Larry G. Garberding. The company started as a joint venture of DTE Energy and Mechanical Technology. It went public in 1999.
Plug Power's fuel cells can be recharged in minutes as opposed to hours for conventional lead-acid batteries.
The company has hydrogen production facilities in Georgia, New York, Texas and Louisiana. It is building additional production facilities overseas through joint venture agreements.
Top 5 Plug Power Shareholders
PLUG stock is a favorite of retail and professional investors. These are the company's top institutional shareholders and their stakes.
| | |
| --- | --- |
| Shareholder | Stake |
| SK Inc. | 9.2% |
| Vanguard Group | 9% |
| BNP Paribas Asset Management | 3.2% |
| Norges Bank Investment Management | 2.8% |
| Geode Capital Management | 1.2% |
Key Milestones in Plug Power's History
| | |
| --- | --- |
| Year | Milestone |
| 1997 | Plug Power founded as a joint venture of DTE Energy and Mechanical Technology. |
| 1999 | Plug Power stock IPO. |
| 2017 | Plug Power makes its first shipment of ProGen fuel cell engines for electric delivery vehicles. |
| 2020 | Plug Power introduces ProGen fuel cell engines for heavy-duty trucks and off-road equipment. |
| 2021 | South Korea's SK Group makes a large investment in Plug Power stock. |
Plug Power Business Model
The company has two main business lines: hydrogen fuel production and fuel cell engine manufacturing. Its fuel cell systems can be used to power retail stores, data centers, factories, and other facilities.
The company serves customers in the retail, logistics, aviation, electric utility, and agriculture industries. Its retail customers include Amazon, Walmart, Carrefour, and Home Depot. Plug Power also counts FedEx, Boeing, AT&T, and NASA among its customers.
How Plug Power Makes Money
The company makes money from the sale of hydrogen fuel and fuel cell engines. It also offers certain technical and professional services to customers that use its technology. The sale of fuel cell systems and the supply of hydrogen account for the majority of Plug Power's revenue.
Plug Power's Main Products
Hydrogen fuel: The company operates facilities that split water to producehydrogen gas. It generates hydrogen from water using energy from renewable sources. Therefore, it produces what is called "green hydrogen" since the process doesn't emit greenhouse gas.
Fuel cell engine: The company develops engine systems that use hydrogen as fuel. Plug Power's fuel cell engines can be used to generate electricity in power plants and to power vehicles and other industrial equipment like forklifts. When hydrogen is burned to produce energy in fuel cell engines, the by-product is water.
Plug Power's Financials
For many investors, due diligence begins with looking at the financials of the target company. You want to know whether the company you're considering investing in is making money or has the potential to make money in the business. For that reason, let's explore Plug Power earnings performance, looking at its recent financial performance and balance sheet condition.
PLUG Earnings
1. Plug Power's Revenue
The company's revenue increased 72% year-over-year to more than $260 million in the second quarter of 2023. This followed a revenue increase of nearly 50% year-over-year in the second quarter.
For the full year of 2022, Plug Power's revenue jumped 40% to more than $700 million. This followed a 640% revenue increase to over $500 million in 2021.
Plug Power's revenue growth in recent years has been driven by the company offering additional products and serving more customers. For 2023, the company expects to deliver revenue in the range of $1.2 billion - $1.4 billion.
2. Plug Power's Net Income
The company isn't profitable yet. It made a loss of $236 million in Q2 2023. The loss was $206 million in Q1 2023.
For the full year 2022, Plug Power made a loss of $724 million. The loss was $460 million in 2021.
3. Plug Power's Profit Margins
The company's gross profit margin of -30% in Q2 2023 improved from -33% in Q1 2023. In 2022, Plug Power's gross margin improved from -27.7% from -34% in 2021.
The company expects its margins to continue to improve as it scales its operations and builds a vertically integrated business model.
PLUG Balance Sheet
Plug Power's Cash Position and Balance Sheet Condition
While Plug Power isn't profitable yet, its balance sheet is in a great shape. It has more than $2 billion in cash and short-term investments. Its balance sheet shows assets of $5.8 billion against total liabilities of $1.7 billion. Plug Power's quick ratio and current ratio of 2.75 and 3.16 further support the strength of its balance sheet.
Plug Power Stock Analysis
1. PLUG Stock Valuation
Assessing PLUG stock valuation can help you determine whether it is the best hydrogen stock to buy now.
PLUG stock currently trades at a forward P/S valuation of 3.20 and P/B ratio of 1.42. See below how Plug Power's valuation compares to those of other hydrogen and fuel cell stocks.
| | | | | | |
| --- | --- | --- | --- | --- | --- |
| | Plug Power stock(PLUG) | Ballard Power stock (BLDP) | Air Products stock (APD) | Bloom Energy stock (BE) | FuelCell Energy stock (FCEL) |
| Forward P/S | 3.20 | 10.43 | 4.62 | 1.76 | 4.98 |
| P/B ratio | 1.42 | 1.10 | 4.48 | 9.77 | 0.98 |
As you can see from the table, PLUG stock has one of the best forward P/S valuations among the featured hydrogen and fuel cell stocks. Moreover, PLUG stock has a better P/B ratio than Air Products (APD) stock and Bloom Energy (BE) stock.
2. Plug Power Stock Trading Information
Plug Power stock is listed on the Nasdaq exchange under the ticker symbol "PLUG".
PLUG stock price is listed in U.S. dollars.
You can start trading in PLUG stock as early as 4 a.m. ET and as late as 8 p.m. ET, by taking advantage of the PLUG premarket and post-market trading sessions.
More than 24 million Plug Power shares are traded on an average day. This makes PLUG stock one of the most active hydrogen stocks on the market.
3. Plug Power Stock Split History
Plug Power hasn't split its stock since the IPO. Companies usually split their stocks to make them more affordable to retail investors after the stock has gone too high.
As PLUG stock has remained in an affordable range since its public debut, the management hasn't seen a need for a stock split. But that might change in the future as more investors pile into Plug Power and drive PLUG stock price up.
4. Plug Power Stock Dividend Yield
Plug Power hasn't started paying dividends. Instead, the management chooses to reinvest any money the company makes back into the business. When Plug Power starts making profit and generating more surplus cash, perhaps the management may consider introducing a dividend program.
5. Plug Power Stock Performance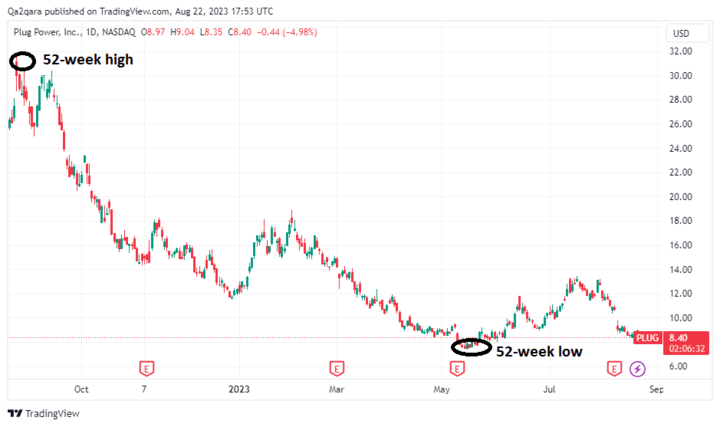 PLUG stock price has traded in a range of $7 - $32 over the past year. The stock was trading at the high end of the range around September 2022. As you can see in the chart above, it started declining in the following month until January 2023 when it attempted to go up for about two months. But the bears struck again and drove the stock to lows not seen in many months.
At the current price of about $8.5, PLUG stock has lifted about 20% over its 52-week low but remains 70% below its 52-week high.
6. PLUG Stock Forecast
About two dozen analysts have weighed on Plug Power stock with a range of price targets. The average Plug Power stock forecast of $21 implies over 150% upside potential. The peak PLUG stock price target of $78 suggests a whopping 800% upside potential. The base PLUG stock price prediction of $7.50 implies a downside potential of 10%.
More than 60% of the analysts covering Plug Power have a Buy rating on PLUG stock.
7. Plug Power Stock Short Interest
It helps to consider the short interest in PLUG stock to see if there could be a short squeeze in the stock. A short squeeze occurs when short sellers rush to close their positions in a stock, and it usually leads to a rapid price rise as happened in the case of GameStop and AMC Theatre stocks.
Approximately 110 million shares of Plug Power were sold short, representing a short interest of 18%. The number of Plug Power shares shorted has decreased in recent months, but it remains large enough to spark a short squeeze if PLUG stock price begins to make big, consistent gains.
8. Plug Power Stock Technical Analysis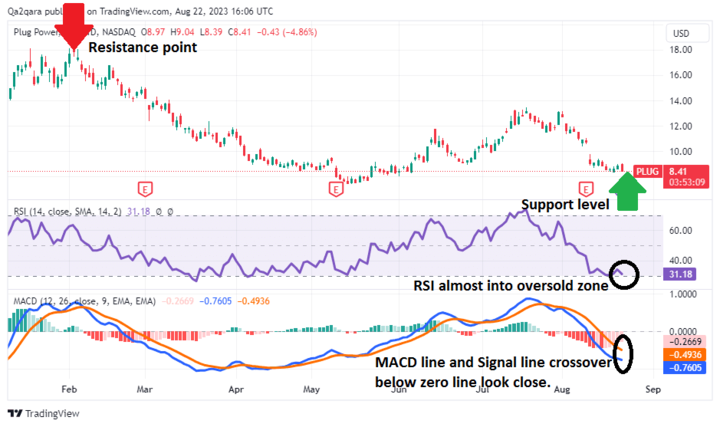 The chart above shows PLUG stock price trendline along with its RSI and MACD indicators.
As you can see, PLUG stock price has been trending down lately. But the stock has found a solid floor at $8.40, though it continues to face resistance at $18.
If you look at Plug Power stock's RSI reading, you can see that it is just about to break below the oversold zone. A look at the MACD chart also shows that the MACD line is about to cross above the Signal line from below the center zero line. Taken together, these indicators suggest that the dip in PLUG stock price presents a discount buying opportunity.
Plug Power's Opportunities and Challenges
The hydrogen energy business can be lucrative. But like any other market, there are opportunities in the hydrogen energy industry but participants must also contend with various challenges. Let's explore Plug Power's opportunities and challenges in the hydrogen fuel cell industry.
Plug Power's Opportunities
1. Fuel Cell Powered Vehicles
Plug Power teamed up with French automaker Renault to develop a large delivery van running on hydrogen fuel. The Renault Master Van H2-TECH uses a fuel cell engine based on Plug's technology. It offers more than 300 miles of driving range and can be refueled in just a few minutes.
The van was unveiled in June 2023 and is expected to hit the market soon. Considering the increasing demand for fuel cell vehicles, the Renault partnership for the fuel cell-powered van project has the potential to boost Plug Power's business significantly.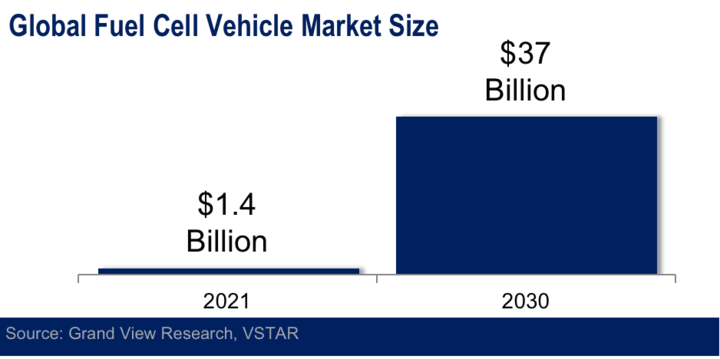 The global fuel cell vehicle market is expanding at a rapid rate of about 50% annually, according to Grand View Research. As a result, the market is on track to grow from $1.4 billion in 2021 to $37 billion by 2030 in annual sales.
While battery-powered electric vehicles are more popular now, fuel cell-powered vehicles have at least one major advantage. They're faster to refuel. While it can take several hours to recharge a battery-powered van, it only takes a few minutes to refuel a van running on hydrogen fuel cell energy. Therefore, fuel cell vehicles have a strong appeal in commercial application since they ensure more consistent operations.
The agreement with Renault provides a market for Plug Power's hydrogen fuel, fuel cell systems, and other products. The success of the Renault van project can also boost confidence in fuel cell solutions as an alternative energy technology and increase demand for Plug Power's products in other market segments.
2. Hydrogen-Run Power Plants
Most countries obtain their electricity from burning coal and other fossil fuels. In a bid to combat climate change, there is a global effort to shift away from fossil fuels. Many see hydrogen as the fuel of the future for power plants.
The adoption of hydrogen fuel in power plants expands the market for Plug Power's products. For example, many fuel cell systems go into building hydrogen power facilities. Therefore, Plug can sell fuel cell systems in addition to supplying hydrogen fuel to hydrogen power plants.
3. Rocket Fuel Market
Hydrogen has been found to be a highly efficient rocket fuel. NASA, for instance, has relied on hydrogen for decades to power its rocket engines. Japan, Russia, China, and other countries with space programs have also used or explored hydrogen as rocket fuel.
As space exploration and space tourism missions increase, the demand for hydrogen as a rocket fuel will grow, benefiting hydrogen producers like Plug Power. According to Allied Market Research, the global rocket fuel market is expected to grow from $5.1 billion in 2021 to $8.5 billion in 2031.
4. Inflation Reduction Act
America's Inflation Reduction Act includes a generous tax credit for green hydrogen production. The legislation is part of America's effort to accelerate the shift to renewable energy sources, of which hydrogen fuel is a highly promising solution.
Plug Power is a leader in the production of green hydrogen, which puts it in a great position to benefit from the Inflation Reduction Act. The company's executives have described the hydrogen tax credit as a potential game-changer for its hydrogen business.
JP Morgan analyst William Peterson said that the hydrogen production tax credit could help Plug Power to become profitable sooner than expected.
5. Europe's Energy Crisis
Hydrogen is a versatile type of fuel. It can be used to run factories, power ships, power airplanes, power vehicles, and heat homes. Hydrogen fuel is abundant and environmentally friendly because it doesn't release carbon dioxide when burned.
For that reason, Japan plans to spend more than $100 billion over the next 15 years to develop its hydrogen fuel capacity. Many other countries are also investing in hydrogen fuel.
The energy crisis in Europe resulting from Russia's war on Ukraine is accelerating the shift to hydrogen as a fossil fuel replacement around the world. This bodes well for Plug Power as it is expanding the market for the company's hydrogen fuel supply and fuel cell systems.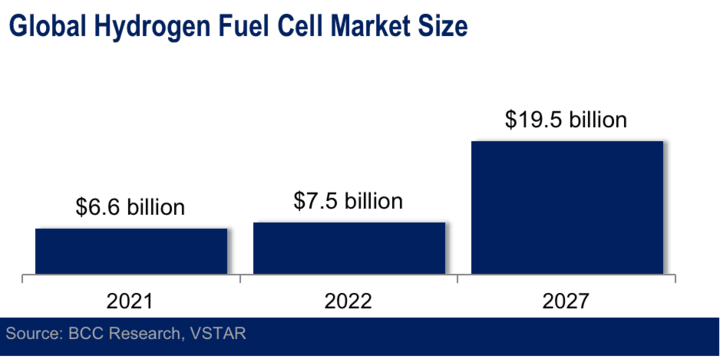 The global hydrogen fuel cell market was valued at $6.6 billion in 2021 and is forecast to hit $19.5 billion by 2027, according to BCC Research.
Plug Power's Challenges
High production costs: Producing green hydrogen is an expensive process. But increasing manufacturing scale and government subsidies, tax credits, and incentives could make the operation more economical for Plug Power.
Limited infrastructure: Converting hydrogen gas into liquid, and transporting and storing hydrogen require highly specialized systems to ensure safety. The infrastructure that can handle this task is currently limited.
High competition: As a market leader in the hydrogen energy industry, Plug Power is a major target of the competition. These are the company's major rivals and the threats they pose:
| | |
| --- | --- |
| Competitor | Threat |
| Ballard Power | Plug Power and Ballard Power are fierce rivals in the fuel cell systems market. Ballard makes fuel cells for heavy transport machines such as trains, ships, trucks, and buses. |
| Air Products | Plug Power competes with Air Products in the business of producing hydrogen fuel for industrial customers, such as those that manufacture fertilizer and steel. Its other competitor in this space is Linde. |
| Bloom Energy | Plug Power and Bloom Energy are rivals in the business of selling fuel cells that can be used to generate electricity on-site. They compete for customers such as factories, telecom towers, and data center operators. |
| FuelCell Energy | FuelCell Energy develops and operates fuel cell power plants. It competes with Plug Power for the business of supplying fuel cell systems for stationary electricity production. |
Plug Power's Competitive Advantages
Strong brand recognition: Plug Power is one of the best-known brands in the hydrogen energy industry. The Plug Power brand is particularly associated with high-quality fuel cell systems for a variety of applications. This strong brand position is a great asset for the company in building customer loyalty and winning over important partners.
Leading market share: Plug Power has opened an early lead in the hydrogen energy industry. It controls more than 90% of the market for fuel cell systems for the materials handling industry.
Economies of scale: Plug Power is among the largest suppliers of hydrogen fuel and fuel cell systems. Its large operation allows it to enjoy certain production cost benefits not available to many of its competitors.
Government subsidies: Plug Power is better-placed than most hydrogen fuel cell companies to benefit from government incentives aimed at boosting the hydrogen energy industry. For example, the company is well-placed to make the most of the hydrogen production tax credit.
Strategic partnerships: Plug Power has forged various strategic partnerships to expand its market and accelerate its growth. For example, it teamed up with SK Group to produce hydrogen in South Korea where demand for the products is growing fast. It also teamed up with Fortescue on a hydrogen production project in Australia. It also partnered with Acciona on hydrogen production projects in Spain and Portugal.
Why Traders Should Consider PLUG Stock
Plug Power is the leader in the hydrogen fuel cell market. The company's revenue continues to grow at strong double-digit rates as it expands its market and product portfolio. Plug Power boasts strong competitive advantages and has plenty of growth opportunities ahead. PLUG stock price forecast suggests enormous upside potential.
Plug Power (PLUG) Stock Trading Strategies
If you have decided that Plug Power is the best hydrogen stock to invest in now, the next step is to choose the best investment strategy. There are several ways to approach investing in PLUG stock. These are the two most common investment strategies for Plug Power stock:
1. Buying and Holding Plug Power Shares
Consider buying and holding Plug Power shares if you have a long investment timeline, like a year or longer. When you invest this way, your expectation is that PLUG stock price would go up during your holding period.
There are pros and cons to holding Plug Power stock that you should consider before following this investing strategy.
Pros:
You can vote at Plug Power shareholder events and influence management decisions.
The number of shares you own in Plug Power stock may increase if the company splits its stock.
You become eligible for potential dividends from Plug Power.
Cons:
Purchasing and holding Plug Power shares requires a large initial investment outlay.
You can only make a profit when PLUG stock price goes up during your holding period.
You may have to wait a long time before you see the returns you want.
2. Trading Plug Power Stock CFD
If you're seeking an opportunity to start investing with a small amount of money and profit whether PLUG stock price is going up or down, then trading Plug Power stock CFD may be the best investment strategy for you.
With CFD trading, you are simply betting on the direction of the PLUG stock price movement without actually owning the stock. Therefore, this strategy offers low exposure to Plug Power stock, but with enormous profit potential.
CFD trading involves purchasing contracts, which are usually priced lower than the target stock's market price. For example, if a share of Plug Power stock costs $8, a CFD contract for the stock may cost as low as $1. Therefore, CFD trading allows you to get started with little money.
Trading Plug Power stock CFD has its benefits and drawbacks.
Pros:
Since CFD contracts are usually priced cheaply, you require minimal initial capital.
CFD trading allows you to profit whether Plug Power stock is going up or down.
You have more control over how long you want to wait for returns. You can trade over short timelines such as over an hour, a day, or a week.
Cons:
You don't get shareholder voting rights in Plug Power.
You're not eligible for potential dividends from Plug Power.
Trading Plug Power Stock With VSTAR
If you're ready to start trading Plug Power stock CFD, consider using VSTAR. Trading Plug Power stock CFD with VSTAR can help you maximize your profits since the platform has low fees and tight spreads. Moreover, VSTAR offers highly effective risk management tools.
For new traders, VSTAR offers a demo account with up to $100,000 for trading practice before you start investing real money. You can start trading Plug Power stock CFD on VSTAR with as little as $50. This platform also offers generous leverage for traders with little money to boost their trades and maximize their profits.
VSTAR is a fully licensed and regulated CFD broker, which means that you can relax that your funds are safe on this platform. Moreover, traders who have tried VSTAR CFD trading platform are extremely happy with it as you can see from its highly positive Trustpilot review.
Open your free VSTAR account today and start trading Plug Power stock CFD.
Final Thoughts
Few hydrogen stocks stand out more than Plug Power (NASDAQ: PLUG) whether you are looking to invest for the long-term or the short-term. The company has strong competitive advantages and many growth opportunities in the hydrogen energy market. PLUG stock price forecast suggests that this could be a highly lucrative investment in the hydrogen stocks space.
FAQs
1. Is PLUG a good stock to buy?
PLUG has the potential to be a leader in the growing hydrogen fuel cell industry, but losses are still high as the technology is still in its early stages.
2. Is PLUG stock a buy or a hold?
Opinions are mixed as to whether PLUG is currently a buy, hold, or sell due to uncertainties regarding growth potential, valuation, and the competitive landscape. Bulls are optimistic about the total addressable market for hydrogen solutions. Bears argue that the share price already reflects long-term expectations.
3. What is the Plug Power stock price prediction for 2023?
PLUG stock price predictions for 2023 range widely. Some see $20-$30, others $40-$60.
4. What will Plug Power stock be worth in 5 years?
In 5 years, PLUG stock is expected to be worth $60-$100 if hydrogen adoption grows substantially.
5. Does PLUG stock have a future?
PLUG likely has a future if hydrogen gains traction given its first mover advantage, but competition from automotive, energy and industrial companies is strong. Widespread adoption of hydrogen faces challenges such as infrastructure development. PLUG must continue to innovate, form key partnerships, control costs, and execute on its technology roadmap to succeed.
*Disclaimer: The content of this article is for learning purposes only and does not represent the official position of VSTAR, nor can it be used as investment advice.