Investors seeking the best cruise stock to buy in 2023 would want to consider Royal Caribbean Cruises stock (NYSE: RCL). Since January, RCL stock price has more than doubled. Yet after rising to about $100, RCL stock still trades at a steep discount of about 30% to its all-time high of $140. And RCL stock forecast shows that there is more to come.
Let's explore why the market thinks Royal Caribbean is the best cruise line stock to buy now.
Royal Caribbean Cruise News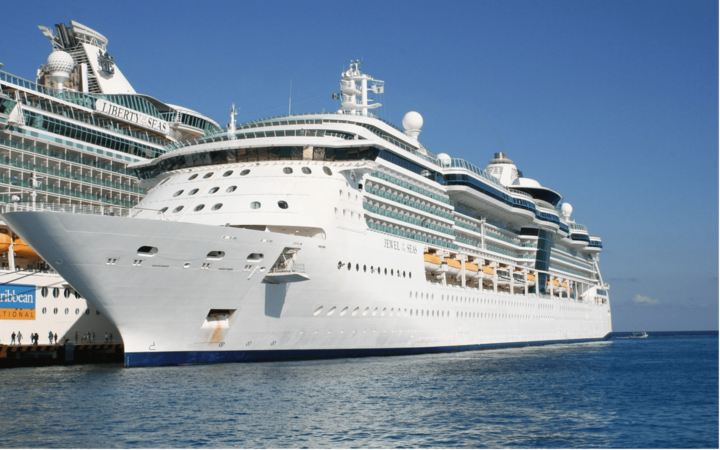 Source: Pixabay
Cruise Lines Look To Raise Price Amid Strong Demand
Royal Caribbean and other cruise line operators look to hike their prices as demand for cruise vacation swells. The Covid pandemic caused cruise lines to heavily discount their ticket prices and onboard offerings to lure customers back to their ships when cruising resumed. They now see an opportunity to boost prices and potentially make more money as cruise travel booms.
Royal Caribbean Partners With Lionel Messi's Inter Miami
Royal Caribbean has secured the spot as the official vacation partner of Inter Miami soccer club. The company has described the arrangement as a partnership of its kind in its industry. The deal provides the cruise line operator a huge marketing opportunity, considering the club's growing popularity after its signing of international soccer star Lionel Messi.
Royal Caribbean (NYSE: RCL) Overview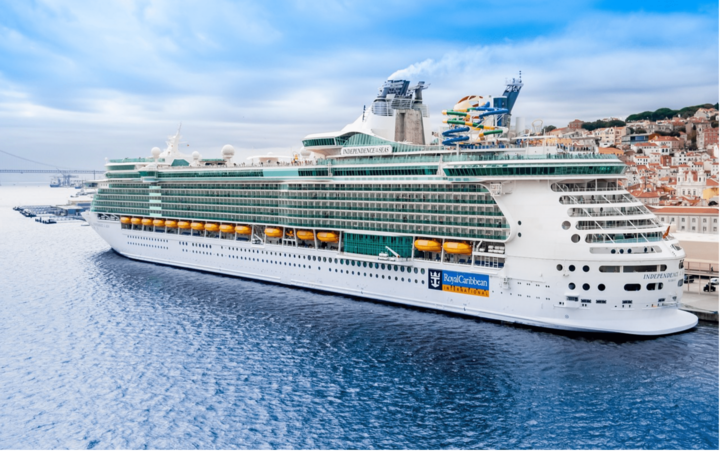 Source: Pixabay
Royal Caribbean Group operates cruise ships, providing leisure rides to families, couples, and other types of guests. The company is headquartered in Miami, Florida.
Royal Caribbean operates a fleet of 63 cruise ships, offering rides to more than 1,000 destinations around the world. Royal Caribbean's fleet includes the Wonder of the Seas, which has been recognized as the world's largest cruise ship.
Working to expand its fleet, the company had ordered an additional 10 ships as of June 2023. The company's top executive team consists of CEO Jason Liberty and CFO Naftali Holtz. The company was founded by Arne Wilhelmsen in 1968. RCL stock went public in 1993.
Top 5 Royal Caribbean Shareholders
| | |
| --- | --- |
| Shareholder | Stake |
| Capital Research and Management | 22% |
| Vanguard Group | 9.3% |
| Arne Wilhelmsen family | 7.9% |
| BlackRock Fund Advisors | 4.1% |
| SSgA Funds Management | 3.2% |
Key Milestones in Royal Caribbean's History
| | |
| --- | --- |
| Year | Milestone |
| 1997 | Royal Caribbean combines with Celebrity Cruises. |
| 2000 | Royal Caribbean and First Choice Holidays form Island Cruises as a joint venture. |
| 2006 | Royal Caribbean acquires Pullmantur Cruises |
| 2009 | Royal Caribbean acquires interest in TUI Cruises. |
| 2020 | Royal Caribbean takes full ownership of Silversea Cruises. |
| 2021 | Royal Caribbean sells its Azamara Cruises unit to Sycamore Partners for $201 million. |
Royal Caribbean Business Model
How Royal Caribbean Makes Money
The company obtains its revenue from multiple sources. Its main revenue source is cruise passenger ticket sales. It offers rides to miles of guests a year. In 2022, passenger ticket sales accounted for 65% of Royal Caribbean's revenue.
The company also makes money from onboard product and service sales. These include charges for meals, accommodations, and entertainment. Additionally, the company makes money from selling travel insurance, offering pre-cruise and post-cruise tours, and operating port facilities for third-parties.
Royal Caribbean's Brands
Royal Caribbean International: The company's flagship brand, in operation since 1968.
Celebrity Cruises: This unit has been in the cruise business since 1988. Royal Caribbean purchased Celebrity in 1997.
Silversea Cruises: This is a luxury cruise line that Royal Caribbean fully acquired in 2020. Silversea Cruises has been in operation since 1994.
Additionally, Royal Caribbean holds a stake of 50% in TUI Cruises, which primarily serves the German-speaking market. TUI Cruises operates its namesake TUI Cruises and Hapag Lloyd Cruises units.
Royal Caribbean Cruises Stock Financials
Assessing Royal Caribbean's financials can help you determine if this is the best cruise line stock to buy now. For that reason, let's explore how the company has performed recently and check its balance sheet health.
1. Royal Caribbean's Revenue
The cruise line operator's revenue jumped more than 60% year-over-year to $3.5 billion in Q2 2023, exceeding the consensus estimate of $3.4 billion. The company has reported strong revenue growth in recent quarters as its business continues to recover from the impact of the Covid pandemic. Revenue rose 170% year-over-year in Q1 2023.
For the full year 2022, Royal Caribbean's revenue rose nearly 480% to more than $8.8 billion. The company's revenue declined 30% in 2021 and 80% in 2020 as the pandemic roiled its business.
2. Royal Caribbean's Net Income
The company made a profit of nearly $460 million in Q2 2023, compared to a loss of $48 million in Q1 2023 and a loss of $520 million in the same period the previous year.
The coronavirus outbreak destroyed cruise demand and drove cruise line operators like Royal Caribbean into deep losses for several years. In 2022, Royal Caribbean made a loss of $2.2 billion. It made a loss of $5.3 billion in 2021 and a loss of $5.8 billion in 2020.
With the cruise industry returning to normal thanks to Covid vaccines, Royal Caribbean's annual losses have been shrinking in recent years. Considering the rate of its revenue growth, Royal Caribbean could return to profitability sooner than many thought.
3. Royal Caribbean's Profit Margins
The cruise line operator's gross profit margin improved to 44.5% in Q2 2023 from 38% in Q1 2023. The operating profit margin jumped to 21.9%, compared to 9.4% in the previous quarter.
On an annual basis, Royal Caribbean's profit margins have largely been in the negative territory since the pandemic struck. It reported a gross margin of 25% in 2022, which marked a significant improvement from -73% in 2021 and -25% in 2020. The company's annual operating profit margin was -8.6% in 2022, a sharp improvement from -253% in 2021.
4. Royal Caribbean's Cash Position and Balance Sheet Condition
The company ended Q2 2023 with about $730 million in cash. Its balance sheet shows $33 billion in assets against $29 billion in liabilities.
While the company is still recovering from the impact of the pandemic, its balance sheet is in fairly good shape. For example, its quick ratio has stayed at 0.11 in the past two consecutive quarters.
Royal Caribbean Stock Analysis
1. RCL stock valuation
Royal Caribbean stock currently trades at a forward P/E ratio of 12.34, which is the best among the major cruise line stocks. Carnival Corporation (NYSE: CCL), Walt Disney (NYSE: DIS), and Norwegian Cruise Line (NYSE: NCLH) stocks trade at forward P/E ratios of 30, 18, and 13, respectively.
2. Royal Caribbean Stock Trading Information
Royal Caribbean stock trades on the NYSE under the ticker symbol "RCL". About 3 million shares of Royal Caribbean stock trade on average each day..
You can start trading RCL stock as early as 4 p.m. ET to as late as 8 p.m. ET, if you take advantage of the premarket and post-market sessions. However, the regular trading time for RCL stock begins at 9:30 a.m. and ends at 4 p.m.
3. Royal Caribbean Stock Split History
The cruise line operator has split its stock once since the IPO. It implemented a 2-for-1 RCL stock split in August 1998. Following the split, an original position of 1,000 shares in the stock increased to 2,000 shares.
4. Royal Caribbean Stock Dividend Yield
The company had been paying quarterly dividends for at least two decades before the Covid pandemic roiled its business and forced it to suspend the dividend program. Royal Caribbean is expected to restore the dividend sooner or later as its financials have begun to improve.
5. Royal Caribbean Stock Performance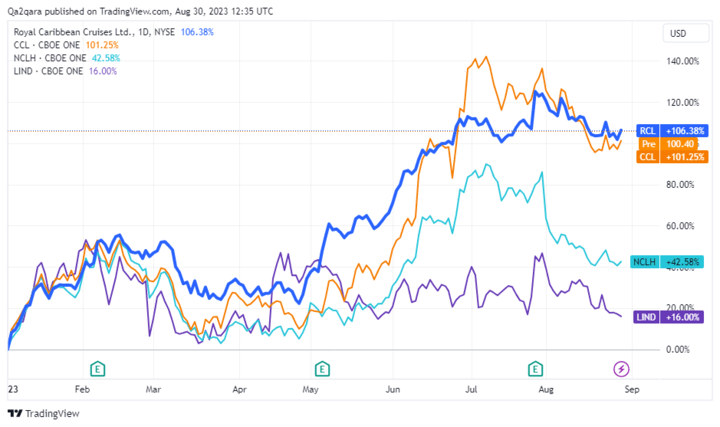 Royal Caribbean stock has gained more than 100% year-to-date. As you can see in the chart above, RCL stock is the best-performing major cruise stock so far in 2023.
RCL stock price has run between $36 and $113 over the past year. At the current price of $100, the stock has climbed about 180% over its 52-week low, but remains about 11% below its 52-week high. RCL stock went public at the IPO price of $18 per share.
6. RCL Stock Forecast
More than a dozen analysts have issued RCL stock price predictions, which range from $98 - $139. The average RCL stock forecast of $124 implies more than 20% upside potential. The peak RCL stock target of $139 suggests 30%.
Wall Street has a consensus Buy rating on RCL stock.
7. Royal Caribbean Stock Technical Analysis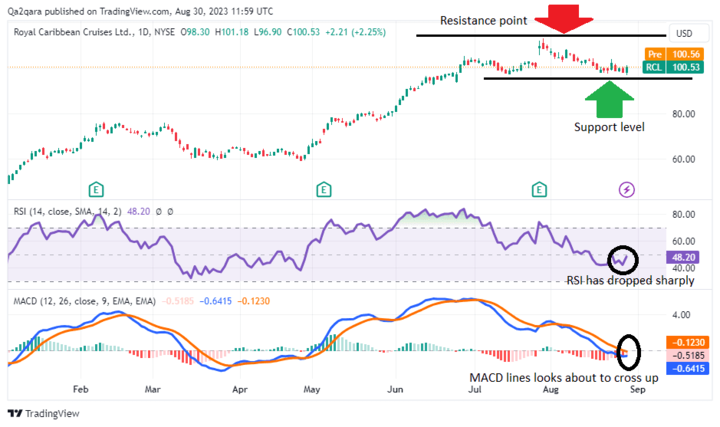 The chart above shows RCL stock price trend since January, along with the RSI and MACD charts.
As you can see, the Royal Caribbean stock price has generally been rising this year. But toward the end of July, the stock started declining in an apparent profit-taking by some traders.
The decline began when the RCL stock's RSI reading jumped above 70 into the overbought territory. At the same time, the MACD line crossed below the Signal line, confirming a downtrend for the stock.
At this time, the RSI reading has moved down toward the oversold zone and the MACD line looks primed to across above the Signal line. All of this suggests that the stock may begin to move up again after the consolidation period.
RCL stock price has found a firm support level at $97, but it faces resistance at $115.
Royal Caribbean's Opportunities and Challenges
The cruise industry presents various growth opportunities for Royal Caribbean. But there are also various challenges for the company to navigate.
Royal Caribbean's opportunities
1. International Expansion
Although Royal Caribbean has a global presence, its global reach remains limited. The company still relies heavily on the U.S. market for much of its revenue. Asia is already a big market for the company, but there remains significant room for expansion in this region. Similarly, there is more room for Royal Caribbean to expand its business in Europe, Latin America, and other parts of the world.
The company is expanding its fleet and plans to add more ships in the near future. With a larger fleet, the company can cover more international markets and grow its revenues significantly. Emerging markets with rapidly expanding middle-class populations are particularly promising.
2. Partnership Programs
Royal Caribbean has already forged partnerships with various brands in the travel and hospitality space. But there is still room for more strategic partnership opportunities that can help help the company advance its business.
For example, the company recently partnered with the Inter Miami in a deal that makes it the soccer club's official vacation partner. As the signing of the international star Lionel Messi has raised Inter Miami's profile, the deal provides a great advertising opportunity for Royal Caribbean.
In addition to deals like the Inter Miami one that seek to boost brand recognition, Royal Caribbean can also seek partners to offer bundled packages that can bolster guest loyalty.
3. Increasing Cruise Demand
The cruise market is expanding, which is great news for Royal Caribbean and other cruise providers. The global cruise market size was valued at $7.7 billion in 2022 and is forecast to hit $18.3 billion by 2030, according to Grand View Research.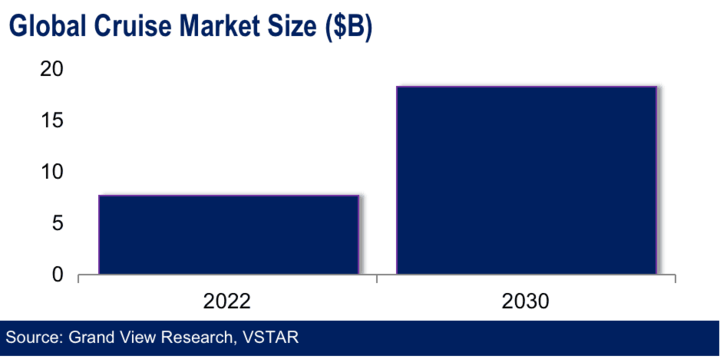 Demand from millennials and gen-z is fueling the market expansion. These generations seek unique travel experiences. They are also more climate-conscious than many past generations. Therefore, Royal Caribbean's fleet of modern ships built with sustainability and outstanding experience in mind put it in a great position to win business from the customer demographics driving cruise demand.
Royal Caribbean's Challenges
1. High Operating Costs
From labor to fuel, operating cruise ships is an expensive business. As a result, a slight drop in bookings can sink a cruise line operator into deep losses. Consequently, it can be difficult for cruise lines to maintain consistent profitability.
2. Cruise Ships Are Expensive to Acquire and Maintain
Purchasing a cruise ship is a huge capital expenditure, yet cruise operators have to upgrade their vessels regularly to stay competitive in the market. A ship that can carry over 3,000 passengers costs nearly $1 billion to build. In addition to replacing old ships, cruise lines also pull their ships out of the water every 3-5 years for extensive maintenance services that also come at a high cost.
3. Tight Regulations
From the fuels burned in the engines to their air conditioning systems and amenities, cruise ships emit large amounts of carbon dioxide. Consequently, the environmental impact of cruise lines has come under intense scrutiny. This is leading to tightening regulations that could increase the financial burden on cruise line operators.
4. Intense Competition
As one of the top cruise line operators, Royal Caribbean is a major target of competition. These are some of the company's major competitors and the threats they pose:
| | |
| --- | --- |
| Competitor | Threat |
| Carnival Cruise Line | Carnival is Royal Caribbean's fiercest rival in the cruise industry. With 45% market share, Royal Caribbean is the dominant provider in the cruise industry. |
| Norwegian Cruise Line | Norwegian is one of the big-three cruise lines. It is known for offering what its fans call the "freestyle" cruise experience. |
| MSC Cruises | MSC Cruises is a major competitor to Royal Caribbean in the Mediterranean cruise market. |
| Walt Disney | While Walt Disney is best-known for its theme parks, it also operates a cruise line. Consequently, it competes with Royal Caribbean for tourists' time and funds. |
Royal Caribbean's Competitive Advantages
1. Large Market Share
Royal Caribbean controls 25% share of the global cruise market. This makes it the second-largest cruise line operator after Carnival. With its large market share, Royal Caribbean is better positioned than most of its competitors to take advantage of the cruise industry growth. Moreover, the company's large market share provides a degree of protection against potential market disruptors.
2. Strong Brand Recognition
Royal Caribbean is one of the best-known and highly regarded brands in the cruise industry. The Travel Weekly has named Royal Caribbean the best cruise line overall for 20 consecutive years. Moreover, Royal Caribbean has been repeatedly recognized by travel experts and guests as the best cruise line for first timers, the best cruise line for couples, and the best cruise line for families.
The strong brand position helps Royal Caribbean to build customer trust, boost sales, and win over important partners to grow its business.
The company has earned a solid brand reputation through continued innovation. As a result, the company has been able to build beautiful ships and offer excellent services and experiences for guests.
3. Broad Service Options
Royal Caribbean has a diversified cruise experience offering. For example, customers can choose cruise options ranging from short getaways to extended cruises. Moreover, the company offers guests options for family-friendly rides to high-end luxurious cruises.
It has everything for anyone seeking cruise vacation. Therefore, the company can serve customers with varied preferences, and that gives it a mass appeal.
4. Loyalty Program
In a bid to foster long-term relationships with its guests in the highly competitive cruise industry, Royal Caribbean offers a range of benefits to build customer loyalty.
For example, the Crown and Anchor membership program is a powerful tool in driving ticket sales and onboard business for the cruise operator.
The program offers members various exclusive benefits. For example, Crown and Anchor members get special discounts on cruise rides and onboard purchases and experiences. Moreover, members have access to extra onboard events and amenities. And the more cruise rides a guest takes, the more extra benefits they receive.
Loyalty programs like the Crown and Anchor help Royal Caribbean's business in various ways. In addition to encouraging guests to spend more during their rides, it also helps keep guests from defecting to rival cruise lines.
5. Global Footprint
Royal Caribbean operates cruise ships in the Americas, Europe, and Asia Pacific. As a result, it has footprints in all the major global cruise markets. The global footprint allows Royal Caribbean to serve a broader customer base than many of its rivals, and it can make more money as a result.
Moreover, the company can better absorb the impact of economic slowdowns in certain regions compared to rivals with less diversified geographic presence. Additionally, the global presence gives Royal Caribbean a better insight of industry trends that can inform its ship-building and product decisions to remain competitive.
6. High Barriers to Entry for Competitors
The high cost of operating cruise lines and the tight regulations on operators have a positive side for cruise industry incumbents like Royal Caribbean. These present high barriers for companies that may consider entering the cruise market. This helps keep new competition in check.
Therefore, Royal Caribbean is largely shielded from surprise attacks from startups seeking to disrupt the cruise market.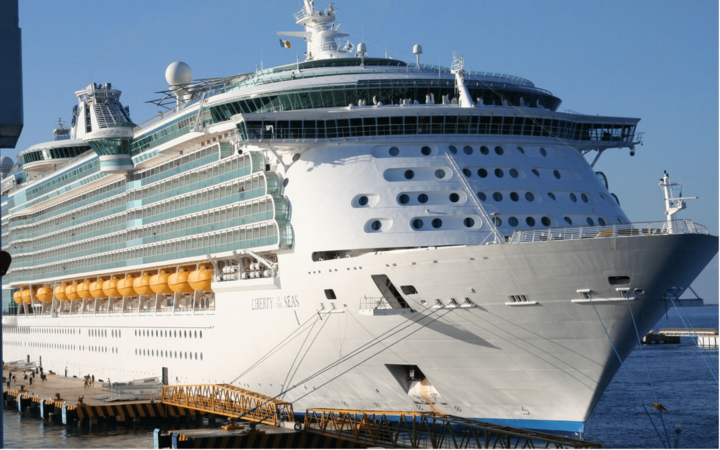 Source: Pixabay
Royal Caribbean Cruises Stock Trading Strategies
If the Royal Caribbean Cruises stock stands out to you as the best cruise stock to invest in now, the next important thing you need to do is determine your investment strategy.
You can approach investing in RCL stock in a number of different ways, depending on your investment timelines and capital size. Let's look at the two popular investment strategies you can pursue with RCL stock:
1. Buying and Holding Royal Caribbean Cruises Shares
If you're into the old-school method of investing in RCL stock, this is the way to go. With this investment strategy, you buy Royal Caribbean Cruises stock and hold it in your brokerage account for an extended period of time.
Most people who use this investment method seek to hold Royal Caribbean Cruises stock for a year or more. With this long-term investment method, you are betting that RCL stock price would go up during your holding period.
Purchasing and holding Royal Caribbean Cruises shares has its pros and cons and explored below:
Pros:
You can vote at Royal Caribbean Cruises shareholder meetings to influence management decisions.
You become eligible for Royal Caribbean Cruises'dividend payments when they are restored.
The number of shares you own in Royal Caribbean Cruises may increase if the RCL stock undergoes a stock split.
Cons:
You need to wait a long time to see returns.
You require a large amount of initial
You can only make a profit when the RCL stock is going up.
2. Trading Royal Caribbean Cruises Stock CFD
If you have little money to invest and are looking for a way to make a profit on RCL stock, you may want to consider trading Royal Caribbean Cruises stock CFDs.
CFD trading is all about predicting the direction in which the price of RCL stock will move, usually over short periods of time such as an hour, a day or a week. This strategy therefore frees you from the disadvantages of holding shares for long periods of time.
In CFD trading, you purchase contracts that align with your predictions. If you think that RCL stock price would go up over a day or a week, you would purchase a CFD contract that pays you the increase in price. Conversely, you would purchase a contract that pays you the price decrease if you think that RCL stock price would decline.
Therefore, your profit in CFD trading is calculated by multiplying the price change by the number of contracts purchased. CFD contracts usually cost less than the market price of the underlying stock. Consequently, CFD trading gives you easy exposure to RCL stock and allows you to start investing with small amounts of money.
As you would expect, trading Royal Caribbean Cruises stock CFD has its benefits and drawbacks as outlined below:
Pros:
Since it only requires predicting the direction of price movements, CFD trading allows you to profit with Royal Caribbean Cruises stock in both bull and bear markets.
Trading CFD requires less initialcapital than the traditional buy-and-hold investing strategy.
CFD trading allows you more control over how long you hold a position in a stock. Your positions can be as short as a few minutes or as long as several weeks.
Cons:
Trading Royal Caribbean Cruises stock CFD doesn't make you a shareholder in the company. Therefore, you aren't eligible for potential dividends from the cruise line operator.
Royal Caribbean Cruises stock CFD traders also don't get shareholder voting rights in the company. But many traders aren't interested in shaping management decisions, so the lack of voting rights isn't a major concern to them.
Trading Royal Caribbean Cruises Stock CFD with VSTAR
If trading Royal Caribbean Cruises stock CFD appeals to you, the next important thing you want to do is choosing the right CFD broker. It helps to choose your CFD broker carefully to avoid excessive fees or restrictions that can diminish your returns.
If you're seeking the best CFD broker, consider VSTAR. Apart from being a fully licensed and regulated CFD broker, VSTAR is also built for pro and beginner traders alike. It offers a low-cost trading platform that features tight bid-ask spreads and no-commission standard accounts.
You can start trading Royal Caribbean Cruises stock CFD on VSTAR with an upfront investment of just $50. Traders with limited funds to start with can take advantage of the platform's generous leverage to boost their trades and maximize their profits.
With its top security features and highly effective risk control tools, VSTAR has become the favorite CFD trading platform for many traders as you can see from these Trustpilot reviews.
Consider opening your VSTAR account for free today to start trading RCL stock CFD. As a new trader, VSTAR offers up to $100,000 in a demo account for you to practice your strategies before you can start investing real money.
Final Thoughts
Royal Caribbean Cruises (NYSE: RCL) looks to be the best cruise stock to buy now. The company has strong competitive advantages and many growth opportunities. Moreover, RCL stock offers the best forward P/E valuation of any major cruise stock, and the RCL stock forecast signals a great upside potential.
*Disclaimer: The content of this article is for learning purposes only and does not represent the official position of VSTAR, nor can it be used as investment advice.