As a company, Tilray Inc is in an enviable position. It was a first mover in the then-controversial cannabis market and now has a collection of valuable brands and a willing consumer base. By purchasing 8 beverage brands from Anheuser-Busch InBev for $85 million in cash, Tilray will become the fifth largest craft beer company in the United States, giving the company more room for growth. So, is now a good time to buy Tilray stock? Maybe not.
Tilray still burns money every quarter and its shares are down 70% over the last three years. Tilray continues to face challenges in a now competitive market and it doesn't seem to be getting better anytime soon. Yet, it is possible that Tilray is a winner and still needs more time to grow. Let's check it out.
Tilray's Background
It was founded in 2013 by Brendan Kennedy as a cannabis and consumer packaged goods company with its main headquarters in the United States but has operations in Canada, New Zealand, Australia, and Latin America.
In 2018, it became the first cannabis company to be traded publicly on NASDAQ, a major US stock exchange with an IPO of $17 and received most of its investments from institutional investors such as Blackrock Inc, Swiss National Bank, ETF Managers Group, Vanguard Group Inc, and Susquehanna International Group LLP. That same year, Tilray achieved another milestone by becoming the first Canadian cannabis company to ship products to the US and eventually signed a deal with Sandoz, a Novartis subsidiary to distribute medical cannabis worldwide. Although there are more cannabis companies in the industry, it remains one of the foremost players and is increasing its operations in Portugal and Germany under its CEO Irwin David Simon.
Source: MarketWatch
Business Model and Services
Tilray focuses on 4 core business segments: cannabis business, distribution, wellness business, and alcoholic beverages. It sells products directly to customers and also has other clients like retailers, wholesalers, hospitals, pharmacies, physicians, governments, and researchers.
In its bid to expand and improve diversification, Tilray focuses on aggressive acquisitions. It has acquired some major competitors like Aphria and Hexo as well as other companies of interest like The Batch, Good Supply, and Sweet Water. Through the acquisition of these businesses and the possible legalization of cannabis in the US, Tilray plans to generate $4 billion in annual revenue by 2024.
Products and Services
Tilray established itself through the sale and distribution of medical and adult cannabis. However, its product range has expanded greatly over the years. It now buys and resales pharmaceutical products to customers including wellness products as part of its wellness brands. But Tilray is still diversifying its portfolio even more with its involvement in the alcohol business.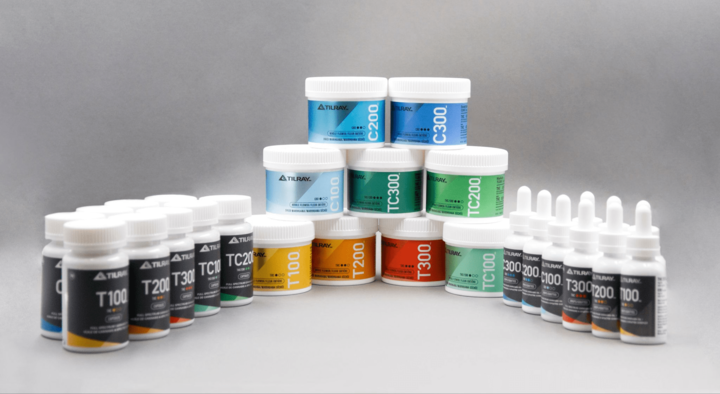 Source: Business Wire
Financials and Growth Metrics
Now, let's see how strong Tilray Brands is financially. With a market cap of $1.85 billion, Tilray Inc is still a reasonably valuable company. Still, its financials aren't as strong as you would expect.
TLRY Earnings
After its recent earnings call in May, Tilray brought in $184.19 million in revenue and net income was in the negative at $138.71 million. Its net profit margin is -75.31% but this is a significant improvement considering that it was at -804.32% in February. Its operating income also saw some improvement moving from -$87.18 million to -$24.5 million.
Plus, Tilray's total asset growth declined by 19.30% this year now that it is at $4.4 billion. However, it still balanced out its liabilities and shareholders' equity, which stand at $1.07 billion and $3.33 billion respectively. Although there are some improvements, it might still take a while for Tilray to be profitable.
Is Tilray Undervalued?
Let's compare it to some of its strongest competitors: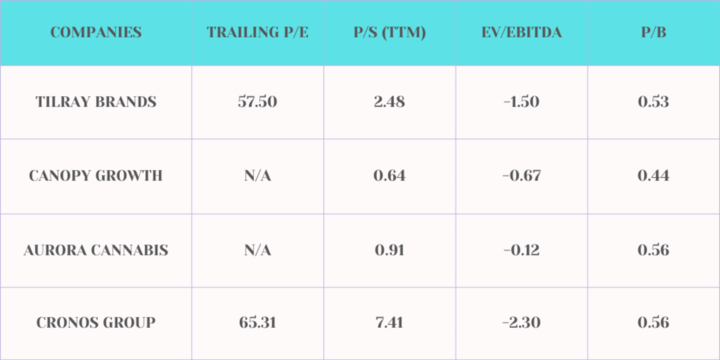 Based on its key metrics and financials, Tilray is reasonably valued but with great profit potential.
How is Tilray Stock doing?
1. Tilray Stock Trading Information
Primary Exchange & Ticker: NASDAQ: TLRY
Trading Hours
TLRY Premarket: Investors can trade TLRY stock in the Pre-Market (4:00 - 9:30 am ET)
TLRY After Hours: Investors can trade TLRY stock in the After Hours Market (4:00 - 8:00 pm ET)
Stock Splits: N/A
Dividends: N/A
2. TLRY Stock Performance
Tilray stock performance has been a rollercoaster, to say the least. After its IPO in June 2018 on the NASDAQ stock exchange at $17 per share, Tilray saw massive interest, rising by over 120% to $214 per share in November. By August 2019, interest died down, trading at $29. Since then, Tilray stock has been in a downward spiral.
Now trading at $2.63, TLRY stock price has lost 88.59% of its value since its IPO after investors started moving away from the marijuana industry despite pouring money into it in 2021. Some analysts like Gordon Johnson, suggested that Tilray's growth was fueled by Reddit's rally to weed stocks which cannot hold.
The company's lack of profitability and some decisions of its management have also caused concern. For instance, TLRY shares plunged another 21.2% in May after news broke that the company priced $150 million worth of convertible senior notes.
Still, there are some positives. The stock has rallied by over 58% in the last month after its improving financial report and news of its deal with Anheuser-Busch. However, there is no telling if this will sustain its growth for the rest of the year.
3. TLRY Stock Forecast
Tilray stock analysis indicates that the Tilray stock forecast is in a downtrend despite several attempts to push higher.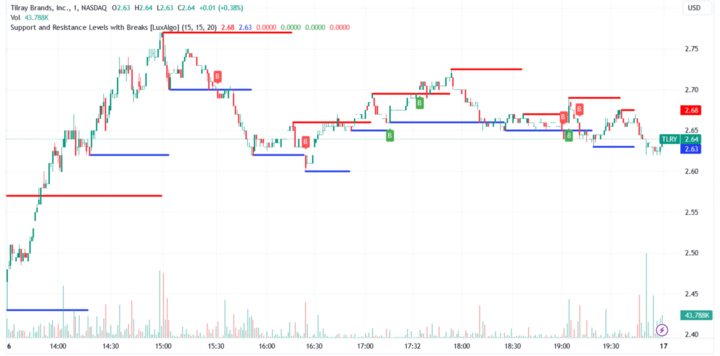 Its key support and resistance levels remain at $2.46 to $2.78 but it could push higher this year if the cannabis industry improves as expected. However, analysts aren't holding out much hope. Experts like TD Cowen, Alliance Global Partners, and Piper Sandler have lowered their estimates for Tilray stock and maintained a neutral position. Now to the big question: Should I buy Tilray stock? At the moment, that is not advisable. Based on 18 analysts giving ratings on Tilray stock, 13 deem it a hold while 5 consider it a buy meaning that you should hold off on it in the meantime.
Tilray stock price target
If the company does improve this year, analysts have set a maximum estimate of $4.25 and a minimum of $1.90 with an average price of $2.68. Tilray stock forecast 2023 isn't too positive.
Risks and Opportunities
Risks
Non-existent growth: Tilray is making valuable acquisitions but its earnings are in the red. It is operating with a net income and operating income of -$138.71 million and -$24.5 million respectively. Tlry stock forecast is also not positive because of these challenges. This is important for growth-oriented investors who may not want to invest in a company making no money.
Acquiring bad companies: Not all of its acquisitions have been good. For instance, Hexo was already losing money and was no longer as relevant as it was before the acquisition.
Strong Competition: Tilray faces competition from other companies like Canopy Growth, CV Sciences, Canndescent, and Aurora Cannabis. The Canadian Competition Bureau is also making recommendations to review cannabis processing to encourage more competition in the industry.
Opportunities
The cannabis market is improving: Tilray's revenue and growth could pick up now that the cannabis market is starting to recover from its prolonged slump. It controls 13% of the market in Canada and now that the government is focusing on easing the regulations, its sales will pick up. This is one of the reasons why Tilray stock predictions 2025 are relatively positive since investors are anticipating a major improvement in the market.
Improving sales in the alcohol business: Over the last couple of years, the cannabis maker's focus on diversification has paid off, especially in the alcohol beverage market. Its latest acquisitions are part of the plan to hit $300 million in annual alcohol sales in the coming years.
Market Leader: Tilray still holds the leadership position in the Canadian cannabis market which gives it an edge over other competitors.
Growth Drivers for Tilray
There are several factors influencing Tilray's growth:
Legalization of recreational marijuana in Germany
Germany's cabinet recently passed a bill to legalize recreational marijuana use. This is the most liberal and controversial cannabis law in Europe and could influence more regulations across various countries which is good news for Tilray. Following the acquisition of Aphria, it became a major player in the cannabis market in Germany with a 20% market share.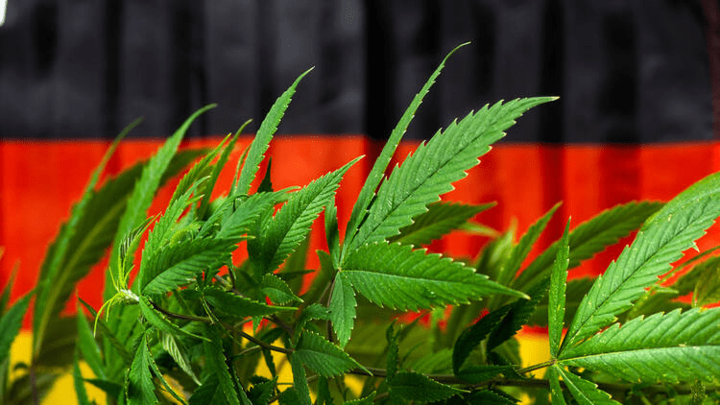 Source: TimeOut
Recent Craft Brewery Deals
Tilray stock outlook became more positive after it acquired the craft beer brands. Analysts view it as a strategic move that helps with its drive for diversification while improving profit potential. Now that it is the fifth largest craft beer company in the US, Tilray is expected to experience substantial growth in the future.
More regulation in the US
On a federal level, marijuana is still illegal but this trend could change soon. 23 states and Washington DC have now legalized recreational marijuana, allowing for the accelerated growth of Tilray in the US market.
Future Outlook for Tilray
So, is Tilray a good stock to buy? Although as a cannabis manufacturer, Tilray is currently struggling to be profitable, it's still making plans to hit its projected $4 billion in annual sales by fiscal year 2024. Although federal legalization of marijuana isn't yet in sight, the cannabis company has given itself a decent amount of exposure when that happens by investing in MedMen. In addition, it is expanding even more in the European market by partnering with Pharmaidea. Its medical cannabis division, Tilray Medical and FL Group has received permission from Italy's Ministry of Health to distribute new medical cannabis compounds.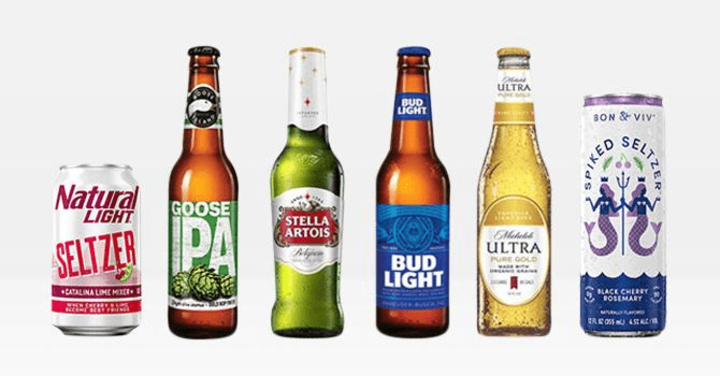 Source: CannaReporter
But there are some things to be skeptical about.
The legalization of marijuana in the US might not be happening anytime soon since the Biden administration hasn't shown any eagerness towards it. If the Presidential seat goes to a Republican, it might be even harder because of the party's hard stance on drugs.
Plus, there is no telling if there will be significant growth in the cannabis market in the EU or other international markets in the next five years because bills tend to take a lot of time to be passed into law. This combined with the acquisitions Tilray has made so far, the company might remain in the red for some time and the growing operation costs might make it even more difficult to recover.
Why Traders Should Consider TLRY Stock
Tilray stock might not be attractive for long-term investors but there is something to be gained by traders following its recent market moves.
Tilray stock has risen by 60.25% in the past month following its deal with Anheuser-Busch, a deal that could potentially propel Tilray's stock price for the rest of the year. Tilray stock has also pulled some momentum from its recent earnings report after reporting an increase of 26.51% in revenue. Plus, Tilray has been more volatile, moving at +/- 16% a week over the past 3 months. This provides ample opportunity for traders to snatch up short-term gains and benefit from the stock.
But to make the most out of trading TLRY Stock, traders rely on these strategies:
Candlestick Pattern Trading Strategy: Traders depend on price charts to trade and candlesticks are one of the most preferred charts to use. Candlestick trading strategies use candlestick patterns formed by one or multiple candlesticks to inform what is going to happen next. For instance, when the hammer candlestick pattern appears on a chart like it did in this chart, it indicates that there is a potential downtrend.
Bollinger Bands Strategy: Considering how volatile Tilray stock is, traders use Bollinger bands to monitor breakouts and determine if a stock is overbought or oversold. It is simple to use but has to be used with other indicators because it focuses on price and volatility alone while ignoring other criteria.
It looks like this on a chart.
The basic rule when using Bollinger is that when the price crosses the upper band or remains within the middle and upper line, traders can open a buy position. However, if the price touches the lower band, then the trend is losing its strength, and a reversal could happen.
Moving average strategy: Moving averages or MA is one of the most popular technical indicators and traders can use either simple, exponential, or weighted MA to trade.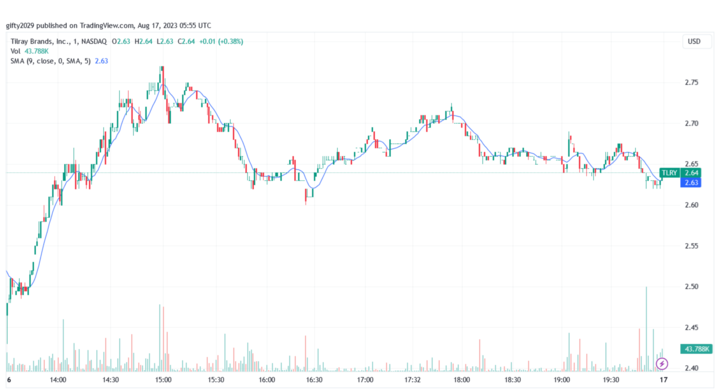 The easiest way to use MA on TLRY price chart is to indicate a change in trend. For instance, when the price moves above the MA, then it indicates a potential uptrend, and below the MA shows that a downtrend could happen.
CFD Trading: CFD trading is another popular way for traders to make money from fast-moving assets like Tilray. Through CFDs, traders can speculate on the price movement without having to own TLRY stock. However, what makes it so popular, is that traders get to use leverage to maximize their position even with a small investment. For instance, if you have $1000 in your account, you can trade with up to $100,000 using leverage of 1:100. In addition, CFDs have lower costs compared to trading traditional stocks and give more flexibility in terms of trade size and execution. However, to fully benefit from trading CFDs, you need to trade with the right broker that gives you access to features and tools that can maximize each trade.
Trade TLRY Stock CFD with VSTAR
Trading TLRY Stock CFD is a profitable way to take advantage of the volatile stock and VSTAR provides you with an easy and convenient way to increase your profit potential. It is equipped with daily market reports, economic calendars, trading signals, and other trading tools to conduct Tilray stock technical analysis and make decisions in the competitive market.
For more information and knowledge about different markets, VSTAR offers an extensive array of educational resources like articles and podcasts that provide game-changing analysis of the markets.
Ready to start trading? Register and get your account set up in seconds!
Conclusion
So, is Tilray stock a good long-term investment? Tilray is getting more diverse but investing in it is still very risky. The company still has to deal with a lot of challenges before it can be profitable and we'll have to wait and see if the company is still improving during the next Tilray stock earnings date. If its different businesses are profitable, then its long-term prospects will improve.
*Disclaimer: The content of this article is for learning purposes only and does not represent the official position of VSTAR, nor can it be used as investment advice.