Nvidia(NVDA) is one of the best manufacturers of graphic processing units and has remained so for over 24 years. Recently, the company has been experiencing considerable success in providing GPUs for artificial intelligence and electric vehicles and the positive investor sentiment is reflected in its stock price.
Nvidia stock was wiped off in 2022 but has rewarded investors in 2023 with nearly 89% in gains. The hype surrounding the company's involvement in AI and EVs may sustain its momentum in the stock market as it continues to rise throughout the year.
So, have investors missed their chance to win big with Nvidia or are there still opportunities to benefit from the potential upside? Let's take a closer look at the details surrounding the growth of Nvidia.
Nvidia's Background
Founded in 1993 by Jensen Huang, Chris Malachowsky, and Curtis Priem, Nvidia focuses on improving graphics-based computing. The company is responsible for creating the first GPU in history and has gone on to create other products like the Omniverse that help in operating metaverse applications.
Even though most people are not aware of the company, the California-based company has made a massive impact in the tech industry with its products and is one of the most valuable companies in the world. Nvidia's market cap stands at $714.08 billion making it a relatively stable growth company. The company remains profitable generating a revenue of $26.97 billion and a net income of $4.368 billion and continues to be managed by Jensen Huang, one of its founders.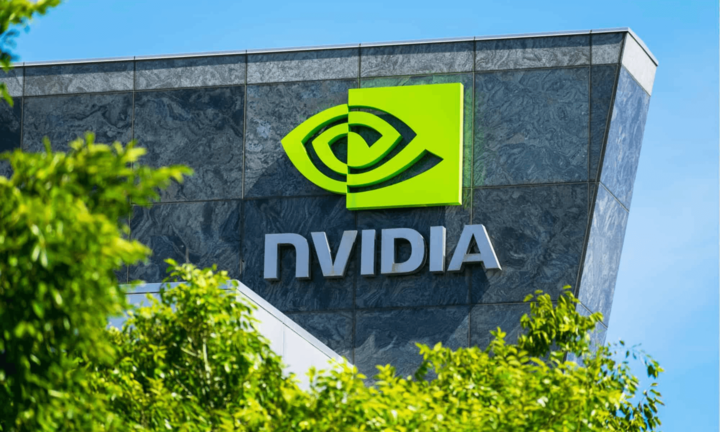 Nvidia's Business Model and Products
Since the creation of the first-ever GPU, Nvidia has extended its products and services to cover various areas of application thereby generating more revenue for the company.
Business Model
Nvidia is the undisputed leader in the graphics processing units industry selling products to customers from different segments. The company sells cards to individual customers that install these cards on their systems, but the bulk of their clients are companies majorly from four markets: Professional visualisation, automotive, data centres, and gaming.
One major advantage for Nvidia is that it doesn't have to change too many features of its products and services because the underlying technology is similar. However, if the company is serving different customers from the same industry, it has to create products with specialised features to distinguish one from the other. Since the automotive industry greatly differs from other industries the company serves, especially with the rise of autonomous driving, it has to create a more diversified range of products and services to suit the needs of the industry.
Main Products and Services
Nvidia's line of graphic processing cards for desktops and laptops is sold under the name GeForce. The GeForce RTX 3060 is more popular among gamers. The graphic cards modified for more professional visual computing services are called Nvidia Quadro or RTX and it is mainly used for computer-aided design.
Anticipating the potential growth of AI in the years to come, Nvidia DGX systems provide the tools and technology data scientists need to further AI exploration. For instance, the DGX-2 is Nvidia's most powerful tool dedicated to AI training delivering 2 petaflops of training performance to data teams. As the semiconductor market continues to grow, the market leader is speeding up the design of its semiconductor chips by releasing a new software called cuLitho to help with the manufacturing of the product.
Nvidia's Financial Performance
Close to 90% of Nvidia's revenue comes from the sale of GPUs and the company's total revenue has grown significantly since 2017. Nvidia earnings were estimated at $16 billion in 2021 and $26.97 billion for fiscal 2023. Despite the significant drop in the demand for Nvidia chips in gaming laptops and consoles, the company still made $3 billion in pure profit for the 4th quarter of 2022 majorly because of the massive demand for chips in data centres and cars. This is lower than the company's performance in fiscal 2022 mainly due to the fall in demand, but the company is still making a lot of money and is looked at by investors and analysts as a leading indicator of the health of the tech industry because of how many companies they cater to.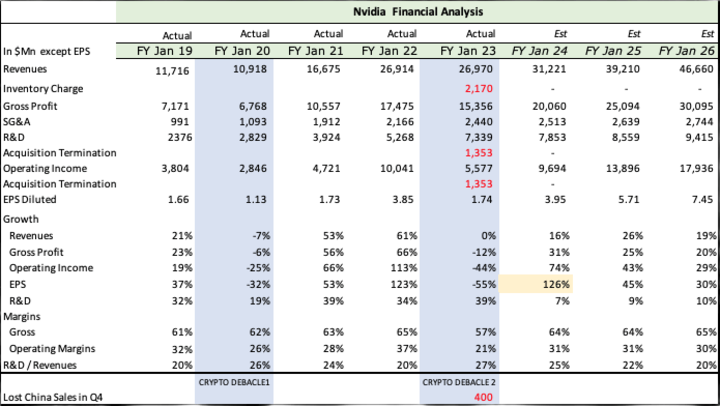 Key financial ratios and metrics
Although it seemed like the growth of Nvidia would finally slow down, Nvidia's stock grew more and the company's earnings per share (EPS) has averaged 23% annual growth over the last 10 years. The recent bull run of the stock has also increased Nvidia market cap to $686.71 billion. The company now trades at a forward price-to-earnings ratio of 53, an 18% increase to its average P/E over the past 10 years. In addition, Nvidia's annual revenue for the fiscal year 2023, was $26.97 billion.
AMD, Nvidia's main rival in the tech industry generated a total revenue of $23.6 billion while Intel 12-month revenue ending on March 31 2023 was $56.41 billion. While Nvidia, AMD and Intel are relatively similar in revenue, AMD and Intel are still relatively underpriced compared to Nvidia when you consider that they have lower P/E ratios of 26 and respectively.
AMD and Intel are fairly valued based on their position in the industry and growth potential but Nvidia is considerably overvalued. Nvidia's involvement in AI is largely responsible for the boom today but as AI continues to grow more players will double down on it and possibly shake Nvidia's position. Nvidia's stock rise also doesn't account for the short-term decrease in the demand for PCs and traditional computing devices which could hurt the company's short-term financials.
How is Nvidia Stock doing?
Nvidia stock (NASDAQ: NVDA) opened on the stock market in 1999 trading at $12 per share and continues to be regarded as a growth stock. When adjusted for stock splits, Nvidia stock price when it opened on the stock market was $0.25. As an American company, Nvidia is primarily listed on the NASDAQ stock exchange and investors can trade in the pre-market (4:00 - 9:00 am ET) and the after hours market (4:00 - 8:00 pm ET).
Although it is now trading at $282.28 per share, Nvidia stock has gone through a series of ups and downs in its 24-year history and has sometimes left investors uncertain about the future of the company. Tracing Nvidia's trading history back to 1999, the company's average compound rate of return of 19.9%. Considering that the S&P 500 has returned a little more than 10% annually, this is relatively high for the market leader. NVDA stock did crash in 2022 but it has increased by more than 81% to date. If the company is able to shake up the short-term obstacles, Nvidia stock price prediction by Wall Street analysts is relatively positive as it could hit $500 by the end of 2024.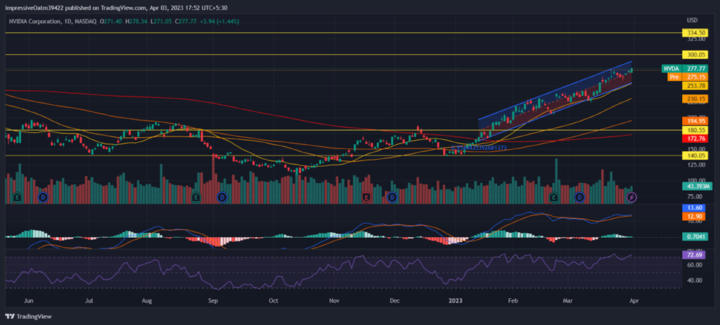 Nvidia stock support levels: $140 and $180.55
Nvidia resistance levels: $300.05 and $334.50
Nvidia stock is currently in a rising trend channel signifying a rise in buyers and is currently testing the resistance level at $290 dollars. There is still doubt about the strength of Nvidia stock buy or sell signals because the stock appears to be overvalued and investors are anticipating a price correction. But if it succeeds in reaching $334.50 before the end of the year, it will give investors a return of 20% and could continue on an upward trajectory.
Stock Splits
Nvidia has undergone a series of stock splits since going public in 1999. Now, the total number of Nvidia shares outstanding is estimated at 2.483 billion.

Latest developments Investors should know about
Nvidia FY2022 Revenue Report
Nvidia reported that its fiscal year revenue for 2022 which ended on 29th January 2023 was $27 billion despite the 21% decrease in the Q4 revenue for 2022. The company's data centre business was up in sales by 11% as Nvidia increased sales to consumer internet companies and cloud service providers in the U.S. Its sales to automotive companies grew by 86% but it is still small in sales.
Share repurchases and cash dividends for the fiscal year 2022 are estimated at around $10.44 billion and the company has consistently paid out dividends to its investors every three months since 2014 and is determined to keep sharing profit with its investors. The current Nvidia dividend payout when it was last paid in March is $0.16 per share.
AI will drive demand for Nvidia
Analysts predict that the demand for AI accelerators and deep learning tools like data processing units, CPUs, GPUs, and others, may grow at an annual rate of 39% until 2031. The demand for these AI accelerators alone could generate an estimated $332 billion in revenue yearly up until the end of 2031.
Nvidia's GPUs already help to power AI services like ChatGPT and are partnering with Oracle, Microsoft, Google, and a host of other businesses to further the development of AI and aid collaboration among different industries.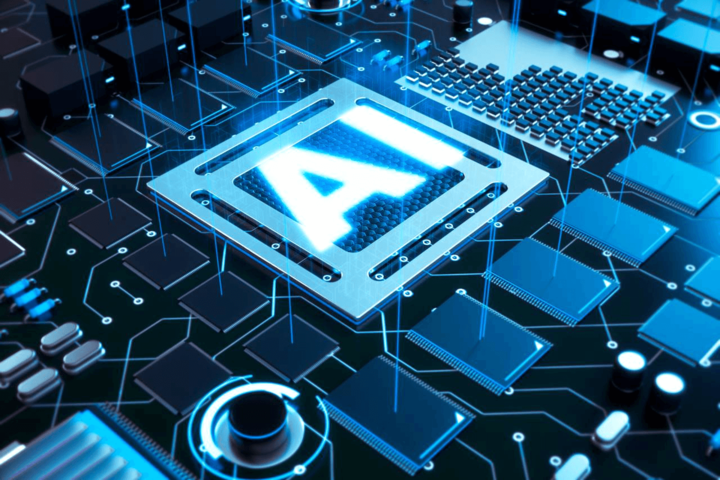 Will Nvidia still be valuable in the future?
Nvidia's price-to-sales ratio of 25 combined with 155 times trailing earnings, shows that Nvidia is highly valued in the stock market and how expensive it currently is. With the pace at which Nvidia is still growing, the company could surpass the expectations of Wall Street investors and become a dominant player in the rapidly growing AI market.
What are the Risks and Benefits of Investing in Nvidia
Benefits
1. Consistent profitability: The company is improving its semiconductor technology and continues to outperform competitors like AMD and Intel. The company is expanding in segments like AI, cloud gaming, and data centres. The adoption of cryptocurrencies and metaverse will also help to increase demand for Nvidia chips. In addition, Nvidia stock forecast using both short and long-term moving averages is strong and according to long-term forecast Nvidia share price could hit $350 by the end of 2023.
2. Knows how to handle competition: Nvidia is facing major competition from companies like AMD and Intel in the GPU sector and Microsoft, Apple and Google in the AI industry but it has found a way to make itself more efficient than its competitors.
For instance, after Google released its AI chip touting it to be 1.7 times faster than Nvidia's A100, the company soon released another chip - its H100 that was 4.5 times faster than the A100 thereby maintaining its edge. Nvidia is always innovating its technology making it a more attractive choice to companies. Plus, the company invests heavily in having a strong research and development team that allows it to know which markets to target and produce products that fulfills a need.
3. Dividends: Nvidia is a reliable dividend-paying large-cap company and pays its investors every three months. Nvidia stock dividend yield is 0.06% and it is well-covered by the company's earnings. Although the company hasn't increased its dividends in years, this may change as it expands its operations.
Risks
1. Expensive stock: Nvidia is a quality company to invest in but it is an expensive stock. If you want to invest in it, you need to have a long-term outlook. The average Nvidia stock price target for 2023 is $286.94 and could go as high as $355 meaning that you will need a large capital to hold a good position in it.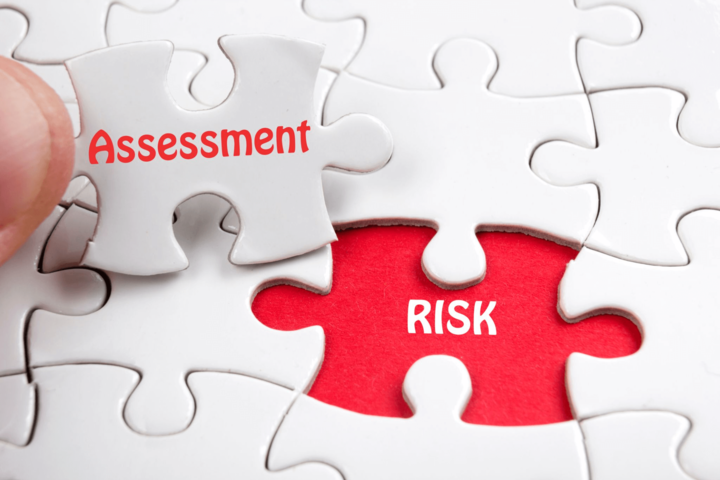 2. Supply chain issues: Nvidia benefited from the supply chain issues during the pandemic, the company suffers from the negative effects of the Russian-Ukraine war and China lockdown which negatively affected demand.
3. Slow growth in key segment: The slowdown of demand for PCs has already affected Nvidia's financial performance and there is no telling when the issue would reverse. Nvidia also continues to show declining year-on-year growth as data centre and gaming revenues and profits continue to drop mainly because of the post-pandemic decline in consumer demand.
Future Outlook and Expansion
Nvidia's financial performance for the last couple of quarters has been anything but good. However, despite the decline in revenues and profits, there is still a bright future ahead for the chip maker. Although demand in the gaming industry has slowed due to customers cutting costs, the industry still has a lot of growth potential that Nvidia can tap into. The automotive and data centre segments have slowed down due to economic turmoils but they represented 14% of Nvidia's revenue. This is because the demand for self-driving cars is still strong and Nvidia was able to offset the new export laws imposed on goods from the US by releasing new chip models that are allowed in China.
The chip maker is also partnering with Oracle and Microsoft to increase their data centre computing capabilities which is very promising for Nvidia.
So is Nvidia a buy or sell? Based on the current momentum and optimism, Nvidia stock is a buy and its fundamentals are solid enough for the company to do well in the future. But it is advisable to remain aware of the short-term headwinds affecting the company.
How to Invest in Nvidia Stock
There are three main ways to invest in Nvidia: long-term hold, options trading, and CFD trading.
With long-term investing, it will take the investor 12 months or more to recover their capital and profit. While a long-term hold requires you to buy the asset, options do not. It gives you the chance to trade the underlying asset and you do not have to execute the trade at the expiration date as you can choose whether or not to exercise the option to buy the asset at the set date. CFD trading is also a derivative instrument like options because you can trade the underlying asset but it works a little differently.
For CFD trading, you have to predict the direction of price movement correctly to make a profit. Both options and CFD can be used to hedge a portfolio against risk unlike long-term hold but one key advantage of CFDs over the two is the quick and cheap way they can be assessed.
The fees for trading CFD tend to be lower than the other forms of investing and hundreds of brokers can execute the CFD trades on your behalf.
CFD is often the recommended form of investment for beginners because of its simplicity. On the other hand, options and long-term hold are more suitable for experienced traders because it involves a lot of research and strategies to make them work. Since CFD trading works by predicting price movement, investors can profit from both bull and bear markets as long as they can buy and sell at the right time. Increased volatility may keep you away from investing in a stock long-term but the volatility provides lucrative opportunities with trading CFDs.
Why Trade Nvidia Stock CFD with VSTAR
VSTAR offers a secure and easy way to trade Nvidia Stock CFD and other major stock CFDs with no interruptions. With an easy-to-use platform and negative balance protection, you can catch trading opportunities and benefit from the potential price movements brought on by market volatility.
Trade NVDA stock CFDs with zero commission and deep liquidity using VSTAR. Sign up and start trading today!
Conclusion
Nvidia is in a good position for continued growth and success in the tech industry. While the company was not a solid buy at the beginning of 2023, its current price boom might just give it the push needed to become one of the most profitable stocks in the tech industry.
If you are confident in the direction of Nvidia and have a low-risk appetite, now is the best time to invest or you can hold on to see how the decrease in PC demand continues to weigh the company down.
*Disclaimer: The content of this article is for learning purposes only and does not represent the official position of VSTAR, nor can it be used as investment advice.