Dogecoin (DOGE) is a cryptocurrency that was created in 2013 as a joke based on the popular Doge meme. Despite its humorous origins, Dogecoin quickly developed an active community and saw significant price appreciation during the 2017 crypto boom. After remaining relatively flat for several years, DOGE exploded in popularity in early 2021, largely due to the attention of high-profile individuals such as Elon Musk. This led to a meteoric rally from less than a cent to an all-time high of $0.73 in May 2021. However, DOGE then plunged over 80% by mid-2022, in line with the broader crypto market downturn. The immense volatility has made Dogecoin a popular speculative asset, though its future remains highly uncertain.
Dogecoin price predictions have been a challenge for market analysts and investors. The coin's immense volatility and dependence on hype make its future difficult to predict. Nevertheless, many still wonder - what will Dogecoin be worth in the future? Could it realistically reach the $1 milestone or even higher? This guide aims to provide the latest DOGE price forecasts for 2023, 2025 and 2030, while evaluating its potential as a long-term investment. We will analyze the various factors that could influence the value of Dogecoin in the coming years. Key questions will be addressed, such as Is Dogecoin a smart investment choice compared to other cryptocurrencies? What role could Dogecoin play in the maturing crypto space? By the end of this Dogecoin price prediction review, readers will have a clearer perspective on where this meme coin may be headed next.
Dogecoin (DOGE) Overview
| | |
| --- | --- |
| Cryptocurrency | Dogecoin |
| Ticker Symbol | DOGE |
| Rank | 7 |
| Price | $0.070 |
| Price Change 24H | +0.19% |
| Market Cap | $9,941,849,872 |
| Circulating Supply | 140,342,156,384 DOGE |
| All Time High | $0.7376 |
| All Time Low | $0.00008547 |
Dogecoin Price History
DOGE was launched in 2013, in the first year, its price closed at $0.0004220. However, it took a long time for the price to gain traction: between 2014 and 2016, there was no significant change. In 2014, the highest DOGE price was $0.0004614, and by the end of the year it had dropped even further to $0.0001870. Fast forward, it closed at $0.002230 at the end of 2016.
In 2017, DOGE's high was around $0.0107290, before it saw an incredible rise in 2018, hitting a high of $0.0187730. Thanks to the growth of the Dogecoin community and the overall bull market during this period. However, 2019 and much of 2020 weren't all good for DOGE due to a decline and slow price growth.
Towards the end of 2020, Elon Musk showed a lot of interest in DOGE, and through his social media post, DOGE saw massive price gains (around 800%) from November 2020 to February 2021, closing at $0.07011. It did not take long for DOGE to reach its all-time high (ATH) of $0.7376 in May of that year. However, the price steadily declined to close at $0.070228 in 2022. At the time of writing on June 28, 2023, DOGE's high is $0.102693.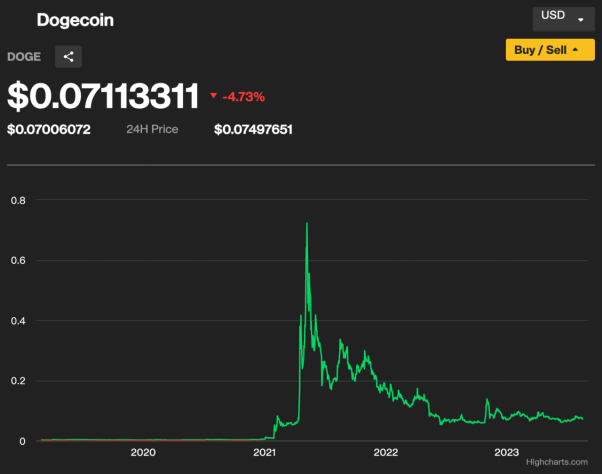 Dogecoin Price History Highlights
- Created as a joke in 2013, Dogecoin was inspired by the viral "doge" meme
- Launched at a price of $0.0002993
- Reached all-time high of $0.7376 in 2021 amid meme stock mania
- Formed a descending wedge pattern since ATH, with lower highs off support
- Currently trading around $0.0622 after 80%+ crash from peak hype
Factors influencing the price of Dogecoin
Popularity and "meme" status among retail investors
One of the biggest factors influencing Dogecoin's price is its popularity as an internet meme. The cryptocurrency was specifically created as a joke inspired by the viral "Doge" meme, which features a Shiba Inu dog. This meme status has made DOGE particularly popular with retail investors and cryptocurrency enthusiasts on social media. The "hype" surrounding Dogecoin is a major driver during price spikes, often fueled by viral tweets or endorsements from celebrities like Elon Musk. However, Dogecoin lacks the real-world utility and technical development of larger cryptocurrencies like Bitcoin and Ethereum. As a meme coin, its price is very susceptible to the whims of its online fanbase rather than being based on fundamentals. This makes DOGE's future highly uncertain in the long run, as internet fads come and go.
Speculation and Hype on Social Media
The price of Dogecoin is highly susceptible to speculation and hype on social media. Online cryptocurrency communities such as Reddit have a significant impact on DOGE's price movement. Speculative trading fueled by hype and "get rich quick" dreams can lead to pump and dump cycles as retail investors try to time market rallies. Viral posts on platforms such as Twitter, TikTok and YouTube predicting an imminent price spike can become self-fulfilling prophecies as enthusiasm spreads. Major influencers such as Elon Musk have repeatedly triggered strong Dogecoin rallies with positive tweets. However, this speculation-driven volatility cuts both ways. Negative rumors or shifting social sentiment can cause DOGE to plummet just as quickly. With no real underlying utility, Dogecoin's value is largely dependent on whatever narrative is dominating social media at the time. This makes its future price difficult to predict as hype comes and goes in online communities.
The future currency of Earth

— Elon Musk (@elonmusk) February 6, 2021
General cryptocurrency market conditions
The overall conditions in the cryptocurrency market also have a significant impact on the price of Dogecoin. When the crypto market is booming and seeing increased mainstream adoption, speculative assets like DOGE tend to rise with the tide. Big gains in top cryptos like bitcoin and ether can create a buzz and FOMO that lifts all boats, including meme coins like Dogecoin. But the opposite is also true. When crypto enters a bear market or crashes, Dogecoin often falls even harder than blue-chip cryptos. Its lack of utility makes it vulnerable when speculation dries up. Without fundamentals to fall back on, DOGE can see its price decimated during crypto downturns or periods of fear/uncertainty. Until Dogecoin can decouple itself from the crypto market cycle, its price is likely to fluctuate widely based on overall industry conditions.
Upgrading Dogecoin through development
Although Dogecoin originally started as a joke, in recent years there have been efforts to upgrade and develop the cryptocurrency through coding improvements. A team of volunteer developers has been working to make Dogecoin's blockchain more efficient and introduce new features.
Major upgrades include Dogecoin Core 1.14, which made DOGE compatible with the SegWit protocol for lower fees. There are also ongoing efforts to improve transaction speeds through updates such as AuxPoW from Dogecoin Core 1.21. More recently, Vitalik Buterin proposed changes to make DOGE fully compatible with Ethereum.
These technical improvements could potentially increase Dogecoin's utility as a payment and everyday cryptocurrency. With faster transaction times and lower fees, it could gain more mainstream traction beyond just being an internet meme.
However, some argue that Dogecoin's joke origins undermine its ability to ever become a "serious" cryptocurrency, regardless of technical upgrades. Much depends on whether the Dogecoin community can pivot away from the meme-only perception of this asset.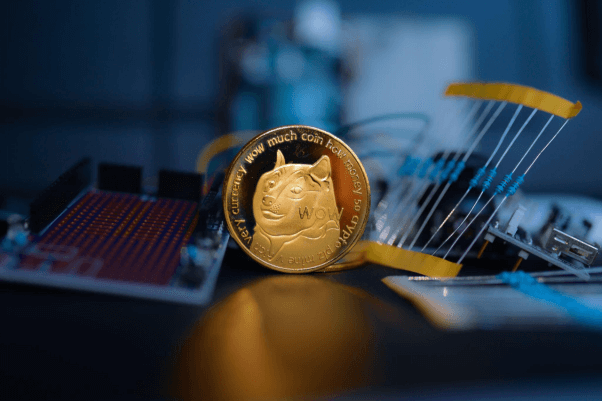 Acceptance of DOGE as a currency for payments and transactions
A wide range of companies, from online marketplaces and streaming services to EV manufacturers, accept DOGE as a form of payment. They include Tesla, Twitch, Microsoft, AirBaltic, AMC, Dallas Mavericks, American Cancer Society, and Crypto Emporium. However, DOGE has great potential to increase the use of a form of payment on social media platforms and for online transactions in the future. It's clear that DOGE has evolved from a "joke currency" to a more legitimate and popular cryptocurrency that supports various use cases.
Why should platforms consider DOGE as a form of payment in the future? It's cheap (lower transaction fees), decentralized (less censorship and more privacy), and fast compared to traditional payment methods. In addition, DOGE is a viable option to facilitate the transfer of small amounts, even for novelty purposes.
Recently, there has been much anticipation from the Dogecoin community to see if Twitter will consider accepting DOGE as a form of payment.
Assuming there is increased use of DOGE as a form of payment, especially for things like tipping on social media, more people will likely be exposed to DOGE. As a result, its utility will increase and its price will rise over time.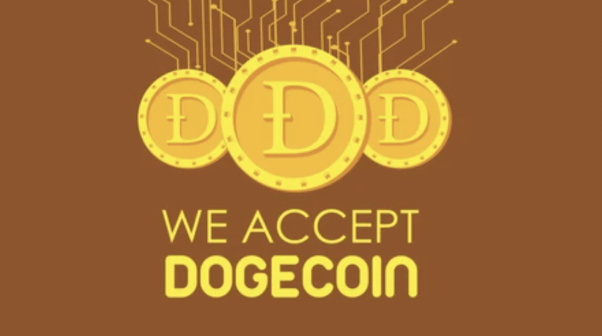 Correlation to the Bitcoin Price Rally
Most altcoins, including DOGE, tend to follow the broader market, which is mainly reflected in the price of bitcoin. On the other hand, Bitcoin tends to be influenced by global macroeconomic factors such as inflation, employment rates, U.S. dollar index, etc.
Historically, when bitcoin, the world's largest cryptocurrency, increases in value, altcoins tend to increase in value. Similarly, when the price of bitcoin falls, other altcoins also depreciate. In general, you could say that altcoin prices are usually measured in bitcoin.
Price Forecast and Predictions
Dogecoin Price Prediction 2023
Dogecoin has a dedicated community of supporters with 3.6 million Twitter followers and 2.4 million Reddit members. This enthusiastic online fan base has contributed to DOGE's past price increases. If these community numbers continue to grow alongside development activity, Dogecoin could see significant gains in 2023.
Our 2023 Dogecoin forecast projects a potential high of $0.094, a minimum of $0.087, and an average price of around $0.089. However, it is unlikely that DOGE will reach $1 next year, despite the hopes of some investors. For Dogecoin to reach $1, there would need to be immense buying interest and hype beyond what the fundamentals support.
While short-term hype spikes are unpredictable, it is best to keep reasonable expectations for Dogecoin's price potential in 2023 given its inherent limitations as a meme coin rather than a digital currency. Community and brand recognition can drive speculative rallies, but sustainable long-term gains will require Dogecoin to expand its utility through ongoing development.

Dogecoin Price Prediction 2024
Dogecoin's future price movement depends largely on the intent of buyers. While some use DOGE for low-cost payments, most investors who drove the 2021 price spike were speculative buyers hoping to "get rich quick" during the crypto bull run.
For Dogecoin to start pumping significantly again, the entire crypto market will likely need to turn bullish. Experts predict that the next bitcoin halving event in 2024 could spark another crypto rally. If so, Dogecoin prices could benefit given its strong community and brand recognition.
Our 2024 Dogecoin price forecast estimates a potential high of $0.19, a low of $0.04225, and an average of $0.1161 by the end of the year if conditions are favorable. However, global financial uncertainty and Dogecoin's lack of utility beyond memes suggest that the next bull cycle may be more subdued.
While short spikes are possible as hype builds, Dogecoin's price is heavily dependent on broader crypto market movements. Unless developers can turn DOGE into a more usable everyday currency, gains in 2024 will likely require another speculative mania phase rather than steady organic growth.
Dogecoin Price Prediction 2025
Recent developments indicate that Dogecoin's brand and community remain strong, though its tokenomics present challenges for significant long-term growth.
Elon Musk changing Twitter's logo to Dogecoin and the launch of the DRC-20 token standard on Dogecoin briefly catalyzed a surge in network activity and transactions, even surpassing bitcoin. This shows that Dogecoin retains its meme appeal and ability to generate hype.
However, the long-term impact of DRC-20 is uncertain. More importantly, Dogecoin's tokenomics has structural flaws that may limit significant price appreciation.
With over 5 million holders, the top 10 Dogecoin addresses control 46% of the supply. Most holders appear to be speculative investors, not long-term HODLers. Excessive profit-taking could limit upside as the price rises.
In addition, Dogecoin's unlimited supply means constant inflationary pressure. Unlike deflationary cryptocurrencies, there is always new DOGE coming into circulation.
Given these headwinds, our 2025 Dogecoin price forecast estimates a potential high of $0.45, a low of $0.16, and an average of $0.30 by the end of the year.
Dogecoin is likely to see some bullish price action in 2025 as the crypto market rallies. However, its tokenomics suggest that gains will be more modest compared to other cryptos. Dogecoin is unlikely to regain its all-time high without another massive speculative frenzy.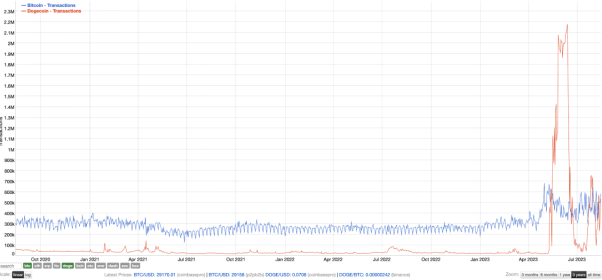 Bitcoin, Dogecoin Transactions historical chart
Source: bitinfocharts.com
Dogecoin Price Prediction 2030
Elon Musk's acquisition of Twitter and plans to create an "everything app" present intriguing possibilities for Dogecoin's future. Given Musk's penchant for meme-worthy antics, he may integrate Dogecoin payments into this new app.
However, this remains speculative. While potentially positive for Dogecoin's utility, no concrete plans to integrate DOGE have been announced.
More importantly, Dogecoin's underlying tokenomics remain unchanged. Its unlimited supply and constant inflationary pressures remain. These structural weaknesses may prevent major long-term gains, regardless of any utility boosts.
Our 2030 price target for Dogecoin is conservative based on these challenges. We estimate a potential 2030 high of $0.75, a low of $0.20, and an average price of $0.45.
Reaching the $1.16 Fibonacci retracement target by 2030 seems unlikely, barring another massive speculative frenzy. While Dogecoin is likely to ride broader crypto bull markets, its structural flaws suggest that gains would significantly lag deflationary cryptocurrencies with fixed supply over a long time horizon.
Dogecoin's best path forward is to increase utility rather than rely on hype. If successfully integrated into Musk's "everything app," DOGE could defy the skeptics. But until that happens, it remains hypothetical. Dogecoin's meme appeal may produce short-term spikes, but not sustainable long-term growth.
Other analysts' 2023 Dogecoin price forecasts
Changelly predicts that Dogecoin will trade between $0.0593 and $0.0622, averaging around $0.0607 by the end of 2023.
CryptoNewZ estimates a price range of $0.074 to $0.18 for Dogecoin in 2023 based on technical analysis.
CoinPedia sees Dogecoin reaching prices between $0.079 and $0.158 next year, with an average of $0.118.
AMBCrypto's technical analysis points to a 2023 Dogecoin price of $0.11 to $0.13, with an average of around $0.12.
Bitnation's Dogecoin prediction model indicates a 2023 price range of $0.075 to $0.113 for DOGE, with an average of $0.094.
Gov Capital and TradingBeasts forecast an optimistic average DOGE price of around $0.30 to $0.40 in 2023. DigitalCoinPrice sees steady gains to $0.17 in 2023 and up to $0.90 by 2030.
CoinPriceForecast sees more modest growth to $0.14 to $0.18 in 2023. Some Finder panelists, such as Patrick White of Bitwave, are bearish, citing Dogecoin's lack of utility.
WalletInvestor is bearish, predicting that DOGE will fall to just over $0.01 by the end of 2023. Overall, forecasts range from continued strong gains to declining prices in 2023 compared to 2022.
Overall, most analysts are predicting relatively modest gains for Dogecoin in 2023. Price forecasts range from around $0.06 to $0.18. This suggests limited upside from the current 2022 level of around $0.10. While some see DOGE making periodic spikes towards its all-time high of $0.7, expect continued volatility rather than a clear bullish trend.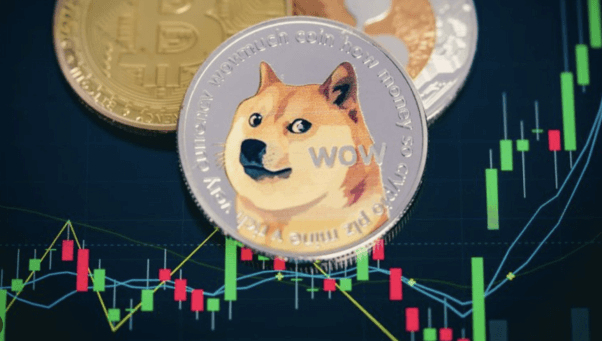 DOGE Price Analysis
- Dogecoin remains a highly speculative digital asset with no inherent value such as gold reserves or cash flow to back it up. Its price is heavily dependent on social media hype and crypto market sentiment.
- While Dogecoin is unlikely to truly compete with or replace bitcoin as the top cryptocurrency, it may still see niche adoption for payments, tipping, and as a meme coin "gateway" to crypto.
- Dogecoin's future price trajectory is highly dependent on broader crypto market conditions. In a crypto bull market, the hype could drive Dogecoin higher again, but in bear market conditions, downward pressure prevails.
- Real-world merchant adoption and use cases need to materialize to create sustainable value. Elon Musk's Twitter integration plans are an example, but sustainable value is still lacking compared to other cryptos.
Where to Buy Dogecoin
Dogecoin can be traded on major exchanges. Many of these platforms allow you to purchase Dogecoin using your credit card, through swapping features or through different trading pairs such as DOGE/USDT.
Alternatively, you can trade Dogecoin using a contract for difference without holding the actual coins. You simply speculate on price movements within a given time frame and try to make a profit. Compared to crypto exchanges, CFD platforms offer lower trading fees, zero commissions and a single fee to open and close trades.
Bottom line
- Dogecoin remains a high-risk, high-reward cryptocurrency speculative asset. Investors should be wary of its extreme volatility and potential for pump-and-dump hype cycles.
- Prudent investors should be wary of getting caught up in frenzied rallies and understand that Dogecoin has no inherent value beyond its social media popularity. Risk management is essential with such a volatile asset.
- For Dogecoin to be successful in the long run, it needs to evolve beyond being just a meme coin. Use cases, adoption and real utility would give Dogecoin more fundamental value.
- If developers expand capabilities and Dogecoin gains more mainstream use for payments, tipping, or other purposes, the outlook could become more favorable. But for now, the cryptocurrency remains firmly in speculative territory for investors.
FAQs
1. Will Dogecoin Reach $1?
Dogecoin's move to $1 would require a remarkable rally, representing a 13x increase from the current price near $0.08. While Dogecoin has seen parabolic gains in the past, rising over 6,400% from under $0.01 to an all-time high of $0.74 in 2021, repeating that kind of meteoric rise to reach the $1 milestone now seems like an extremely optimistic scenario.
Realistically, Dogecoin faces significant challenges to reach $1 given its lack of development activity and utility compared to other major cryptocurrencies. While early Dogecoin investors hope the meme coin can recapture its 2021 magic, crypto market dynamics have shifted and make another 6,400% breakout unlikely in the current environment. Overall, $1 remains an ambitious and highly speculative target for Dogecoin in the near term.
2. Dogecoin vs Shiba Inu: Which is the better investment?
Dogecoin has a more established track record dating back to 2013, and has delivered strong returns for early investors. In 2022, Dogecoin has significantly outperformed Shiba Inu, aided by Elon Musk's vocal support. Musk's role at Twitter could provide a crucial boost if he integrates Dogecoin.
However, Shiba Inu arguably has more real-world utility than Dogecoin, with more use cases and an active development team expanding its capabilities. The passionate Shiba Inu community also gives it an edge over Dogecoin in terms of grassroots support and potential adoption.
Overall, Dogecoin benefits from first-mover advantage and celebrity backers like Musk. But Shiba Inu's development activity, use cases, and community put it in a better position for long-term viability and investment potential. While both remain highly speculative, investors need to weigh risk versus reward and whether meme popularity can translate into real utility.
3. What will Dogecoin be worth in 5 years?
Predicting Dogecoin's price in 5 years is speculative, with optimistic estimates of $1+ contrasting with more conservative views of $0.10-0.30. Large gains depend on Dogecoin developing real utility beyond being a meme. Without competitive differentiation and adoption, large long-term rallies are not guaranteed. Despite early gains, prudent risk management is still essential for future DOGE investors.
4. Is Dogecoin a good investment?
Considering the current bearish trend in Dogecoin price movements, it seems likely that the cryptocurrency will continue to face declining prices in the near future. Please invest carefully and remember to do your own research before investing in any asset, as cryptocurrencies in particular can be highly speculative.
5. Is Dogecoin dead?
Far from it. While Dogecoin has experienced a recent surge in price, its long-term prospects remain uncertain. The recent rally shows that Dogecoin still has active user interest, so it is unlikely to fall to zero in the near future. However, whether Dogecoin can reach its all-time highs again is questionable. The value of the cryptocurrency may continue to fluctuate significantly.
6. Can Dogecoin reach $10 dollars?
Dogecoin reaching $10 is highly unlikely as it would require a 100x increase to a $1.5 trillion market cap, an unrealistic valuation for this cryptocurrency.
7. How much will 1 Dogecoin cost in 2025?
Given Dogecoin's volatility and uncertainty, it's difficult to accurately predict its value in 2025. However, based on current trends, our 2025 price forecast estimates that 1 Dogecoin could reach around $0.18 (minimum price). Significant fluctuations are likely between now and 2025.
*Disclaimer: The content of this article is for learning purposes only and does not represent the official position of VSTAR, nor can it be used as investment advice.