Historical Background and Development of TRX
TRON is a smart contract blockchain platform founded in 2017 by Justin Sun, the former chief representative of Ripple in the Greater China region. Its founder describes it as a robust blockchain ecosystem as it consists of multiple products, from wallets and dApps to the TRON blockchain.
TRON runs on a delegated proof-of-stake (DPoS) consensus mechanism. It's focused on decentralizing and democratizing the distribution of content between audiences and content creators. TRONIX (TRX) is the platform's native token, which is used to pay for gas on the network.
In 2018, TRON migrated from Ethereum, where it started, to its own blockchain. The following year, in July, it also acquired BitTorrent, a file-sharing network, and the BitTorrent Token (BTT) was launched a few months later. In 2019, TRON partnered with Tether to launch the TRC20-USDT stablecoin. In 2020, TRON's transaction volume was quite high, surpassing Ethereum. Later in 2022, TRON launched its USDD stablecoin. At the beginning of this year, TRON started to develop DeFi, especially liquid staking and decentralized marketplace.
Core Features and Advantages of TRX
Although TRON tends to get less attention and recognition than competing platforms, it's one of the fastest-growing blockchains. It boasts to be one of the largest networks by total value locked in DeFi, with over 140 million user accounts and approximately 10.9 million transactions daily on the network.
What is Tron and How fast does Tron go?
Tron release date: Tron was officially launched in September 2017.
Tron is a decentralized blockchain platform that aims to create a global digital entertainment ecosystem. Tron is known for its high transaction speed and scalability. It claims to have a transaction speed of up to 2,000 transactions per second, which is faster than some other blockchain platforms. This speed is achieved through the use of a Delegated Proof of Stake (DPoS) consensus mechanism and a network architecture designed to handle high transaction volumes.
What is TRX?
TRX is the native cryptocurrency of the Tron blockchain platform. Tron aims to create a decentralized entertainment ecosystem using blockchain technology. TRX is used to power the Tron network, allowing users to freely publish, store and own data. It also serves as the medium of exchange within the Tron ecosystem.
What are TRON's unique features?
Decentralized infrastructure - TRON supports decentralized autonomous games, exchanges, games, applications, etc.
Versatility- TRON's primary use case is the decentralized distribution of content and entertainment. However, it can also be used for DeFi functionality, crypto transactions, smart contracts, and trading tokens.
Freedom of data- TRON aims to enable complete freedom of data (content) among all users without restrictions. Content creators will also be able to share content and receive payment for it.
A solid development roadmap - TRON has detailed how it plans to develop over the years.
What are the advantages of the TRON network and its cryptocurrency (TRX)?
Low transaction fees - TRON is known for its ability to conduct transactions at lower fees than other layer-1 platforms such as Ethereum.
High transaction speed - TRON supports high-speed transactions: it claims the ability to process 2000 transactions per second. That's much faster than most cryptocurrencies, including bitcoin.
A supportive community - TRON has a strong team of developers, investors and users, making it a good investment option.
Highly volatile and liquid - TRX's volatility can easily create trading opportunities, especially for CFD traders. With significant liquidity, it's easy to enter and exit trades.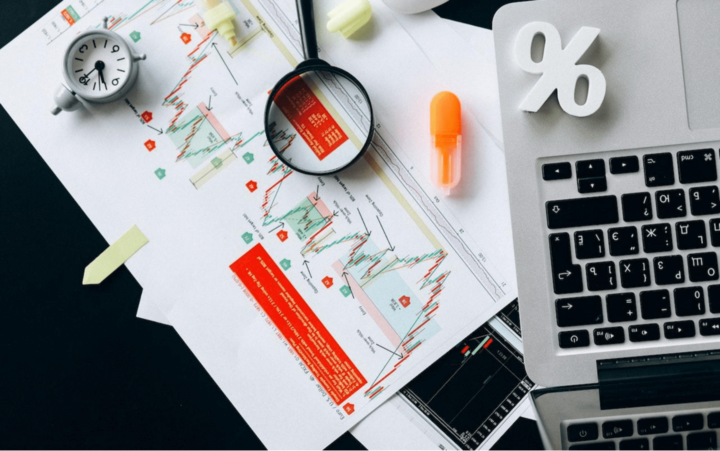 Understanding the Current State of the TRON (TRX) Market
Recent Market Performance of TRX
At the time of writing, TRX was trading at $0.072 with a market cap of $6.2 billion and a volume of $211.78 million in the last 24 hours. TRX ranks as the 11th largest cryptocurrency by market cap.
According to the "State of TRON Q1 2023" report, the entire TRON network saw significant growth in terms of market cap (18.88% QoQ increase), revenue (88% jump from Q4 2022), developments, and partnerships. The price of TRX also increased during the same period. As a result, TRON has become one of the top DeFi projects with excellent growth potential.
TRON launched the Dominica Metaverse Bound Token (DMBT) with Huobi a few months ago. In addition, the Commonwealth of Dominica declared TRON as the official protocol for its national blockchain infrastructure. Notably, its Total Value Locked (TVL) increased by 35%, but TRX's price has yet to catch up with the rising TVL.
Analysis of the Latest Developments Affecting TRX
TRON Integration with Ethereum
At the beginning of June 2023, TRON (TRX) saw a sudden increase of nearly 10% after a major announcement by its founder that TRON would go live on the Ethereum blockchain via the BitTorrent bridge.
TRON Stake 2.0
On April 7th of this year, TRON announced its plan to launch a new staking mechanism, TRON Stake 2.0, which went live after TRON Committee #84's proposal was approved. The new mechanism's many new features solved many of the limitations users were facing, including unstaking. As a result, the TRON network and its TVL continue to grow. However, the price of TRX remained sluggish. Furthermore, data shows that TRX experienced a slight decline in the derivatives market.
New Burning Mechanism
As TRON aims to issue more USSDS stablecoins, there may be an increase in burned tokens. As a result, TRX is likely to become more deflationary in the future. More importantly, a reduced supply of TRX would cause its value to rise, at least in the medium term.
TRON Price Prediction: Analyzing the Technical Indicators
TRX Historical Price and Trend Analysis
As of 21st June 2023, TRX's price increased by 3.28% (uptrend) compared to the previous day. Over the past 7 days, TRX has experienced a bearish trend with a decrease of 0.75%. Within the last 30 days, TRX's price has decreased by 8.75%. However, over the past 90 days, the price has increased by nearly 12.8%. It's similar to an annual analysis where the price of TRX is in an uptrend with a 9.3% increase.
TRX to USD is the exchange rate between the Tron cryptocurrency (TRX) and the United States Dollar (USD). This exchange rate determines the value of TRX in relation to the USD. It is important for investors and traders to monitor the TRX to USD exchange rate in order to make informed decisions when buying or selling TRX.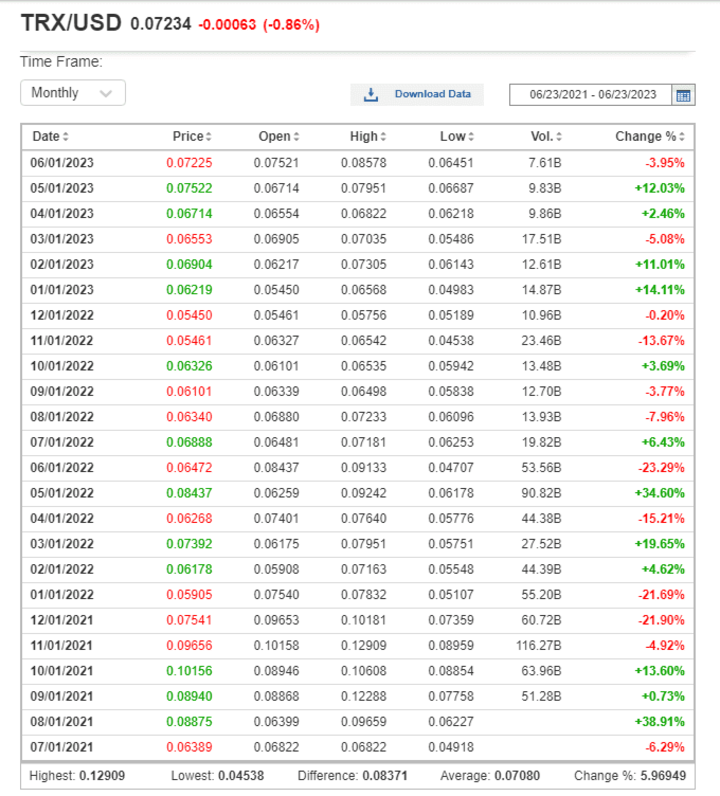 An overview of TRX's monthly price history.
Source: Investing.com
TRON's all-time high (ATH) price is $0.2317, recorded in January 2018 (over a 65% decrease from its current price, which is $0.072). Its all-time low price stands at $0.001804, as recorded in November 2017 (over a 3890% increase from its current price). Finally, the starting price was $0.0591 per TRX via an Initial Coin Offering (ICO) in September 2017.
Expert Insights on TRON Price Prediction for 2023 and Beyond
Here is what various experts in the market think the TRX price prediction will look like:
Traders Union
According to TU analysts, TRX price will range between $0.08732 and $0.10672 by the end of July and $0.12394 by the end of 2023. In addition, most analysts are quite optimistic about the long-term prospects of TRX, predicting that the price will reach $0.23371 by 2025 and $1.19403 by 2030.
AMB Crypto
AMB Crypto predicts that TRX price could reach $0.091 in 2023, $0.11 by 2024 and $0.15 by 2025.
PricePrediction
PricePrediction predicts that TRX price will reach a maximum level of $0.098 in 2023, $0.14 in 2024, $0.20 in 2025, $0.29 in 2026 and $0.43 in 2027. It also emphasizes that TRON has excellent potential and could reach $3.03 in 2030.
TradingBeasts
TradingBeasts expects TRX price to reach $0.096595 by the end of June and $0.09742 by the end of November 2023. It also forecasts a 40% increase in TRX price before the end of 2024.
Long Forecast
According to the Long Forecast, the TRX price is expected to achieve a modest increase and reach about $0.083 level in 2023. However, it predicts a price decline to $0.056 in 2024.
According to most analyses, the overall price of TRX is likely to appreciate in the future based on fundamental principles. However, other factors such as future crypto regulations will have a significant impact on the price of TRX.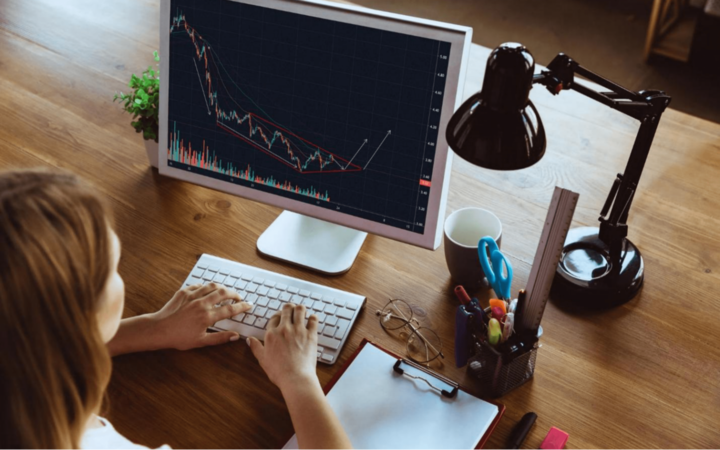 TRX Technical Analysis (Based on Technical Indicators)
Overall, TRX is in an uptrend on a monthly time frame (there has been a significant increase in buying in recent months) and is testing the support level at $0.07. However, a breach of this level would automatically signal a potential downtrend. Similarly, if the price stays above this level, most traders will be more likely to go long and accelerate the bullish trend.
The moving averages and moving average crosses on the weekly chart indicate a strong bullish bias. The RSI and MACD indicators also point to a strong bullish market. Notably, from a monthly perspective, all of these indicators still show bullish market sentiment for TRX. However, the Stochastic and CCI indicators remain neutral in similar time frames.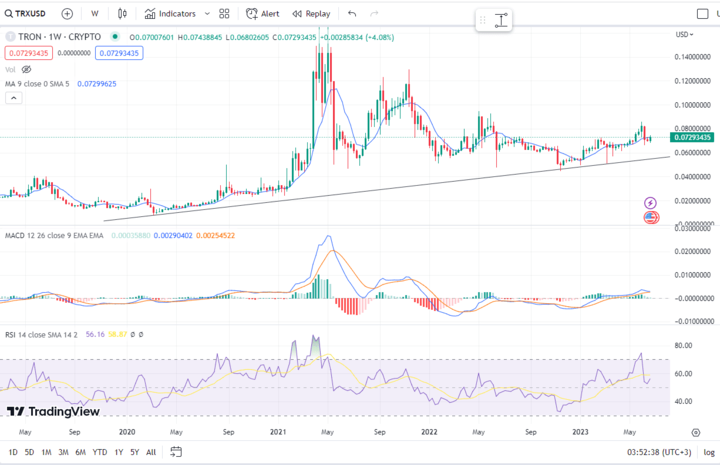 An outlook of MA, MACD & RSI indicators on the weekly timeframe
Currently, most technical indicators on the daily timeframe are pointing to a bearish correction for TRX. For example, RSI (at the 43.85 level), MACD (at the -0.08 level) and CCI (at the -73.87 level) show a consistent downward trend. However, the Stochastic shows that TRX is oversold.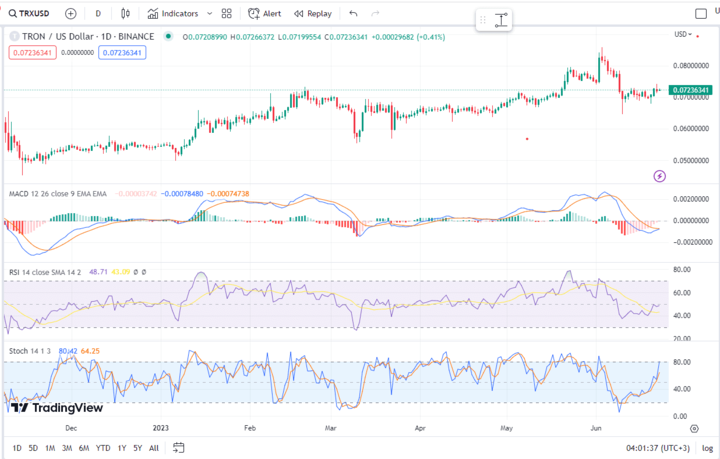 An outlook of MACD, RSI and Stoch indicators on the daily timeframe
Fundamental Factors Influencing the Future of TRON (TRX)
Market, Legal and Regulatory Developments Impacting TRX
1. SEC Charges TRON's Founder with Fraud and Other Securities Law Violations
Despite TRON hitting milestone after milestone in early 2023, it also faced some hurdles. On March 22, 2023, its founder Justin Sun was charged with unregistered offers and sales of crypto asset securities (TRX and BTT) and fraudulently manipulating the secondary market for TRX through extensive wash trading.
As a result, the price of TRX dropped more than 15% in less than two hours after the news broke, illustrating investor discontent (negative market sentiment). In addition, a few weeks later, Binance.US delisted TRX, resulting in a 6.4% drop in its price. The outcome of this case may have a significant impact on the price of TRX.
2. Regulatory Compliance
TRON and other blockchain platforms operate in an uncertain and evolving regulatory environment. As a result, it is derailing massive growth and adoption of cryptocurrencies. Now, suppose there is certainty and positivity in future regulations; the demand for TRX is likely to increase, thereby driving up its price.
3. Technological Advancements
TRON has a dedicated team of developers supporting ongoing technological developments, including network upgrades and protocol enhancements. As a result, the functionality of the TRON platform is likely to improve, attracting more users and increasing the value of TRX. Some of these developments include TIP-467 (Stake 2.0) and TIP-474 (Dynamic Energy Model). The latter is designed to increase transaction costs for low-value and fraudulent transactions without impacting other applications.
Key Strategic Initiatives and Partnerships of TRON Foundation
1. TRON Launches $100 Million AI Development Fund
The impact of artificial intelligence (AI) continues to grow in various industries, including the blockchain space. As a result, TRON DAO launched a $100 million AI development fund in February 2023, an initiative to encourage developers to create applications using emerging AI tools such as ChatGPT. The fund is primarily focused on three pillars: an AI service payment platform, AI-generated content, and an AI-infused oracle.
2. TRON partners with Oraichain for AI integration
Oraichain is the world's first AI-infused oracle and ecosystem for blockchain. On March 1, 2023, TRON announced a partnership with Oraichain aimed at empowering developers (through education, incubation, and technical integration) to build advanced AI-powered solutions. The overall vision of this partnership is to accelerate the growth and development of AI applications and their functionality on the TRON network.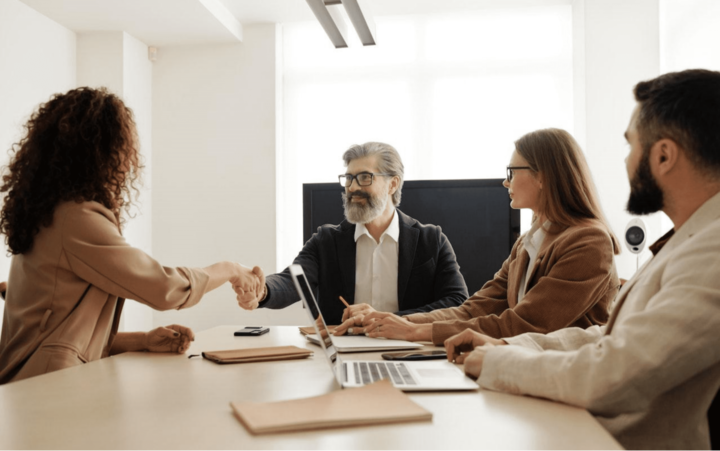 3. TRON's partnership with DWF Labs
TRON's latest strategic partnership is with a global digital asset market maker and multi-stage Web3 investment firm, DWF Labs, on June 15, 2023. DWF is now a liquidity provider for TRON, contributing to the growth and development of the TRON ecosystem.
Crypto Market Trends and Opportunities for TRX
The Terra-Luna crash and FTX fallout in 2022 significantly impacted most cryptocurrencies, including major cryptocurrencies, with the overall market going into a sharp downtrend. However, the market started positively for most cryptocurrencies in 2023, although prices are far from the all-time highs seen in the 2021 bull run.
SEC recently shook the crypto market by charging the founder of TRON and Binance. As a result, most cryptocurrencies saw a drop in prices, but there has been a slight recovery in recent weeks. The crypto market is likely to grow and attract more investment as certain regulations develop.
Layer 2 smart contracts will also gain popularity in 2023. Notably, this is an opportunity that TRON has identified to increase scalability. In addition, the DeFi space is growing tremendously and adoption in the financial sector is on the rise. TRON's continued support for dApps would significantly increase its price
Risks and Challenges of Investing in TRON Market
Potential Risks and Challenges of Investing in TRX
Market Volatility
Like most cryptocurrencies, TRX can experience significant price fluctuations. Such situations create great opportunities for short-term trading, such as CFD trading. On the other hand, volatility exposes you to greater risk.
The controversy surrounding TRON founder Justin Sun
Justin Sun is a well-known figure behind TRON. In 2021 he stepped down as the CEO of the TRON Foundation. However, despite his resignation, his controversy still affects TRX. Apart from his questionable background, the SEC also accused him of insider trading and market manipulation.
Competition from Ethereum and MarkerDAO
TRON has been trying to dethrone Ethereum for a long time. However, Ethereum has maintained its 2nd position as the largest digital asset despite high gas fees. Moreover, TRON faces stiff competition from other top DeFi applications such as MarkerDAO. In particular, Cardona (ADA) is a major competitor to Ethereum and TRON in providing DeFi solutions.
Best Practices for Risk Management and Loss Mitigation
Have an appropriate risk management strategy
You need a risk management strategy to protect your invested capital. It will help you minimize losses and protect your profits. A sound risk management strategy should outline how much you're willing to risk and where you intend to exit your positions.
Diversify your portfolio
Diversification minimizes your risk of exposure to different cryptocurrency assets. Often, crypto assets tend to have a moderate correlation; therefore, you can easily manage volatility in a diversified portfolio.
Limit position sizes and have an automatic stop loss
Want to minimize significant losses? Consider limiting your position sizes and setting automatic stop-loss orders at reasonable levels.
Consider Hedging
Hedging is an advanced technical technique that you can use to manage risk. It involves opening one or more additional positions to potentially reduce the risk of losing an existing position.
Use appropriate leverage
In margin trading, as with trading TRX CFDs, you need to avoid excessive leverage. Leverage can magnify your profits and also magnify your losses. Consider trading with leverage that you're comfortable with.
How to Leverage TRON Trading for Maximum Returns While Minimizing Risks
The best way to leverage TRON trading for maximum returns while minimizing risks is to trade TRX CFDs. Here are the reasons why it's the ideal approach:
Access to Leverage
Crypto CFDs allow you to trade with leverage, increasing your potential profits even with small capital. You can trade larger positions without using the full amount of capital required.
Short the market
When trading CFDs, you are trading bearish and bullish markets. This means identifying short opportunities in TRX and opening long positions.
No risk of owning the underlying asset
Investing in TRX through CFDs eliminates the risk of owning the actual coin. It also eliminates the need for crypto wallets to store cryptocurrencies.
Liquidity
CFDs provide access to highly liquid markets. Therefore, the execution of trades is fast (easy to enter and exit trades). Also, withdrawing funds from your CFD brokerage account is sometimes easier than on cryptocurrency exchanges.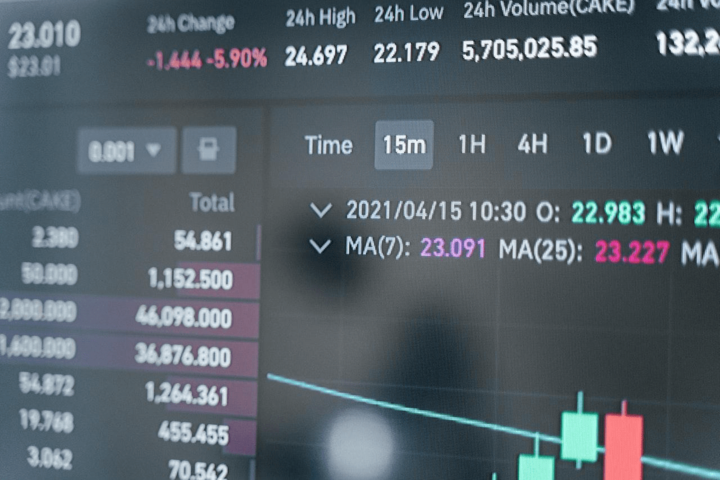 Final Thought
Overall, TRON is one of the projects that represents the great growth potential of the blockchain industry. Moreover, its potential to enable fast and low-cost transactions is a key strength that affects its applicability in the DeFi space.
From a technical analysis perspective, the price of TRX is likely to show a strong bullish trend. Market experts also believe that TRX's price is more likely to appreciate by the end of 2023 and even in the long term. From a fundamental analysis point of view, TRON developments and crypto market regulations will have a significant impact on the price of TRX.
Finally, CFD trading is the best way to take advantage of the TRX market. You get access to leverage, and great market liquidity, and can trade in both market directions. VSTAR is the best platform to start trading TRX CFDs with. It's a regulated broker that offers low and transparent trading costs and tight spreads. Click here to sign up for a free demo account and practice trading various crypto CFDs.
FAQs
1. Can TRON hit $10?
It is unlikely that TRX will reach $10 in the near future. This would require a huge increase from the current price of around $0.06.
2. What will TRON be worth in 5 years?
Tron price prediction in 5 years (2028) range from a low of about $0.20 to a high of $1. However, there is a lot of uncertainty that far out.
3. What will TRON be worth in 2030?
Tron price prediction in 2030 range from $0.50 on the low end to over $5 on the very optimistic end. Again, long-term predictions are highly speculative.
4. What is the Tron price prediction for 2023?
Tron price prediction for 2023 average around $0.12, which is about a 100% increase from current levels. But there is no guarantee.
*Disclaimer: The content of this article is for learning purposes only and does not represent the official position of VSTAR, nor can it be used as investment advice.