Headquartered in the United States, Occidental Petroleum Corp (OXY) offers a broad portfolio of oil and natural gas exploration and production. Its global reach is a testament to its strength in the energy sector and allows for an insightful evaluation of its compelling performance based on tangible assets.
In recent reviews, OXY has disclosed significant developments, including anticipation for the reveal of its second-quarter results in August 2023. Another crucial update is the firm grip on the industry reflected in the rise of their stock prices. As reported, OXY's institutional shareholders showed a boost in one-year returns of 6.4%, edging out many of their competitors.
Investors might wonder, "Is OXY a good stock to buy?" In the past half-year, OXY has displayed substantial potential, making OXY stock an enticing investment for the following reasons:
Historical financial growth encourages investor trust; a consistent revenue growth indicates financial proficiency.
The predicted financial outcomes for 2023 forecast a steep growth trajectory.
They have remained dedicated to their strategic development plans, as seen in their prior performance and recent industry gains.
Occidental Petroleum Corp's Overview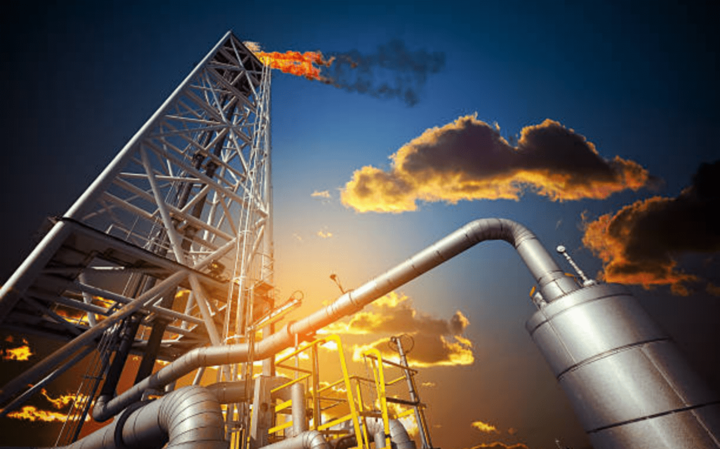 Source: iStock
When considering the titans of the energy industry, Occidental Petroleum Corp. (NYSE: OXY) certainly deserves a mention. Founded in 1920 by William H. Pike and Dr. Joe C. Boyd, this energy giant began as a humble oil exploration company in California. Although the company nearly went bankrupt in its early years, the fortunate acquisition by Armand Hammer in 1957 gave the company a much-needed boost. The company soon struck black gold with a rich crude oil deposit in Southern California, marking the beginning of its rise as an influential player in the oil and gas industry.
Headquartered in Los Angeles, Occidental has expanded its operations beyond California's borders. With a presence in the United States, the Middle East, Africa, and Latin America, the company wields global influence and is incorporated in Delaware.
Since 2016, Vicki A. Hollub has taken the helm as CEO. With a career at Occidental spanning more than four decades, Hollub has skillfully navigated the company through industry challenges with her extensive experience in strategic planning, operations management, and financial leadership. She is the first woman to lead the company and spearheaded Occidental's venture into sustainability initiatives and renewable energy sources. Hollub's tenure marks an era of significant change, a feature of Occidental's evolving business strategy.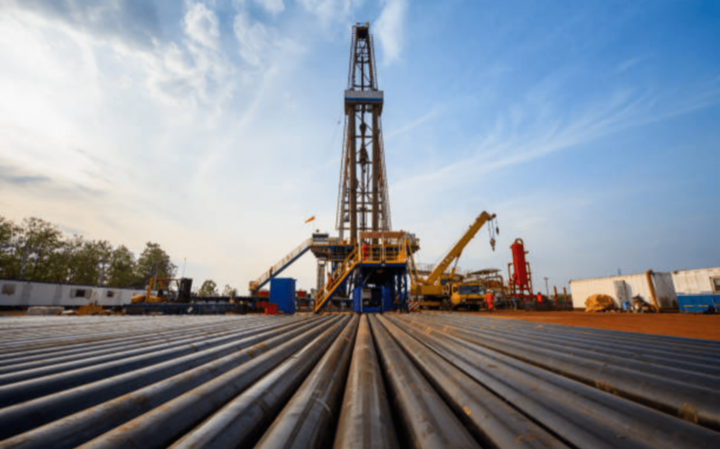 Source: iStock
The investment landscape of Occidental includes the notable presence of The Vanguard Group, BlackRock, and State Street Corporation. These key investors, among other institutional shareholders such as mutual and pension funds, underline the strength of Occidental's financial backbone.
Occidental's growth trajectory is marked by significant milestones. In 1971, the company received approval to develop an oil refinery on Canvey Island, Essex, England, marking its entry into the international arena. The company's foray into oil shale research in 1972 and the acquisition of Cities Service Company in 1982 showcase its constant drive for innovation and expansion. Notably, in 2005, Occidental diversified into the chemical industry by acquiring Oxychem. However, one of its most significant milestones came in 2019 with the purchase of Anadarko Petroleum for $38 billion.
The company's history is not only about expansion and financial growth; it's also about evolving environmental responsibility. In 2019, Occidental set a bold goal to reach net-zero emissions for its operations by 2040, reinforcing its commitment to being an environmentally conscious energy company.
Occidental Petroleum Corp's Business Model and Products/Services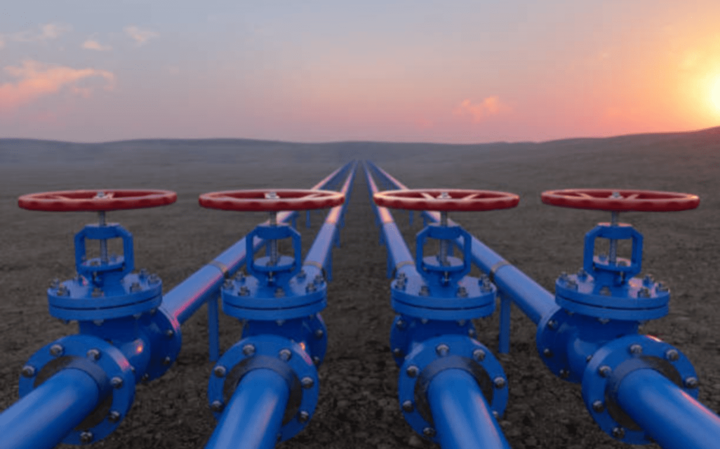 Source: iStock
Occidental Petroleum Corporation (OXY) operates primarily in oil and gas exploration, providing essential energy-related products and services to a diverse global market. The core segments of this NYSE-listed corporation include oil, natural gas, and chemical output, which are crucial in determining the Occidental Petroleum stock price. The company's functional structure enables the provision of these offerings at different scales, catering to multiple markets and customer needs.
Furthermore, Occidental Petroleum has various flagship products and services influencing its stock forecast. Its portfolio includes producing and marketing oil, natural gas, basic chemicals and vinyl. Such product offerings serve various sectors, such as the energy industry, manufacturing, and chemical processing, to mention a few. The OXY stock technical analysis must examine these varying services and how they augment the overall OXY stock outlook. Such a multi-faceted approach aids in establishing Occidental Petroleum as a significant player in the energy market, contributing to its outstanding stock performance.
Occidental Petroleum Corp's Financials, Growth, and Valuation Metrics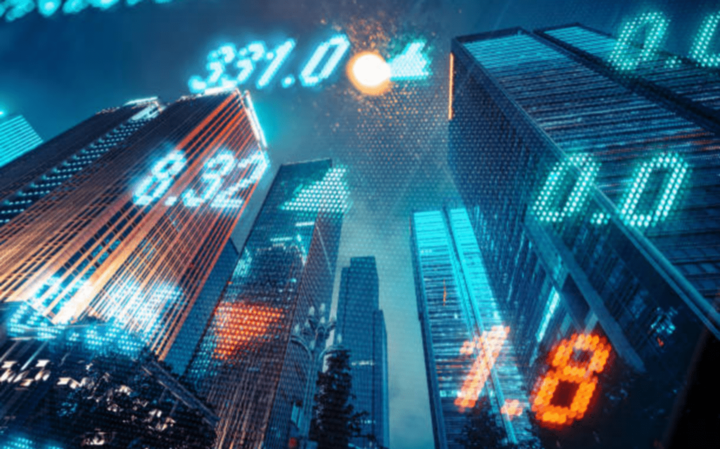 Source: iStock
Occidental Petroleum Corporation (NYSE: OXY) disclosed its financial performance for the fiscal year in March 2023, revealing a net income of $1.26 billion, which exemplifies its impressive financial capabilities. In conjunction with this, OXY experienced substantial revenue growth, with its 2022 annual revenue reaching $36.634 billion, representing a remarkable 41.14% increase compared to 2021. These figures provide a glimpse into the growth trajectory, fostering a positive outlook for the OXY stock forecast.
By March 2023, Occidental Petroleum had amassed an astounding market capitalization of $53.96 billion, reinforcing its standing in the worldwide energy industry. The continuous growth of OXY's market capitalization and net income highlights its secure position in the sector. Moreover, the corporation has maintained a sound profit margin of 17.48% of its revenue, indicating strong financial health and contributing positively to the OXY stock analysis.
Focusing on annual revenue, Occidental Petroleum has grown consistently throughout the years. In 2022, the firm posted revenue of $36.634 billion, which is a remarkable 41.14% increase compared to 2021. These statistics demonstrate a solid revenue growth trend, which is pivotal in determining whether OXY is an attractive stock.
As we progress to the most recent quarter ending in March 2023, Occidental Petroleum's essential financial ratios and metrics include:
Price-to-Earnings (P/E) ratio: 6.0
Price-to-Sales (P/S) ratio: 1.5
Price-to-Book (P/B) ratio: 1.8
Enterprise Value-to-EBITDA (EV/EBITDA) ratio: 3.6
These metrics suggest that OXY stock may be undervalued concerning its industry counterparts, hinting at potential investment openings.
The OXY stock forecast looks optimistic, with earnings and revenue poised for growth. In the current landscape, OXY stock appears undervalued when compared to its prominent peers. This information indicates that investing in OXY stock might be wise now.
OXY Stock Performance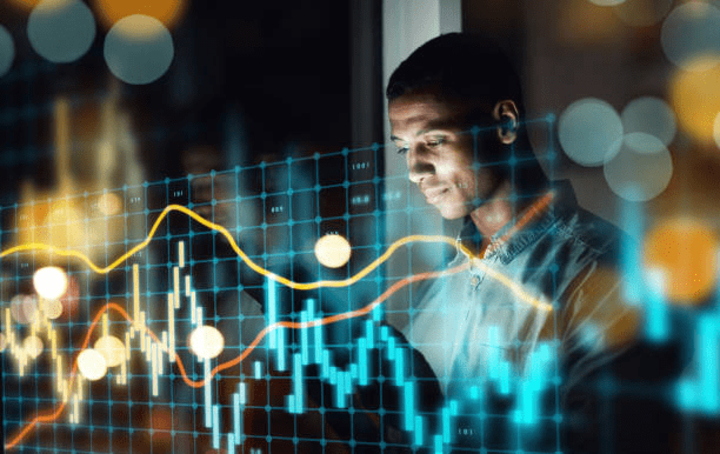 Source: iStock
Occidental Petroleum Corporation (OXY) is an oil and gas exploration and production company founded in 1920 and headquartered in Houston, Texas. OXY began trading publicly on the New York Stock Exchange in 1972 after its initial public offering under the ticker OXY. OXY stock trades in US dollars.
During regular trading hours, OXY stock trades on the NYSE between 9:30 a.m. and 4 p.m. Eastern time. There is also an active pre-market session from 4 a.m. to 9:30 a.m. and an after-hours session from 4 p.m. to 8 p.m. Over the years, OXY has split its stock three times to improve liquidity and make shares more accessible to individual investors.
OXY Stock Splits: The most recent stock split was a 2-for-1 split in 2005.
OXY Dividend: OXY currently pays a quarterly dividend of $0.18 per share, translating to a forward dividend yield of 2.2% based on the current stock price.
Looking at OXY's long-term stock price performance since its IPO in 1972, the all-time high closing price for the shares was $75.36, reached in November 2022. The all-time low closing price was $1.95 in February 1982. OXY is trading around $63.81 per share after reaching a 52-week high of $77.13 and a 52-week low of $55.51. Over the past year, the stock has shown high volatility, trading in a wide range between $55 and $77 as oil prices have fluctuated significantly. OXY's beta versus the S&P 500 is 1.37, indicating it is much more volatile than the broader market.
According to the issued ratings of 15 analysts in the last year, the consensus rating for Occidental Petroleum stock is buy based on the current five hold ratings and ten buy ratings for OXY. The average twelve-month price target is $69.93, with a high price target of $80 and a low price target of $60. The current price of OXY as of Aug. 9, 2023, is $63.80.
Some recent analyst ratings and price targets for OXY are:
Truist Securities: Buy rating with an $80 price target on Aug. 7.
Raymond James: Strong Buy rating with a $75 price target on Jul. 24.
Susquehanna: Positive rating with a $72 price target on Jul. 21.
Morgan Stanley: Equal-Weight rating with a $60 price target on Jul. 18.
Stephens: Overweight rating with a $69 price target on Jul. 8.
So, while OXY stock has delivered strong returns to long-term shareholders, it has also shown high volatility, especially over the past year, as oil prices have whipsawed. In the future, analysts are cautiously optimistic about a modest upside for the shares. However, fluctuations in crude oil prices could continue to cause large swings in OXY stock price. Other factors that may affect the price of OXY stock include:
Balance of Power or Price Action
Energy market price action greatly influences decisions to buy, hold, or sell OXY shares, being closely linked to Occidental Petroleum's profitability.
Production Levels
OXY stock price hinges on its production levels. A rise in output can increase revenue and stock value, while a decrease can lead to a price drop.
Company News and Performance
OXY stock fluctuations mirror the company's financial health. Positive financial reports can boost the stock, while poor performance can decrease its value.
Industry and Market Conditions
The health of the energy sector and the economy at large deeply affects OXY stock. Sector or economic downturns can hurt OXY's share value.
Commodity Prices
Oil and natural gas prices play a pivotal role in the company's profitability and stock price dynamics, as they influence financial performance.
Geopolitical Factors
Operating worldwide, Occidental Petroleum faces challenges like political instability, shifting regulations, and international disputes, which can affect its stock.
Investor Sentiment
The market's view of Occidental Petroleum heavily sways its stock value, emphasizing the role of investor sentiment.
Challenges and Opportunities
Despite holding a significant position in the energy industry, Occidental Petroleum Corporation (OXY) grapples with stiff competition. Key competitors like ExxonMobil, Chevron, and ConocoPhillips, with their expansive resources, rival OXY regarding market capitalization, revenue, and stock prices.
Operating amidst robust competitors, OXY navigates a landscape marked by companies with larger total assets. An example is ExxonMobil, which poses a substantial challenge with its comprehensive services and extensive history. Yet, OXY carves out its niche, leveraging its Permian Basin dominance and progressive carbon capture strategies, distinguishing itself within the sector.
While competitive forces are a substantial risk for OXY, other challenges lurk. Commodity price volatility and geopolitical factors are significant hurdles. To illustrate, the distribution of OXY's risk factors would be as follows:
40% Commodity Price Volatility
20% Geopolitical Influences
20% Competitive Landscape
10% Operational Risks
10% Market Fluctuations
Despite the odds, OXY exhibits significant potential for growth. With its formidable presence in the Permian Basin, backing from Warren Buffett's Berkshire Hathaway, and a commitment to sustainable energy, OXY's future looks promising. The company will likely leverage its sturdy financial standing for potential expansion, eyeing strategic partnerships and acquisitions as opportunities to bolster its growth trajectory.
Trading Strategies for OXY Stock
Are you contemplating the prospect of trading OXY stock? Here are some strategies you could deploy while trading Occidental Petroleum stock to secure profitability:
Fundamental Analysis: This strategy delves into the factors influencing OXY as a corporation. Investors applying this method would scrutinize OXY stock earnings reports, revenue growth, market share, and industry trends. This would assist you in making educated trading decisions by estimating the stock's true value.
Volatility Breakout: With this strategy, traders hunt for periods of high volatility in OXY stock. They pinpoint price levels of support and resistance, awaiting a breakout above resistance or below support with heightened trading volume. This breakout indicates a potentially major price shift, enabling traders to enter positions toward the breakout.
Moving Average Crossover: This strategy employs different moving averages, like the 50-day and 200-day moving averages, to produce buy and sell signals. From the below chart, we deduce that when the shorter-term moving average (the 50-day MA) moves above the longer-term moving average (the 200-day MA), it signals a bullish trend. Conversely, the market begins a bearish movement when the 50-day MA surpasses the 200-day MA.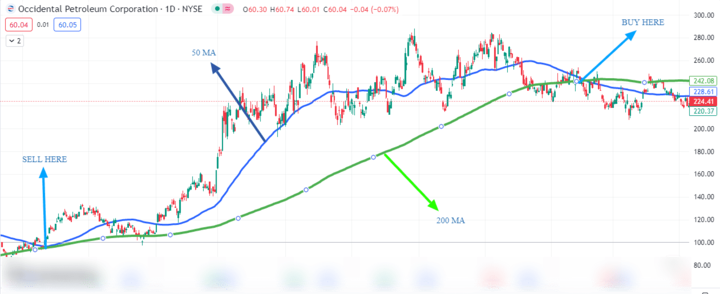 Source: TradingView
Key Support and Resistance Levels to Monitor for OXY Stock

Source: TradingView
OXY stock has shown high volatility recently. Looking at the data, the stock seems poised for an upward move after consolidating. The price has held above support around 63.30, avoiding dropping below the recent low of 63.68. OXY's most recent peak is around 65.07. If the price can break above that level, we could see the stock move up toward the next resistance levels, around 66.08 and 68.87.
If the upside scenario plays out, the 65.07 level should flip to support, providing a floor for the rally. On the downside, OXY has support of around 63.30 and 62.80. A break below 62.80 could signal a retest of lower supports around 61.91. Overall, the setup favors upside right now, barring a break of 62.80 support.
Trade OXY Stock CFD with VSTAR
Diving into OXY stock CFD trading with VSTAR provides a wealth of benefits to investors, helping them circumvent particular trading challenges. VSTAR, a globally recognized and trustworthy trading platform, offers an intuitive app catering to novices and seasoned traders. VSTAR enables you to trade Occidental Petroleum stock CFDs with significantly reduced risk compared to standalone trading.
By trading with VSTAR, you can enjoy the following:
User-friendly Interface: VSTAR prides itself on an exceptionally navigable interface, making it suitable even for those new to trading. With VSTAR, you can confidently trade OXY stocks, irrespective of your previous trading experience. Their app allows you to trade Occidental Petroleum stock directly from your mobile device.
Minimal Initial Deposit: To start trading with VSTAR, you only need a modest $50 deposit. Once your account is funded, you're ready to embark on your OXY stock journey.
Competitive Trading Costs: VSTAR provides incredibly competitive trading costs and minimal charges for OXY stock.
Diverse Trading Products:VSTAR offers a world-class CFD trading experience with various trading products such as stocks, indices, currency pairs, commodities, and cryptocurrencies, including OXY stock for traders.
Efficient Order Execution:With best-in-class market depth and flexible leverage options, VSTAR guarantees efficient order execution, making your OXY stock trading experience seamless.
Robust Security Protection:VSTAR has a strong security protection system to fully resist failures and attacks, ensuring the reliability and stability of your OXY stock transactions.
Transparent and Fair Trading Environment:VSTAR strictly adheres to regulations, providing a transparent and fair trading environment for your OXY stock transactions.
Low Spreads:On a zero-commission basis, VSTAR offers some of the lowest spreads in the industry, making OXY stock trading more cost-effective.
Educational Resources:VSTAR provides real-time trading signals, comprehensive educational articles, risk management strategies, and market interpretation services to help users improve trading skills and minimize trading risks.
Regulatory Compliance:VSTAR is a licensed platform regulated by the Cyprus Securities Exchange Commission (CySEC), ensuring high trust and security when trading OXY stock CFDs.
To kickstart your OXY stock CFD trading on VSTAR:
Visit www.vstar.com or download the VSTAR app onto your device.
Register for an account by providing your details.
Confirm your identity by uploading proof of identity and address.
Deposit funds into your account using your chosen method and specify the amount.
Begin trading by choosing your stock from the available instruments, entering your trade size, direction (buy or sell), stop loss, take profit, etc., and then press "Open Trade".
If you're wondering "Is OXY a good stock to buy? " or "Should I buy OXY stock? " VSTAR could provide the platform to answer those questions through practical experience backed by your OXY stock analysis. So, is now a good time to buy OXY stock? With VSTAR, the decision is yours to make.
Conclusion
In this comprehensive examination of Occidental Petroleum Corp (OXY), we've delved into the company's operations, financial growth, stock market performance, and prospects. The OXY stock outlook seems optimistic, thanks to OXY's robust financial health and strategic growth plans. Given the corporation's strong market presence and potential for future growth, it might be the perfect time for investors to consider including OXY stock in their portfolios.
Additionally, we've highlighted the benefits of trading CFDs and using VSTAR, a secure and user-friendly global platform. To delve deeper into CFD trading or to trade OXY Stock CFDs with VSTAR, visit www.vstar.com or download the VSTAR app today! Remember, success in trading is a mixture of informed decision-making, strategic planning, and choosing the right platform.
*Disclaimer: The content of this article is for learning purposes only and does not represent the official position of VSTAR, nor can it be used as investment advice.