Introduction of AI Stocks
Artificial intelligence, or AI, is the process of creating computer systems and software that can carry out tasks that ordinarily require human intelligence, such as speech recognition, visual perception, decision-making, and problem-solving. The study of artificial intelligence (AI) is a vast field that includes several subfields, such as machine learning, deep learning, and neural networks.
Shares of businesses involved in creating, deploying, and studying artificial intelligence (AI) technologies and applications are known as AI stocks. These businesses could be engaged in developing artificial intelligence (AI)-powered goods or services like virtual assistants, self-driving cars, or personalized marketing approaches, or they could be offering the supporting infrastructure, like hardware or cloud services, needed to support AI development and deployment.
Investing in AI equities is a method to be exposed to the future expansion of the AI industry. NVIDIA, Alphabet (the parent company of Google), Microsoft, Apple, Adobe, and Amazon are a few well-known AI stocks. But there are also smaller, more niche AI-focused businesses that might also provide investment prospects. Always remember that stock investing entails dangers, so it's crucial to research and speak with a financial advisor before making any decisions about your investments. That said, the ones mentioned in this article could be the AI stocks to buy in 2023.
Importance of AI Stocks in a Trader's Portfolio
Due to the ongoing growth and transformation of numerous industries, including AI stocks in your portfolio is crucial. You may profit from their expansion and achievements by investing in businesses that concentrate on artificial intelligence. Investment in AI stocks can expose investors to a promising industry with huge future development potential, as companies that do not engage in AI goods and services risk becoming obsolete.
Machine learning, smart devices, digital assistants, and autonomous cars are just a few examples of the many subsectors that AI stocks can include. You can profit from various AI technology-related opportunities by diversifying your portfolio of AI stocks. Including AI stocks in your investment portfolio can expose you to a rapidly growing and innovative sector, potentially leading to significant returns and diversification benefits.
Brief Overview of the Top 6 AI Stocks for Traders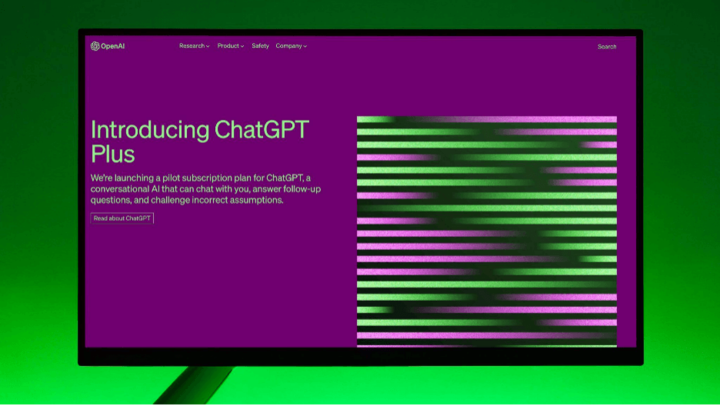 Major players in the artificial intelligence space include Google, Apple, Microsoft, NVIDIA, Amazon, and Adobe. A summary of each company's AI-related work is given below:
Google: Google has made significant strides in AI research through its subsidiary DeepMind. They created the algorithms for AlphaGo and AlphaZero, which excelled in sophisticated strategy games like Go and Chess. Through Google Cloud, Google also provides AI and machine learning services, including TensorFlow, a well-known open-source deep learning framework.
Apple: Numerous Apple products, like Siri, the voice-activated personal assistant, incorporate AI. IOS and macOS also provide AI-powered capabilities like facial recognition and predictive text. Apple has purchased many AI startups to further its AI capabilities and has been investigating on-device applications.
Microsoft: Microsoft Research has a long history of developing AI, concentrating on reinforcement learning, computer vision, and natural language processing. Through Azure, their cloud computing platform, they provide services related to AI and machine learning. Microsoft has invested heavily in OpenAI, a top AI research group, and has created AI-powered products like Cortana, their assistant.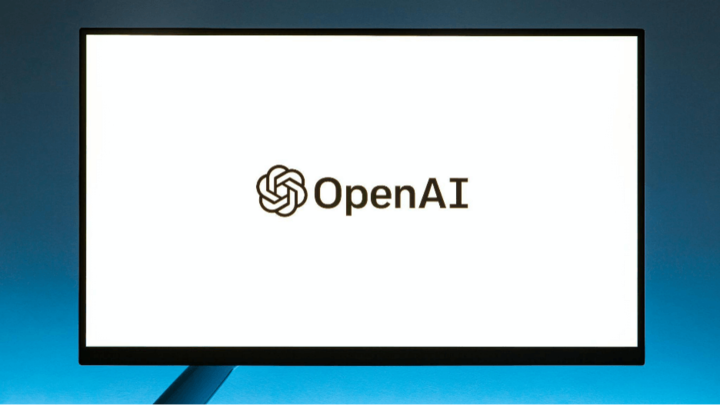 NVIDIA: NVIDIA is a top supplier of GPUs extensively used in deep learning and AI applications. They have created specialized hardware for AI tasks, such as the Tensor Core GPUs and the NVIDIA Jetson platform. To assist programmers in more effectively creating AI applications, NVIDIA also offers software tools, including the CUDA platform and cuDNN library.
Amazon: Products like Alexa, their voice-activated personal assistant, and the AI-driven recommendation engine utilized by their e-commerce platform are examples of Amazon's AI initiatives. A platform for creating, honing, and deploying machine learning models, Amazon SageMaker is one of the many AI and machine learning services offered by Amazon Web Services (AWS). Amazon has also been investigating AI in robotics and automation for its logistical operations.
Adobe: Adobe is using AI in various ways to improve its Creative Cloud offerings and simplify workflows for users. One of Adobe's recent AI developments is the Firefly family of generative AI models, which is being integrated into Creative Cloud, Document Cloud, Experience Cloud, and Adobe Express workflows. Firefly AI technology will allow creators to create original media, auto-generate storyboards from scripts, and color grade videos in Premiere Pro. Adobe has also unveiled Adobe Sensei Generative AI Services, a set of AI-powered services aimed at enterprise-level marketing.
Microsoft Corporation (MSFT)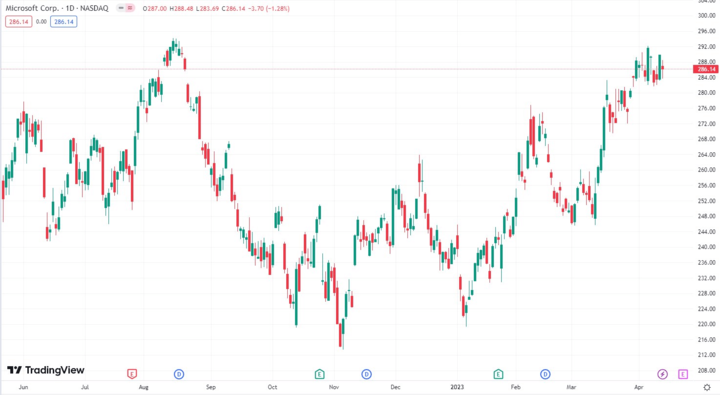 Azure, ChatGPT, Office 365, and the new Bing are just a few of the cloud computing services that Microsoft offers. With the help of these services, customers can employ the cloud's capability for various tasks, such as applications involving artificial intelligence (AI).
Microsoft's Azure platform for public cloud computing offers various cloud services, including computing, analytics, storage, and networking. Azure also provides AI tools and services, allowing programmers to create and distribute intelligent apps. Azure Cognitive Services offers pre-built AI models for vision, speech, language, and decision-making activities. At the same time, Azure Machine Learning is a service that enables customers to design, train, and deploy machine learning models at scale.
Microsoft's cloud services are integrated with Azure Active Directory (Azure AD), a cloud-based identity and access management solution. Although Azure AD is not specifically an AI service, it offers safe access to Software as a Service (SaaS) apps that use AI, like Office 365.
A collection of productivity tools and services, Office 365—now known as Microsoft 365—includes well-known programs, including Word, Excel, and PowerPoint. AI is used by Microsoft 365 to enhance user experience and productivity. AI, for instance, drives functions like intelligent suggestions in Word, data analysis in Excel, and design concepts in PowerPoint. Microsoft 365 comes with AI-enabled programs like Outlook, which helps with scheduling and intelligent email screening.
Based on the GPT-4 architecture, OpenAI created the ChatGPT AI language model. ChatGPT can be integrated with Microsoft's cloud services and platforms, even though it is not a Microsoft product, to improve the natural language interpretation and generating capabilities in various applications.
Microsoft's new Bing search engine has undergone continual AI improvement to deliver more relevant search results and a better user experience. Natural language comprehension, image recognition, and tailored search results based on user preferences and browsing history are just a few of Bing's AI features.
Microsoft provides a variety of cloud computing services, with an emphasis on AI integration. While ChatGPT can be linked with Microsoft's services to increase natural language understanding in various applications, services like Azure, Microsoft 365, and Bing use AI to enhance user experience, productivity, and application capabilities.
Microsoft's AI mission is grounded in its commitment to helping people be more productive and solving society's most pressing challenges. Through their AI research and development initiatives, they aim to create cutting-edge technology that positively impacts individuals, organizations, and the world at large.
Microsoft's revenue growth in 2022 was just over $204 billion, which was a 10.38% increase year-over-year, with Azure's revenue growing a whopping 50% during that time. Analyst ratings are generally very favorable for MSFT, as it remains a favorite of many.
Key Risks and Challenges
Rapid technological advancements: The AI industry is characterized by continuous innovation and fast-paced development. Microsoft must stay ahead of the curve by investing in research and development to maintain its competitive edge and market share.
Competition from established tech giants and emerging startups: Microsoft faces competition from other major tech companies such as Google, Amazon, and IBM, as well as smaller startups focusing on niche AI solutions. These competitors may develop superior AI technologies or gain market share, impacting Microsoft's growth in the AI segment.
Regulatory challenges: As AI technologies become more sophisticated, governments may implement new regulations that impact AI development and deployment. Microsoft must be prepared to adapt to changing regulatory landscapes and ensure its AI solutions comply with new regulations.
Data privacy and security concerns: AI relies heavily on data, so data privacy and security are critical concerns. Microsoft must ensure its AI solutions protect sensitive data and comply with data protection regulations to maintain customer trust and avoid potential legal issues.
Future growth potential
Future growth potential for Microsoft is likely to be significant. The company's global foothold in the office workplace should continue to pay dividends for the company and, therefore, bode well for the giant.
Alphabet Inc. (GOOGL)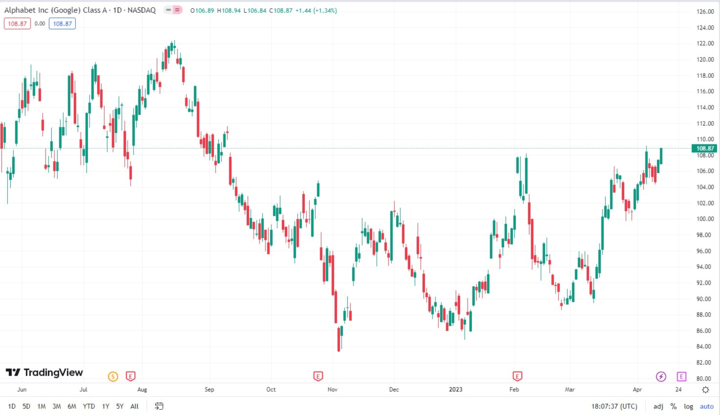 Alphabet is the parent company of Google Cloud, which is heavily involved in AI. Google Cloud is a cloud computing platform consisting of physical assets, such as computers and hard disk drives, and virtual resources, like virtual machines (VMs), housed within Google's data centers. The platform provides services and tools for businesses to build, deploy, and scale applications, websites, and services on the same infrastructure that powers Google's products.
Google Cloud offers various services, including computing, storage, networking, big data, machine learning, and more. By using Google Cloud, businesses can take advantage of Google's extensive infrastructure, expertise, and cutting-edge technology to improve their efficiency and agility.
While Google Cloud has long been known for its offerings in the cloud data services range, Google Cloud's AI Platform provides a suite of machine learning and AI tools, including TensorFlow, AutoML, and pre-built models for vision, speech, and natural language processing.
For the twelve months ending December 31, 2022, Alphabet's revenue was $282.836 billion, showing a 9.78% increase year-over-year. The Google Cloud business, including the AI part, which competes with cloud computing services from Amazon and Microsoft, experienced a 45% growth as reported in October 2021. As per usual, GOOGL retains a very analyst rating throughout Wall Street.
Key Risks and Challenges
Rapid advancements in AI: With AI technology evolving quickly, Google must continuously invest in research and development to stay ahead of its competitors and maintain a leading position in the AI domain.
Regulatory changes and government interventions: Governments worldwide are considering and addressing the opportunities and challenges posed by AI, which may lead to new regulations that could impact Google's AI initiatives.
Balancing innovation and risk: As AI evolves, Google must find the appropriate balance between promoting innovation and managing potential risks associated with AI deployment, ensuring that AI systems are ethically designed and implemented.
Competition from other tech giants and startups: Google faces stiff competition from other major players in the AI space, such as Microsoft, Amazon, and Apple, as well as emerging AI startups. This competition may lead to a more aggressive race for AI talent, acquisitions, and technological breakthroughs.
Future growth potential
Alphabet has been a juggernaut over the years. Most analysts believe its foray into the AI space should be successful, although it is slightly behind ChatGPT, which has taken the world by storm. However, to underestimate GOOGL is to do so at your own risk.
Amazon Inc. (AMZN)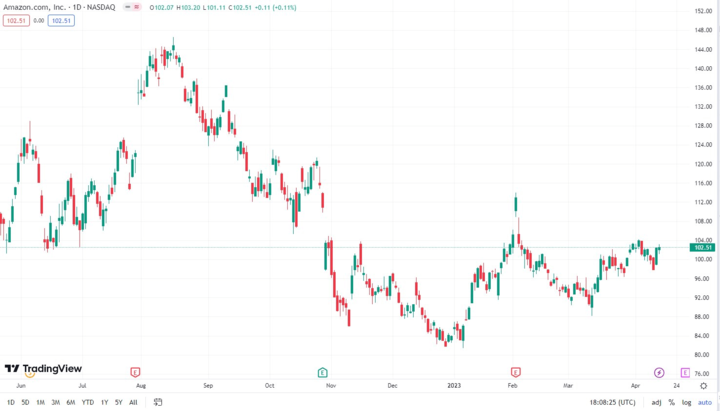 Through its Amazon Web Services (AWS) platform, which contains machine learning tools and technologies created to assist businesses across multiple industries, Amazon provides a wide range of AI services and solutions. Customers wanting AI and machine learning capabilities frequently choose AWS because of its significant market share in the cloud computing industry.
Amazon competes with other IT behemoths like Microsoft and Google in the market for offering developers' AI services. AWS provides a wide variety of AI and machine learning capabilities, and new features and services are continuously being added to meet customers' changing needs.
The virtual assistant Alexa is another important AI product from Amazon. Alexa understands voice requests and offers people individualized assistance using machine learning and natural language processing. It is a popular option for voice-controlled AI solutions since it can perform various functions, including setting reminders, playing music, and managing smart home gadgets.
In 2022, Amazon's annual revenue was $513.983B, a 9.4% increase from 2021, when the revenue was $ 469.822 B. In 2021, the revenue had increased by 21.7% from 2020, when the revenue was $386.064B.
Looking at Amazon's income statement in 2022, the company reported a total revenue of $516.163B, a 38.3% increase from the previous year. The net income for the year was $14.068B.
Key Risks and Challenges
Rapid advancement in AI: Because AI technology is developing quickly, Amazon must continually make research and development investments to remain ahead of the competition and keep its strength in the AI market.
Competition: Amazon has quite a bit of competition from other giants in the AI space, such as Microsoft, Adobe, and Apple, as well as hundreds of AI startups. AI will continue to force companies to reach for talent at all costs and spend drastically to stay ahead of the curve.
Regulatory and government interference: Governments worldwide are looking into potential AI issues, including possible censoring of results and nefarious actors that could use it for ill-gotten gains. This could cause significant problems for Amazon in the future.
Future growth potential
Amazon has been one of the darlings of the tech industry, rising to stratospheric heights after the 2001 tech crash. The company has a seemingly unending amount of cash to burn, as its home delivery business and many others have been so successful. Because of this, most analysts and traders agree that AMZN should fare well in this sector, if by brute force if nothing else.
NVIDIA Corporation (NVDA)
NVIDIA is a technology company that has been instrumental in developing and using artificial intelligence (AI) technologies. The company has provided solutions for accelerating computing for over three decades, with over 3.8 million developers creating thousands of applications for accelerated computing.
NVIDIA's AI technologies are used by more than 35,000 companies worldwide, and 13,000 startups are using NVIDIA Inception. The company has also launched a cloud service called NVIDIA Picasso that allows users to build and deploy generative AI-powered image, video, and 3D applications with advanced text-to-image, text-to-video, and text-to-3D capabilities.
NVIDIA announced its financial results for the fourth quarter and fiscal year 2023 on February 23, 2023. The report showed that NVIDIA's quarterly revenue was $6.05 billion, representing a 21% decrease from a year ago. Furthermore, the company's fiscal-year revenue was flat from a year ago, totaling $27.0 billion. Earnings per share were $3.85 for the year 2023.
Key Risks and Challenges
Consumer slowdown: A potential decrease in consumer demand for NVIDIA's products, such as gaming GPUs or data center GPUs, due to economic factors or changes in consumer preferences.
Finance and corporate risks include fluctuations in the company's stock price, risks related to acquisitions or divestitures, or legal issues related to intellectual property rights.
Macro and political risks: Changes in government policies, global trade tensions, and other macroeconomic factors that could impact NVIDIA's business operations.
Competition: Potential competition from other GPU manufacturers or risks related to new technologies that could disrupt NVIDIA's current market position.
Technological obsolescence: As new technologies are developed, NVIDIA's products may become obsolete or less desirable, impacting its market share and financial performance.
Future growth potential
NVIDIA has a virtual "death grip" on the graphics market and, as a result, should continue to see plenty of growth as they stand head and shoulders above the others.
Apple Incorporated (AAPL)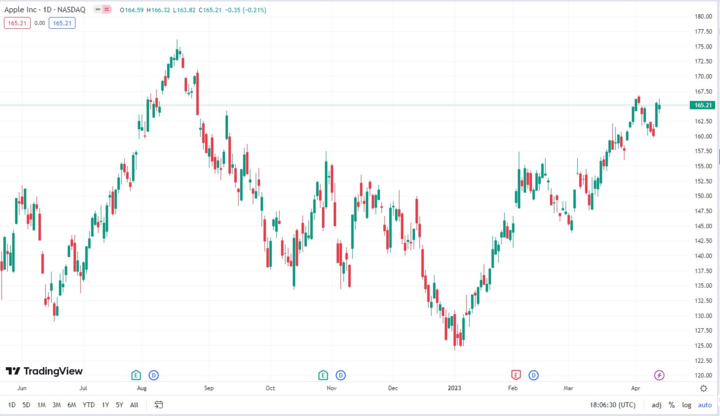 Apple, a technology company known for its iPhones, Macs, and iPads, has made strides in artificial intelligence (AI) in recent years. Apple has been using machine learning across its iOS, Siri, and macOS products to improve user experiences.
Siri, Apple's AI-enabled assistant, was acquired by Apple in 2010 and was first introduced as a feature of the iPhone 4S in 2011. Siri is built on large-scale machine learning algorithms that combine speech recognition and natural language processing (NLP).
However, despite Apple's efforts, the company's commitment to world-class AI has been questioned, particularly regarding Siri. While Apple has been using AI at the silicon level with the 2017 A11 Bionic chipset, Siri needs to catch up to other AI assistants, such as Google and Amazon's offerings, especially regarding consistency and third-party support.
In 2020, Apple made a significant move to bolster its AI capabilities by hiring Google's head of search and artificial intelligence. This hire indicates that Apple is committed to improving its AI capabilities and catching up with its competitors in the AI space.
Overall, Apple's work in AI is still a work in progress. Still, the company's continued investment in machine learning and the hiring of the top talent in the field indicates that it is committed to improving its AI offerings in the future.
Apple reported $365.8 billion in revenue for the fiscal year 2022. The company also reported $95.3 billion in net income. Earnings per share registered at $5.65. The gross profit margin was 42.7%, and the operating cash flow of $105.7 billion.
Key Risks and Challenges
Rapid technological change: Global markets for Apple's products and services are highly competitive and subject to rapid technological change. As a result, Apple must stay ahead of the curve and continually innovate to keep up with its competitors.
Aggressive price cutting: Apple's competitors, such as Samsung, have historically used aggressive price-cutting strategies that could impact Apple's market share and financial performance.
Lack of standardization: The lack of standardization in the AI industry makes it challenging for Apple to integrate its products with third-party AI solutions. This lack of integration could impact the user experience and put Apple at a disadvantage compared to its competitors.
Access to talent: AI requires specialized skill and expertise, and Apple may need help attracting and retaining top AI talent in a highly competitive job market. This could put Apple at a disadvantage compared to its competitors with stronger AI teams.
Future growth potential
Apple is a massive company with extreme brand loyalty in most developed markets. This should continue to provide Apple with plenty of cash to burn to remain competitive.
Adobe Incorporated (ADBE)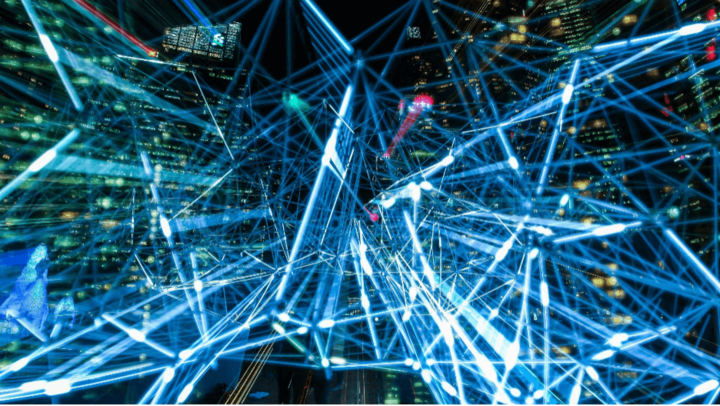 Adobe is a leading technology company utilizing artificial intelligence (AI) in its products and businesses. Adobe uses AI to solve problems in content understanding, recommendations and personalization, search and information retrieval, and prediction.
Adobe has also made significant strides in AI innovation to enhance its Creative Cloud and Adobe Express users' creative power and precision. Adobe's new AI innovations have been developed following the company's AI ethics principles of accountability, responsibility, and transparency.
Fast Company has recognized Adobe's AI innovation, stating that Adobe's new neural filters use AI to bring point-and-click simplicity to visual effects that would formerly have required hours of labor and years of image-editing expertise. Using these filters, users can quickly change a photo subject's expression, adjust the direction in which someone looks, or colorize a black-and-white photo.
Adobe achieved revenue of $17.61 billion in the fiscal year 2022. Adobe reported a GAAP net income of $1.47 billion and a non-GAAP net income of $2.1 billion for its fourth quarter of the fiscal year 2022. Adobe achieved a GAAP net income of $5.06 billion and a non-GAAP net income of $7.36 billion in the fiscal year 2022. Adobe reported a diluted EPS of $2.53 on a GAAP basis and $3.60 on a non-GAAP basis for its fourth quarter of the fiscal year 2022. Adobe's gross profit margin was 87.1% in the fourth quarter of 2022. Adobe generated $6.8 billion in operating cash flow in the fiscal year 2022.
Key Risks and Challenges
Competition: Adobe is far from being alone in the world of AI, and as a result, there are a lot of new competitors out there almost daily.
Technological advancements: Staying abreast of advancements should continue to be a serious concern, as the AI sector is rapidly changing. This is a problem for all companies working in this area, and this should be something worth watching.
Access to talent: As the AI world explodes in popularity, finding good engineers will continue to be an issue. With the workforce shrinking, this is a significant concern for many AI companies and could play a part in who survives and who doesn't.
Future growth potential
Adobe has a lock on certain products, such as .pdf files and readers. The Adobe creative suite has also been a huge hit with creators, and with the addition of AI into its platform, most analysts believe that the future growth of the company should be strong over the next few years.
How to Invest in AI Stocks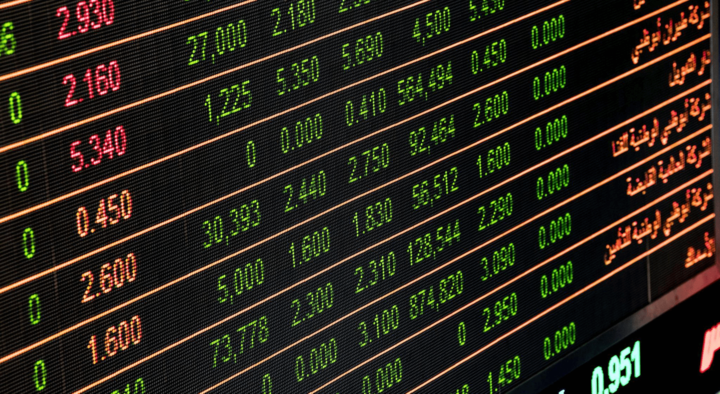 There are three ways to invest in AI stocks, and all three offer different experiences for the trader. Deciding which one is best for you will depend on your investment situation.
Hold the Shares
One of the most common ways to invest in an AI stock is to own the shares. This is when you buy shares through a traditional brokerage, as you would for your retirement account. This is typically how those who choose to"buy and hold"a particular company would be familiar with it. That being said, it comes down to your timeframe, and it should be noted that leverage is minimal. Remember, the AI stock price can fluctuate wildly, so you need to be flexible and patient.
Options
The options market is another way that people will play AI stocks, but this short-term strategy involves a lot of leverage. You are making a bet on whether prices will go higher or lower based on a specific price and time. Options can be a very complex way to play the market and require a certain amount of skill, as you can lose quite a bit of money rapidly. However, the one advantage it has is that if you buy an option, you can only lose the amount you pay for it.
CFD
The CFD market, or "contract-for-difference" market, is the trading of an asset that does not require owning the underlying stock. In other words, you agreed with the counterparty to settle the difference between the entry and closing prices with cash. The main advantage for the trader using the CFD market is that they have much more substantial leverage, allowing them to benefit from price appreciation much more drastically. Furthermore, it is very easy to "go short" of a stock, meaning that you can bet on prices dropping just as easily as you can benefit from price appreciation.
By trading CFD markets with VSTAR you can also tailor the size of your position to match your account and risk appetite. You can trade as little as one share if that's necessary. This is unlike options markets, which have a standardized contract, and of course, sometimes it's challenging to short the actual shares because you have to "borrow" those shares if you are working with a traditional stockbroker.
Furthermore, VSTAR is authorized and regulated by the Cyprus Securities and Exchange Commission (CySEC), No 409/22, a member of the Cyprus Investor Compensation Fund, and under the European Regulatory Framework of MiFiD II. VSTAR also offers deep liquidity and $0 commissions in a tight spread environment.
Conclusion

When you look at the world of AI stock trading, it is very volatile but also leading edge. The best AI stocks to buy could be a difficult question to answer, but overall, the 6 companies should fare well. Investing in AI technology stocks allows you to take advantage of technological advancement in what is one of the most rapidly changing sectors of the economy. AI will be part of the future, so a lot of this is a bit of a "moving target."
One of the best ways to trade artificial intelligence stocks is through the CFD market because this allows you to play the market in both directions and with leverage. The potential gain in this market will more likely than not be extraordinary, but it will be extraordinarily volatile. Being able to jump in and out of the market quickly may be one of the better ways to take advantage of it, which should be the "next big thing." Investing in AI technology stocks isn't going to be without its volatility, but the "AI stock market" will be where many exciting and innovative technologies come from in the next several years.
*Disclaimer: The content of this article is for learning purposes only and does not represent the official position of VSTAR, nor can it be used as investment advice.