Li Auto stock (NASDAQ: LI) price has more than doubled since January. That makes it the top-performing Chinese EV stock so far in 2023. Is it too late to buy Li Auto stock? Read on to find out what you can expect from Li Auto stock down the road.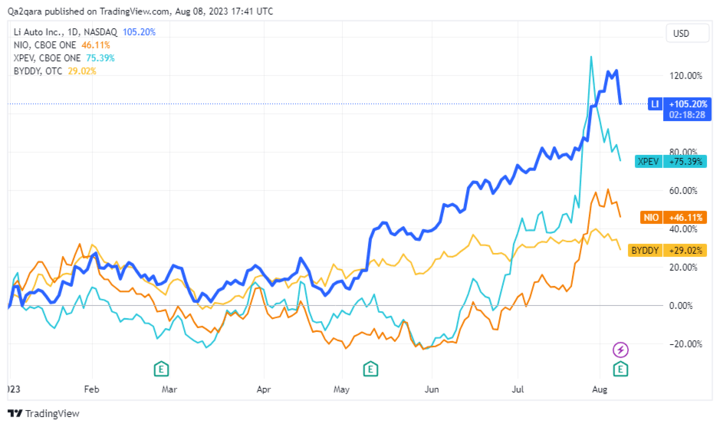 Li Auto Stock News
Li Auto to Nearly Triple Its Car Lineup By 2025
The Chinese EV maker plans to launch additional car models in the coming years as it works to expand its product lineup. The company aims to have 11 car models on the market by 2025, from the current four models. The expanded product portfolio will offer Li Auto's customers a wider selection of car models to buy.
Li Auto to Build Over 3,000 High-Speed Charging Stations
As it works to expand its car lineup, Li Auto also wants to widen its charging network. The company plans to build 300 high-speed charging stations in 2023 across China's major cities. By 2025, Li Auto aims to have more than 3,000 high-speed charging stations across China.
China Offers $72 Billion Tax Break For Li Auto Customers
The Chinese government has offered a package of tax breaks amounting to over $72 billion for those purchasing electric vehicles such as those built by Li Auto. The tax break will be available for the next four years and is designed to boost demand for electric cars by making them more affordable.
Li Auto Inc (NASDAQ: LI) Overview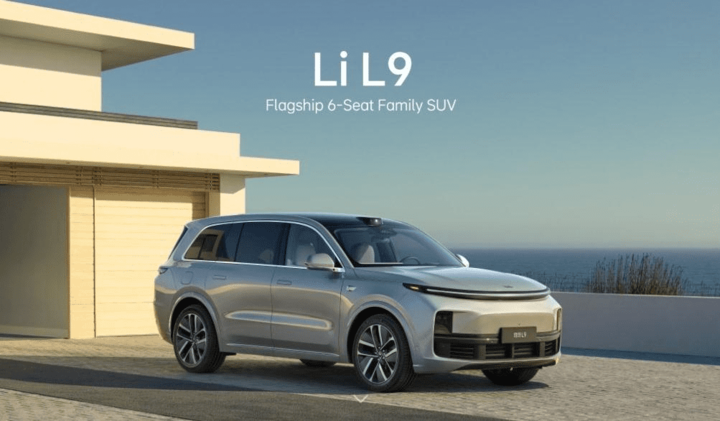 Source: Li Auto
Li Auto is a Chinese automaker headquartered in Beijing. The company manufactures electric cars, with a special focus on the SUV market. Li Auto's financial backers include Chinese food delivery giant Meituan and TikTok owner ByteDance.
Founded in 2015, Li Auto has built four car models. Li Auto's founder, Li Xiang, continues to lead the company as CEO and chairman of the board.
Li Auto (NASDAQ: LI) went public in 2020. The listing attracted many high-profile investors.
Top 5 Shareholders of Li Auto Stock
Li Auto stock is a favorite of institutional investors with a taste for Chinese EV stocks. These are the top institutional shareholders of Li Auto stock:
| | |
| --- | --- |
| Shareholder | Stake |
| Meituan | 15% |
| Vanguard Group | 2.3% |
| Fidelity Management | 1.2% |
| Renaissance Technologies | 0.94% |
| Norges Bank Investment | 0.72% |
A number of institutional investors have also recently purchased large amounts of shares in Li Auto. They include T. Rowe Price International, Segantii Capital Management, and RWC Asset Advisors.
On an individual level, the largest individual shareholder of Li Auto is Meituan CEO Wang Xing with a stake of more than 22%. The other major individual shareholder of Li Auto is the company's founder and CEO Li Xiang with a stake of 21%.
Li Auto's Milestones
| | |
| --- | --- |
| Year | Milestone |
| 2019 | Li Auto launches Li One, its flagship electric car at the Shanghai Auto show. |
| 2020 | Li Auto begins first deliveries of its Line One car model. |
| 2020 | Li Auto stock IPO in the U.S. |
| 2021 | Li Auto stock secondary IPO in Hong Kong. |
| 2022 | Li Auto discontinues Li One production to make way for the L8 model |
Li Auto's Business Model and Products
This Chinese automaker has a simple business model. It makes and sells electric cars. While Li Auto's corporate offices are located in Beijing, the company's car manufacturing plant is located in Changzhou, Jiangsu Province.
How Li Auto Makes Money
The company's primary revenue source is car sales. Li Auto's car sales have been increasing in recent years as its product lineup expands and brand awareness increases. The company also makes money from selling car-related accessories and offering car services.
Li Auto's Car Models
The company is primarily focused on the sport utility vehicle (SUV) market segment. It has built four SUV models. These are Li Auto's car models:
Li Auto One: Introduced in 2019, the Li One was Li Auto's first car in the market. Its production started in 2020 and stopped in 2022.
Li Auto L9: Launched in June 2022, the L9 is a 6-seat family SUV. Deliveries of the L9 started in August 2022. The L9 is the second car model in Li Auto's product line.
Li Auto L8: Introduced in September 2022, the L9 is a 6-seat premium SUV. Deliveries of the L8 model began in late 2022.
Li Auto L7: Introduced in September 2022, the L7 is a 5-seat family SUV. The car's production started in 2023.
Li Auto's Financials
You can't tell the best EV stock to buy now without assessing the financials of the target company. For that reason, let's explore Li Auto's financial performance and balance sheet condition.
Li Auto's Revenue
In the second quarter of 2023, the Chinese EV maker's revenue increased 228% year-over-year to 28.7 billion yuan ($3.95 billion). This built on a 96% year-over-year revenue growth in the first quarter.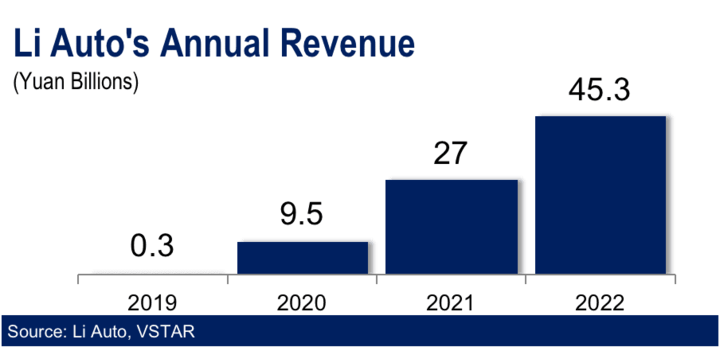 The company's full-year revenue in 2022 was 45.3 billion yuan, which increased from 27 billion yuan in 2021 and 9.5 billion yuan in 2020. The chart above illustrates Li Auto's annual revenue trend.
Li Auto's Vehicle Deliveries
The company delivered 86,533 cars to customers in the second quarter of 2023, which increased from 52,584 cars delivered in the first quarter and 28,687 cars delivered in the second quarter of 2022.

For the whole of 2022, Li Auto delivered 133,246 cars. The vehicle deliveries for that year increased sharply from 90,491 cars delivered in 2021. The company delivered 32,624 cars in 2020. The chart above shows Li Auto's annual vehicle deliveries.
Li Auto's Net Income
While the company has yet to turn an annual profit, it has been consistently profitable in recent quarters.
In the second quarter of 2023, Li Auto made a profit of 2.3 billion yuan, which built on a profit of 0.93 billion yuan in the first quarter. The company reported a profit of 257 million yuan in the fourth quarter of 2022.
For the full year of 2022, the company made a loss of 2 billion yuan, which increased from a loss of 321 million yuan in 2021.
Li Auto's Profit Margin
The company's gross profit margin improved to 21.8% in Q2 2023, from 20.4% in Q1 2023. The company's annual gross profit margin in 2022 was 19.4%. Li Auto has maintained its annual gross profit margin at above 16% in each of the past three years.
Li Auto's Cash Position and Balance Sheet Condition
The company produced 11 billion yuan in cash from operations in Q2 2023, and achieved a free cash flow of 9.6 billion yuan. The cash from operating activities in the quarter increased sharply from 7.8 billion yuan in Q1 2023 quarter and 1 billion yuan in the same quarter last year.
The company has a cash balance of 62.3 billion yuan ($8.6 billion). Its balance sheet shows 103 billion yuan worth of assets and a minimal debt of only 8 billion yuan.
Li Auto (NASDAQ: LI) Stock Analysis
Li Auto Stock Valuation
Li Auto stock currently trades at a forward P/E ratio of 111.1, a forward P/S ratio of 0.42, a P/B ratio of 7.12, and a P/FCF ratio of 38.99. See how Li stock's valuation compares to its peers:
| | | | | |
| --- | --- | --- | --- | --- |
| | Li Auto stock | Tesla stock | Nio stock | Xpeng stock |
| Forward P/E | 111.1 | 60.04 | 434.78 | - |
| Forward P/S | 0.42 | 7.18 | 0.37 | 0.46 |
| P/B ratio | 7.12 | 15.59 | 9.64 | 3.65 |
| P/FCF ratio | 38.99 | 129.34 | - | - |
As you can see from the table above, Li Auto stock has a better forward P/E valuation than Nio stock. Li stock also offers a better forward P/S ratio than Tesla and Xpeng. Moreover, Li Auto stock has better P/B and P/FCF ratios than Tesla.
Li Auto Stock Trading Information
Li Auto stock is listed on the Nasdaq exchange under the ticker symbol "LI".
Pre-market trading in Li Auto stock begins as early as 4:00 a.m. ET and runs until 9:30 a.m. At that time, the regular trading session begins and runs until 4:00 p.m. The after-market session begins at that time and runs until 8:00 p.m.
The premarket and post-market sessions allow you several extra hours to trade Li stock.
Nearly 7 million Li Auto shares are traded on an average day, making it one of the most actively traded Chinese EV stocks.
Li Auto Stock Split History
The Chinese EV company has not split its stock since the IPO, and the management has not announced any Li stock splits in the foreseeable future.
Companies usually split their stock to make them more accessible to retail investors by reducing the price per share. Such stock splits can be followed by a rise in share price as a result of increased demand for the stock from retail investors.
Li Auto Stock Dividend Yield
Although Li Auto has been profitable in recent quarters, the company has yet to pay a dividend. Instead of returning cash to shareholders, Li Auto reinvests any money it earns back into the business to fuel future growth.
Li Auto Stock Price Performance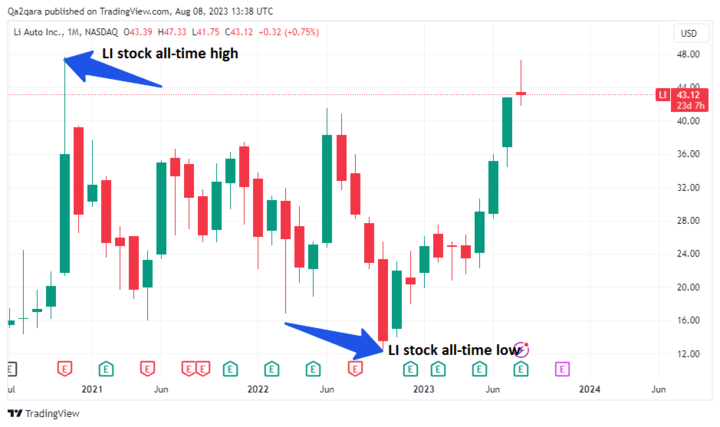 The Chinese EV company priced its stock at $11.50 per share for the IPO. Li stock soared more than 50% on its first day of trading to reach $17.50. The stock continued to surge, reaching an all-time high of $48 in November 2020, only a few months after the IPO.
Li Auto stock dropped to its all-time low of $12 in October 2022, amid a distressing climate for automakers because of Covid disruptions to production plans and parts shortages.
Over the past year, Li stock price has ranged from $12 - $47. The current price of about $43 shows that the stock has climbed about 260% over its 52-week low and trades close to both its 52-week high and all-time high.
Why Is Li Auto Stock Going Up?
A confluence of factors is propelling Li Auto stock. These are some of the reasons this Chinese EV stock is soaring in 2023 and why it could keep rising in the future.
Strong earnings: Not only has Li Auto been reporting profits in recent quarters, but the earnings have also been well above analysts' expectations.
Improving vehicle deliveries: Li Auto has continued to report improving vehicle deliveries. It looks to be on track for another record annual delivery in 2023.
Favorable business climate: The Chinese government recently extended a tax break for people buying electric cars. This is a favorable action for Li Auto.
Li Auto Stock Forecast
Looking at Li Auto stock price predictions can help you assess where the stock is going. About three dozen analysts have weighed on Li stock outlook, issuing a range of price targets and trading recommendations.
The average Li stock forecast of $43 is in line with the current stock price. The peak Li stock price target of $65 suggests an upside of more than 50%. The bottom Li stock price target of $27 implies a downside of 37%.
The vast majority of the analysts following Li Auto have a Buy rating on the stock.
Li Auto Stock Short Interest
Since the epic AMC and GameStop short squeezes that took the market by storm, it has become a norm for smart investors to assess short interest in their target stocks.
There is substantial short interest in Li Auto stock. Some 28 million Li Auto shares have been sold short. This represents a short interest of 5.2% in the stock.
Considering that an average of 7 million Li Auto shares are traded in a day, the number of shorted shares is large enough to cause a short squeeze if the bears panic as the stock continues to rise.
Li Auto Stock Technical Analysis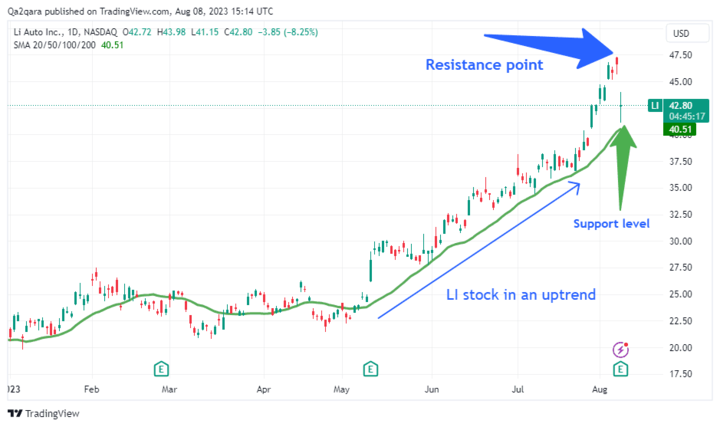 The chart above shows Li stock price action since January, along with the 20-day SMA line (green).
As you can see, Li Auto stock has generally been in an uptrend since May. While there have been multiple pullbacks along the way, the stock has been making higher highs and higher lows.
At this point, the stock has found a firm support at $40, which also coincides with its 20-day SMA. The 20-day SMA has been a critical support level throughout the uptrend. At this point, Li Auto stock faces resistance at $48, which coincides with its all-time high.
Li Auto Opportunities and Challenges
Li Auto Opportunities
1. Expanding Chinese Electric Car Market
Amid climate change concerns and government support through incentives and favorable regulations, Chinese drivers are rapidly shifting to electric cars. Annual electric vehicle sales in China were about 6 million units in 2022 and are expected to exceed 8 million units in 2023. China's annual electric car sales are forecast to surpass 10 million units before 2025, according to GlobalData.
The Chinese government aims to have electric vehicles account for 40% of vehicles sold in the country by 2030. And by 2040, electric vehicles are expected to make up about 80% of the cars sold in the country.
2. International Markets
While Li Auto has a strong presence in China, it currently has limited international reach. While China is the world's largest single car market, much of the market opportunity is outside of China. Therefore, Li Auto can make more sales by expanding into international markets.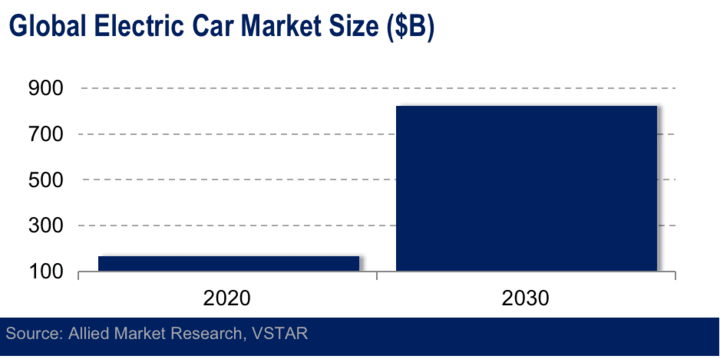 The global electric car market size is forecast to grow to $823 billion by 2030, from $163 billion in 2020. This presents a huge market opportunity for Li Auto, especially considering that the company has only captured a tiny share of this opportunity at the moment.
3. Product Diversification
Li Auto primarily depends on car sales for its revenue. But if you look at a company like Tesla, its business goes beyond selling cars. It also sells renewable energy products such as solar panels and an array of merchandise. These are additional revenue opportunities that Li Auto could also explore to diversify its business and grow its revenue.
Li Auto's Risks and Challenges
1. Fluctuating Raw Material Prices
Li Auto uses raw materials such as steel, aluminum, and copper in its manufacturing. Availability and prices of these materials can fluctuate because of supply and demand forces. A shortage of these materials or a jump in price can disrupt the company's production and impact its sales and profitability.
2. Dependence on the Chinese Market
Li Auto is heavily dependent on the Chinese market for its sales. While China is a large and expanding auto market, Li Auto's dependence on China makes it vulnerable to economic slowdown in the country.
3. High Competition
Li Auto faces competition from established automakers and startups for talents and customers. Intense competition can drive up marketing costs and other expenses and crimp profit margins. These are some of Li Auto's major competitors:
| | |
| --- | --- |
| Competitor | Threat |
| Tesla | Tesla is the world's most popular electric car brand. It is also a popular brand in China, which is Li Auto's domestic and only market. |
| Nio | Nio and Li Auto are fierce competitors in the Chinese electric SUV market. |
| Xpeng | Xpeng is a major Li Auto competitor in the smart electric car market in China. |
| BYD Company | BYD Company builds sedans and SUVs, making it a major challenge to Li Auto in the large cars market. |
Li Auto's Competitive Advantages
1. Solid Financials
The company generates huge amounts of cash flow and has built a large cash balance. It also has a clean balance sheet with minimal debt. Therefore, Li Auto not only has sufficient liquidity for its operations, but is also better financially grounded than many of its competitors to survive adverse economic conditions.
2. Advanced Technology
Li Auto is a highly innovative company. The company spends a large chunk of its annual revenue on research and development efforts. This has resulted in several patents for Li Auto, including patents related to autonomous driving and sleep assistance.
The patent portfolio can benefit Li Auto in many ways. For example, it can apply the patents to build innovative features into its cars that can help it stand out from the competition. Additionally, the company can make money from licensing its patents to other automakers, allowing it to generate extra revenue.
3. Strong Brand Recognition
Li Auto is one of the leading electric car brands in China. The Li Auto brand is associated with high-performance and luxury. The strong brand position is an important asset for the company as it can help it attract customers and partners to help grow its business.
4. Stable Leadership
Li Auto is still led by its founder Li Xiang, who has a clear vision for the company. Li Auto also has stable management as many of its executives have been with the company for many years.
Why Traders Should Consider Li Stock
Li Auto is one of the few EV companies that has been profitable, even on a quarterly basis. The company's sales are increasing and the product portfolio is expanding, setting it up for a more profitable future.
The company has plenty of cash, a solid balance sheet, impressive growth opportunities, and strong competitive advantages. Li stock price forecast shows the stock still has plenty of room to run.
Li Auto Stock Trading Strategies
You can approach investing in Li Auto stock in a number of ways. Before you start trading LI stock, it helps to choose the investment strategy that best suits your tastes. These are the two most common ways to invest in Li Auto stock:
1. Long-Term Investing Strategy
This is the traditional investing method. It involves purchasing and holding Li Auto shares in your brokerage account for at least one year. This strategy works best for investors with long investing timelines. But it requires a large initial capital and regular portfolio adjustments.
2. Short-Term Investing Strategy
With short-term investing, you seek to capture profits over short timelines, such as over an hour, a day or a week. Short-term investing can take various forms, but the most popular strategy is trading Li Auto stock CFD.
The best part of CFD trading is that you can start with a small amount of money and use leverage to boost your trade to maximize your profits. CFD trading is also flexible since you can hold a position for as short or as long as you want.
Trade Li Auto Stock CFD with VSTAR
VSTAR offers an excellent platform for trading Li Auto stock CFD. It has low trading costs given its no-commission accounts and tight spreads, which is why it has received highly positive Trustpilot reviews. Since VSTAR is a fully licensed and regulated CFD trading platform, you can relax that your money is safe with the broker.
You can start trading Li Auto CFD on VSTAR with as little as $50. The broker offers generous leverage for traders with little money to boost their positions and maximize their profits.
Consider opening your VSTAR account today to start trading Li Auto stock CFD. The platform offers as much as $100,000 in its demo account, which new traders can use to practice their strategies before investing real money.
Final Thoughts
If you're looking for the best Chinese EV stock to buy now, Li Auto stock is worth considering. While Li stock has already soared this year, its price predictions show that it still has large room to run.
Consider trading Li Auto stock CFD for short-term profits, even as you consider holding Li Auto shares for long-term returns.
*Disclaimer: The content of this article is for learning purposes only and does not represent the official position of VSTAR, nor can it be used as investment advice.