What is Nio Inc?
Nio Inc (NYSE:NIO) is a Chinese electric vehicle maker. Founded in 2014 by William Li, Nio is headquartered in Shanghai. The company has built eight car models, ranging from sedans to SUVs.
Nio was previously called NextEV. It rebranded to Nio in 2016, and at the same time launched its first car model – the Nio EP9.
As a startup, Nio received funding from investors including Tencent Holdings (OTCMKTS:TCEHY), Sequoia Capital, and Temasek. Nio also received backing from Hillhouse Capital Group, Baidu Inc (NASDAQ:BIDU), Lenovo, and TPG its early years.
Nio (NYSE:NIO) went public in September 2018. The Nio stock IPO price of $6.26 was just above the lower end of the target range of $6.25 - $8.25. Nio stock price rose 12% on its first day on the market and exploded more than 75% on the second day. Nio stock price has ranged $1.32 - $63 since the IPO.
The Nio stock IPO raised $1 billion. Nio planned to use its IPO proceeds to fund product research and development, marketing, and manufacturing facility expansion.
Although Nio (NYSE:NIO) has primarily served its domestic Chinese market, the company is expanding overseas with an initial focus on the European EV market. Nio stock's future outlook depends on both what the company does and how its competitors behave.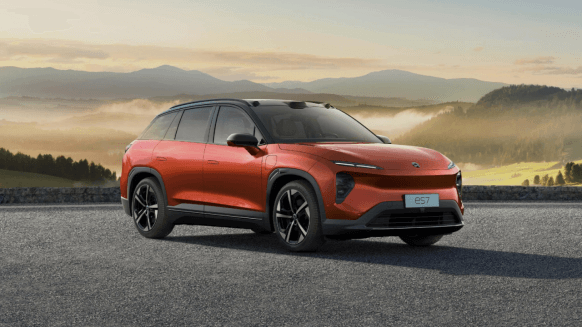 Who Are Nio (NYSE: NIO)'s Main Competitors?
The EV market is booming. A major selling point is that electric cars are environmentally friendly. As a result, EVs are viewed as a solution to climate change. Consequently, governments are issuing mandates and extending incentives such as tax credits and subsidies to switch drivers to electric vehicles for the benefit of the environment.
Moreover, many drivers are drawn to EVs for their lower maintenance requirements.
The global EV market is on track to hit $824 billion in 2030, from $163 billion in 2020. A growing number of automakers are vying for this revenue opportunity. As a result, Nio (NYSE: NIO) is in fierce competition from a long list of rivals for the EV market share.
Nio's top competitors in the electric vehicle market are Tesla Inc (NASDAQ: TSLA), BYD Company (OTCMKTS: BYDDY), Li Auto Inc (NASDAQ: LI), and Xpeng Inc (NYSE: XPEV). This Nio competitors analysis will give you a picture of what is going on in the race to dominate the lucrative EV market.
Nio Competitor Analysis: Tesla
Tesla is considered an electric vehicle pioneer. Founded in 2003, Tesla is headquartered in Austin, Texas. The company was founded by a group comprised of Elon Musk, Ian Wright, Marc Tarpenning, Martin Eberhard, and JB Straubel. Musk is the Tesla CEO and one of its largest shareholders.
Musk runs Tesla alongside CFO Zachary Kirkhorn and Andrew Baglino, who heads the powertrain and energy engineering division.
Tesla makes electric sedans and SUVs under the brand names of Model S, Model 3, Model X, and Model Y. The company has also diversified into pickup truck segment. Its flagship truck model called the Cybertruck is expected to hit the market in 2023. Tesla stock has a market capitalization of more than $600 billion in April 2023, making it the largest automaker in the world.
The company reported a 51% rise in revenue to $81.5 billion in 2022. Its net income rose 127.5% to $12.6 billion. The company achieved a net profit margin of 15.4% in the year, reflecting a 50% improvement from the previous year. Tesla generated free cash flow of $4.21 billion in 2022.
Tesla operates five major production facilities, which it calls Gigafactories. It has three Gigafactories in the U.S., located in Nevada, Texas, and New York. Tesla's offshore Gigafactories are located in Shanghai, China, and Berlin, Germany. The company also operates smaller manufacturing plants across America, Europe, and Asia.
Tesla says it has the capacity to produce more than a million vehicles annually. The company produced 1.37 million cars in 2022. It sold 1.31 million cars in that period. Tesla aims to sell 20 million cars annually by 2030.
Tesla's share of China's EV market is about 7%. The company primarily targets the premium car market, though it has plans to produce cheap cars for the mass market as it seeks to widen its market share. At its 2023 Investor Day event, Tesla said it aims to cut the cost of its future cars by half. It will rely on smaller factories and new manufacturing techniques to lower its costs to make its cars more affordable.
Apart from selling cars, Tesla also sells subscription software to its customers for certain advanced driving features.
Tesla faces a few challenges in the electric vehicle business. The economic condition is one of them. Electric cars are generally more expensive to purchase than conventional models. As a result, demand for electric cars can drop significantly in a tight economic environment.
Another issue for Tesla is competition. As a market leader, Tesla is a prime target of competitive forces. The company may be forced to cut its product prices at the expense of eroding its profit margin to defend its market share.
Nio Competitor Analysis: BYD Company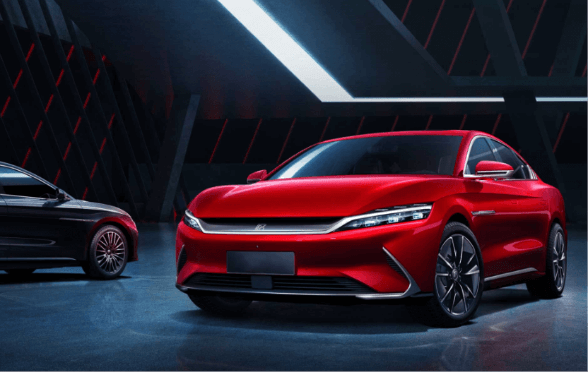 BYD Company is a Chinese manufacturing powerhouse with auto and electronics production businesses. Its auto arm makes electric vehicles, including buses, trucks, and cars. In the car segment, the company makes sedans and SUVs under Atto, Han, Tang, and YangWang brand series. The YangWang U8, launched in January 2023, is one of BYD's top premium cars in the SUV category.
The BYD name is an abbreviation for "Build Your Dreams." BYD is known for being legendary investor Warren Buffett's favorite EV stock.
The company was founded in 1995 by Wang Chuanfu and his cousin Lu Xiangyang. Wang continues to run BYD Company as the CEO with the support of CFO Ya-Lin Zhou and chief automobile engineer Yu-bo Lian.
BYD stock is listed in Hong Kong. The stock is traded over the counter in the U.S. BYD's market capitalization is about $100 billion in April 2023. The company's profit rose 446% to $2.4 billion in 2022 on strong electric vehicle sales. Revenue rose more than 96% in the year. BYD generated about $7 billion in free cash flow in 2022.
BYD plans to launch new EV models as it looks to broaden its market and grow its sales. The company has its manufacturing facilities in China and the U.S. Its Chinese manufacturing plants are spread across the country, including in cities like Shenzhen, Shanghai, and Beijing. In the U.S., BYD has a factory in California.
Across its manufacturing facilities, BYD's production capacity is about 3 million cars annually. The company continues to expand its capacity, with a new plant coming up in Thailand that could produce as many as 150,000 cars annually.
BYD controlled about 30% of the EV market in China in 2022. In an effort to grow its EV business rapidly, BYD has abandoned manufacturing of gas-powered vehicles.
As a market leader, BYD faces a fierce competitive challenge. The company's business is also vulnerable to adverse economic conditions that dim demand for the usually pricey electric vehicles.
Nio Competitor Analysis: Li Auto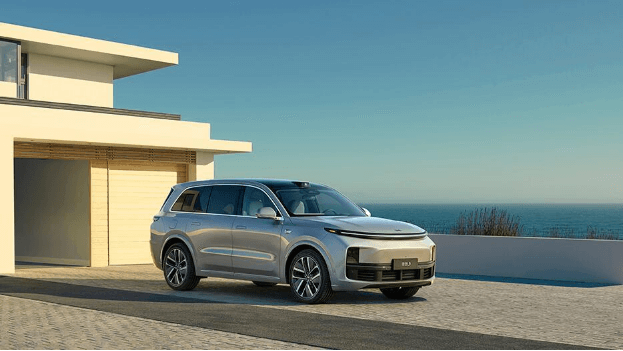 Li Auto is a Chinese electric car manufacturer headquartered in Beijing. Founded in 2015, Li Auto went public in 2020. The company primarily targets the electric SUV market and has launched several car models, including L9, L8, and L7. The company's founder Li Xiang continues to serve its chairman and CEO.
Li Auto's revenue rose 68% to $6.6 billion in 2022, but the company suffered $290 million loss in the year. The company generated $1.5 billion in free cash flow in 2022.
Li Auto has manufacturing plants in Changzhou and Beijing. These facilities have a combined annual production capacity of 200,000 cars. The company plans to build its third manufacturing site in Chongqing, which would raise its annual output capacity to 300,000 cars.
Li Auto has about 2.2% share of the Chinese EV market. The company has a better position in the premium electric EV segment with nearly 20% market share.
While it has hit success in the premium car segment, Li Auto is also targeting the budget car market. It recently launched small-size cheap models aimed at women drivers and small families. Competitive pressure and challenging economic conditions are Li Auto's biggest headaches.
Nio Competitor Analysis: Xpeng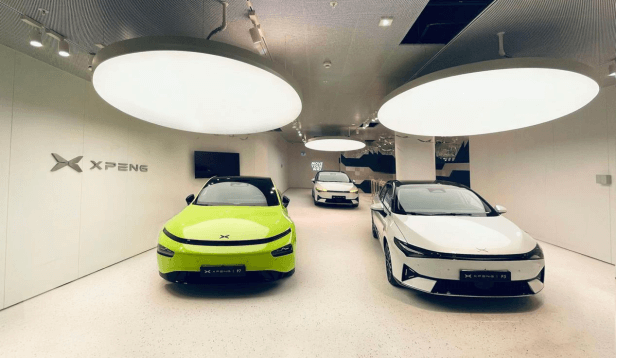 Xpeng is a Chinese electric vehicle manufacturer. The company makes sedans and SUVs and has released four car models on the market, namely P5, P7, G3, and G9. Xpeng continues to expand its product line with additional car models expected to debut in 2023.
Founded in 2014, Xpeng is headquartered in Guangzhou and has offices in California, U.S. The company was founded by He Xiaopeng, Xia Heng, and He Tao. He Xiaopeng heads the company as chairman and CEO.
Xpeng has a market capitalization of about $9 billion in April 2023. Although the company's revenue rose nearly 30% to $3.9 billion in 2022, it made a loss of $1.3 billion that year.
The company's net profit margin dipped 47% to -34% in 2022. Xpeng hasn't turned an annual profit since its IPO in 2020. Xpeng is looking to restructure and cut costs in the future to improve its financial results.
Xpeng has production facilities in Zhaoqing and Guangzhou. The plants have a combined annual production capacity of 220,000 cars. The company plans to build its third manufacturing site in Wuhan. Xpeng is aiming for combined annual production capacity of 400,000 cars at its three facilities.
The company controls about 2% of the Chinese EV market.
In pursuit of growth opportunities, Xpeng has set its sight on international markets with Europe being its initial target. Stiff competition and unfavorable economic conditions are Xpeng's major challenges.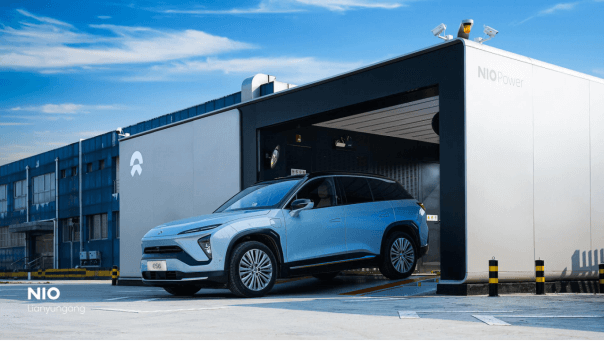 How Does Nio (NYSE: NIO) Compare To Its EV Competitors?
Nio is increasing its manufacturing capacity, developing new car models, and expanding overseas as it pursues growth. The future is promising for the EV industry amid government support and consumer interest.
But Nio will need to successfully navigate the tough competitive landscape to advance its market share or at least defend its existing share. Let's take a look at how Nio currently compares to its biggest competitors:
| | | | | | |
| --- | --- | --- | --- | --- | --- |
| Performance | Nio | Xpeng | Li Auto | Tesla | BYD |
| Market share and car unit sales in China (2022) | 2% (122,486) | 2% (120,757) | 2.2% (133,246) | 7% (439,770) | 30% (1.8 million) |
| Annual Production capacity | 300,000 cars | 220,000 cars | 200,000 cars | More than 1 million car | More than 3 million cars |
| Financial (2022) | Loss: $2 billion | Loss: 1.3 billion | Loss: $290 million | Profit: $12.6 billion | Profit: $2.4 billion |
| Technology and Innovation | Battery swap solution – lowers car purchase costs and speeds charging | Xpeng X2 flying car technology can unlock significant economic potential | Extended-range EV technology eliminates range anxiety for SUV drivers | Fast charging and lightweight car batteries that offer extra range per pound | DiSus shock-absorbing system for more stable cars |
| Marketing and Branding spend (2022) | $1.5 billion | $1 billion | $236 million | $3.9 billion | $6 billion |
| Future Outlook | Expanding overseas and targeting 600,000 cars annual production | Targeting 400,000 cars annual production amid international push | Expanding product lineup and targeting overseas markets | Targets 20 million cars annual sales amid international expansion | Targeting international markets and increasing car output |
With only 2% share of the EV market in China, Nio has significant growth potential ahead in its domestic market as it increases its output. The company's international growth potential is even more significant considering it is only beginning to build its footprint overseas.
Additionally, Nio's battery swapping program has proved to be an important competitive advantage. Besides making Nio cars more affordable, the program allows drivers to re-energize their cars quickly and that is encouraging EV adoption by reducing range anxiety.
But Nio is still losing money in its business, which puts it at a disadvantage to its profitable competitors like Tesla and BYD in accessing cash to fund expansion plans. Moreover, as Nio has fallen behind Tesla and BYD in international expansion, it could struggle for a breakthrough in overseas markets where these rivals have had the first-move advantage.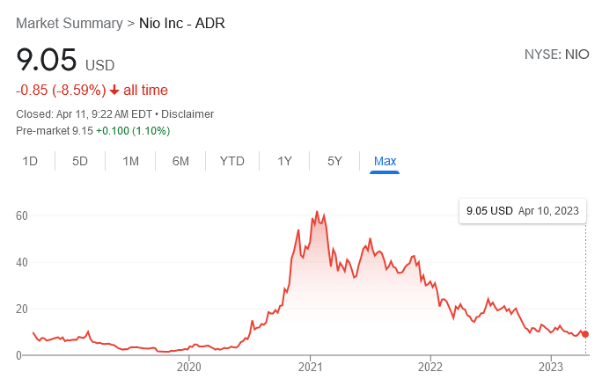 Is Nio Stock a Good Investment in 2023?
Nio (NYSE: NIO) trails Tesla and BYD in terms of EV market share. Its production capacity is also lower, which limits its market share capture and economies of scale. But Nio is working hard to catch up to these competitors or even overtake them. Nio looks to increase its product lineup and double its sales in 2023. The company is expanding its manufacturing capacity and widening its charging and battery swap networks to support its growth.
Nio stock price plunged nearly 70% in 2022. The stocks has retreated 85% from its all-time high of $63. The pullback presents a great opportunity for long-term investors looking to buy the dip. Wall Street has a 12-month consensus Nio stock price forecast of about $14, which suggests more than 60% upside potential. There is also a chance for traders to profit from short-term movements in Nio stock price. First, there is a sizeable short interest in Nio stock that could cause sharp swings in the stock price. Additionally, actions by Nio and its competitors affect the Nio stock price.
You can profit from the short-term movements by trading Nio stock CFD. In CFD trading, you profit from correctly predicting a stock's price movement without actually purchasing or owning the stock. If you're looking to trade Nio stock CFD, try the VSTAR CFD trading platform. VSTAR has an affordable minimum deposit requirement, low trading fees, and fast trade execution. Moreover, the platform is fully regulated by CySEC.
Conclusion
Nio (NYSE: NIO) has bright long-term growth prospects as it increases its manufacturing capacity, expands the product lineup with new car models, and enters overseas markets. The company also has a chance to be more profitable in the future as expanded production capacity yields economies of scale and technology innovations bring operational efficiencies.
The trouble for Nio is that it faces tough competition for the EV market share. Rivals like Tesla and BYD have more developed operations and stronger balance sheets, enabling them to spark price wars that can frustrate Nio's growth efforts.
FAQs
What are the challenges and risks facing Nio in the future?
Nio is vulnerable to price wars with Tesla and BYD whose larger manufacturing capacities allow for greater economies of scale.
How can I trade Nio CFDs with VSTAR?
Open a VSTAR account and select Nio stock CFD trading. If you're new to CFD trading, consider starting with a demo account to test your skills.
*Disclaimer: The content of this article is for learning purposes only and does not represent the official position of VSTAR, nor can it be used as investment advice.